Firm wins arbitration case but gets settlement much lower than expected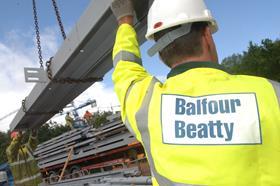 Balfour Beatty has announced that its revenue for 2014 will take a £12m hit because of the settlement of a longstanding arbitration case in the US.
In a statement to the City this morning, Balfour Beatty said its subsidiary Parsons Brinckerhoff had won its arbitration case but that the settlement was lower than management had expected.
It said the arbitration settlement had been expected to contribute £12m of revenue but instead the overall award of US$8m (£4.8m) would effectively contribute nothing to the firm's revenue.
Balfour Beatty did not disclose further details of the contract dispute at the centre of the arbitration case.