Housebuilder backs Bank of England intervention and posts bumper trading update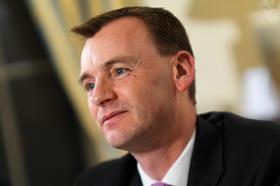 Bovis Homes has backed the Bank of England's moves to cool the mortgage market as the housebuilder announced record completions in the first half of the year.
The company's half year trading update, issued this morning, backs the recent steps taken by the Bank of England's Financial Policy Committee to move to limit large loans to housebuyers.
Bovis said in its update for the six months ending June 30th that the Bank's measures would promote a more sustainable housing market.
It said: "A less volatile environment where house prices move more in line with inflation will present a good backdrop for the industry to increase output of new homes and sustain returns for shareholders over the long term."
The top 10 volume housebuilder also announced that it had completed 1,487 homes in the first half of the year- a 54% increase on the equivalent period in 2013 (963). The record completions included 106 private rental sector units.
Bovis said average its sales price was £210,000, 11% higher than the £188,500 achieved in the first half of 2013. It also announcedoperating margin was expected to be at least 15%, compared to 11.1% recorded in January to June 2013.
And the group achieved 1,816 net private reservations during the six months to the end of June, a 31% increase year on year.
David Ritchie, chief executive of Bovis Homes, highlighted the record additions to the group's land bank, which grew by 4,597 consented plots on 23 sites, continuing the group's strategy of targeted investments in southern England outside of London. He said the strategy provided a strong platform for future growth.
Ritchie said: "The group achieved a record number of land investments during the first half year in what continues to be an active, but orderly land market.
"The group's results are now benefiting from our assertive, disciplined strategy of growth through land investment and we are well positioned to deliver our 2014 targets. Looking further ahead we are confident that further improvements in key financial metrics can be delivered and that ongoing land investment will continue to strengthen the business and further enhance shareholder returns."