Housebuilder also reports 29% hike in revenue for the year to 31 October 2013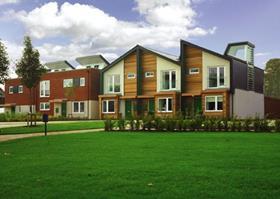 Housebuilder Crest Nicholson has reported a 30% jump in its pre-tax profit in its first year back as a public company.
The firm reported a pre-tax profit including exceptional items of £81m in the year to 31 October 2013, up from £62m the previous year.
It also reported a 29% rise in revenue to £526m, up from £408m.
Crest Nicholson floated on the stock market in February 2013.
Stephen Stone, chief executive of Crest Nicholson, said the results were "excellent" and the firm would pay a dividend of 6.5p per share this year.
He said: "Government initiatives to assist purchasers in buying a new home have undoubtedly stimulated activity in the industry and we are playing our part by increasing production where possible.
"Private home completions were up 35% over the year and we took almost 600 reservations under the Help to Buy scheme.
"Improving sentiment in the housing market and beyond along with an excellent pipeline of future projects across the southern half of England gives the board great confidence in the outlook for the business."
Crest Nicholson chair William Rucker said the housebuilder had already secured 51% of the revenue for the year to 31 October 2014 and it expected to see an uplift in the average selling price this year.