Crane driver left paralysed from the waist down by crane colapse settles with firms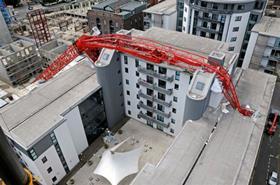 Contractor Bowmer and Kirkland and structural engineer Bingham Davis will pay over £2.7m in compensation to a worker injured by a crane collapse in Liverpool.
Crane driver Iain Gillham was left paralysed from the waist down when the crane collapsed into a Liverpool apartment block at a Bowmer and Kirkland site.
The 79-metre-high tower crane was being used as part of a multi-million pound project to build a new eight-storey hotel and seven apartment blocks at Kings Dock Mill when it overturned on 6 July 2009.
Although the body of the crane came to rest on the half-built apartments, eight of the cranes counterweights came free during the collapse and smashed through six floors of the building.
Gillham, 55, fell from the cab and through the hole created by the weights.
He suffered multiple injuries including a brain haemorrhage, fractured skull, broken right shoulder, broken ribs, crush injuries to his left side, and major spinal injuries leaving his legs paralysed.
No one inside the building was injured.
Bowmer and Kirkland and Bingham Davis have already been fined £281,000 for changes to the foundations that reduced the weight they could carry and resulted in the crane collapse.
Having then been sued by Gillham the firms agreed to pay £2.7m in compensation and an annual payment of £180,000 for the rest of Gillham's life.
Adrian Denson, Gilham's solicitor and head of serious injury at Fletchers Solicitors, said it was a "regret" that "arguments between the various companies involved in the crane collapse meant that settlement has only just been reached".
He added: "He [Gillham] suffered a serious head injury and a catastrophic spinal injury which means he will use a wheelchair for the rest of his life, and be reliant upon a team of carers. This settlement means he can now get on with the rest of his life without worrying about paying for essential matters such as his accommodation and care package."