Bosses of high speed rail link will look at new plans with a smaller footprint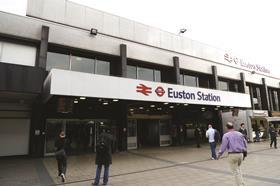 HS2 Ltd is to re-examine its plans for Euston station, after an alternative design, which would avoid demolishing hundreds of homes was developed by local campaigners.
Building's sister title BD reports that the design, developed by a group including ex-Arup planning director Peter Cuming, would avoid the demolition of 300 homes near the station.
The design is for a "double deck" station with a smaller footprint than the existing station and, consequently, a much smaller one than the current HS2 design.
The team called Pan-Camden HS2 Alliance, which also includes architect Jeff Travers, who worked on Liverpool Street, Ashford International and the Jubilee line, and Euston rail planner Richard Percival, is to meet with HS2 bosses next week.
Travers told BD the group's proposal had more room for commercial development and would avoid a half-mile walk between the HS2 terminal and the Tube network.
"We're absolutely convinced we've got a better solution and that it works," he said.