Group behind rival HS2 proposal welcomes Osborne's intervention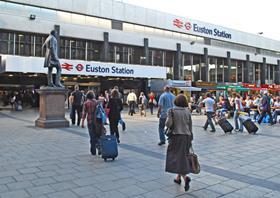 The architects and engineers behind a speculative proposal to rebuild Euston station have hailed the chancellor's dramatic intervention in the debate, saying to could pave the way for their ideas to get a proper hearing by HS2 chiefs.
In an interview splashed across the front page of the Evening Standard, George Osborne said he now favours a "really big redevelopment" of HS2's London terminus, containing shops, offices and apartments.
Speaking at the construction site of Aedas's high-speed station in Hong Kong he said: "We want to build a high-speed terminal in the middle of a great city too.
"With HS2 coming in I think there's a real opportunity to rethink our plans. That's something that David Higgins will have to look at.
"I've seen what they've done in Hong Kong and the ambition they have got and the way they integrate transport and railways with jobs, offices, commercial properties and housing. I think we should have the same level of ambition in London. There's no reason why we can't be taking on these great big infrastructure ideas."
Next month Higgins, the new chairman of HS2 Ltd, is due to publish a review on the project. He will now be under pressure to take the Chancellor's views into consideration.
Arup and Grimshaw have completed their work for HS2 Ltd on a design proposal for Euston that involves demolishing roughly two-thirds of the station as well as 300 homes.
But a rival scheme has been developed by volunteers including architect Jeff Travers, who worked in the British Rail architects' department on Liverpool Street, Ashford International and the Jubilee line; Euston rail planner Richard Percival; and Peter Cuming, retired planning director at Arup.
Travers told Building's siter title Building Design, that their proposal could turn the chancellor's vision into a reality without causing a four-year delay to the HS2 programme.
"That was why they dropped the idea of a mega station before," he said.
The group is due to have a third meeting with Network Rail where Travers said they would demonstrate that their "double deck down" station was a viable solution on a smaller footprint that would save hundreds of houses and keep the trains running.
A Department for Transport spokesman would not be drawn on specifics but said: "The chancellor is absolutely right to point out the fantastic opportunity HS2 provides to regenerate Euston…
"We are determined to ensure that the re-development of Euston will deliver the maximum benefits for passengers, residents and businesses."
Meanwhile a report in the Camden New Journal suggested Higgins could be about to drop the controversial "link" to the Eurostar terminal that would destroy parts of Camden.
An HS2 Ltd spokesman described this as "nothing more than speculation".