Health and Safety Executive pledges to "take action where appropriate" over concerns about Crossrail project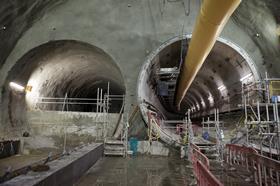 The Health and Safety Executive is looking into claims of a "spying culture" concerning workers' health and safety practices on the £15bn Crossrail project.
Earlier this week, a leaked report commissioned by the BBMV joint venture - consisting of Balfour Beatty, BeMo Tunnelling, Morgan Sindall and Vinci, which has contracts to deliver over £340m of tunnel and station work on the project - claimed there was a "negative spying culture" on the project, with staff videoing or photographing poor health and safety practices instead of stopping them.
The report, written in March 2013 by safety consultant Mind Safe, said that there was a perception among staff of "spying and underhand tactics" by the client to "catch them [the contractors] out at every turn" on health and safety.
It said: "To actively watch people who may be in danger, photograph or video it and then email it around with unmasked glee is not the way to keep the project safe."
It said staff on the project were "apprehensive" about reporting health and safety incidents for fear of a "backlash" from senior staff.
Now, the Health and Safety Executive (HSE) has said it is "aware" of the claims and would "consider them further".
An HSE spokespeson added: "HSE continues to monitor the health and safety performance of the Crossrail project and will take action where appropriate."
The news comes as union UCATT said it was seeking a meeting with the bosses of BBMV to influence improvements in safety.
Jerry Swain, UCATT regional secretary for the London and South East region, said: "Employers need to understand that the perception of being victimised for reporting safety concerns is very serious, whether this is actually the reality or not."
He added: "Given previous problems, workers are more likely to speak to a union safety rep about safety concerns then go directly to management."
A spokesperson for BBMV said : "The draft report only contained contributions from a limited number of people and was not sufficient to give a true and accurate reflection of our Whitechapel and Finsbury Circus sites."
Steve Hails, Crossrail's health and safety director, said the project has a "good" health and safety record and "sets the most stringent contractor safety requirements in the industry".