Piling specialist disputes claim that its work on £40m wine warehouse at centre of multimillion-pound legal wrangle was faulty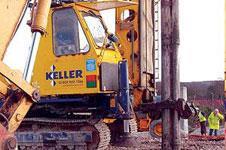 Piling specialist Keller has denied it is responsible for faults at a £40m wine warehouse that is now the centre of a multimillion-pound legal wrangle.
In June, contractor VolkerFitzpatrick launched legal action against Keller, claiming that piling errors had caused cracks in the warehouse floor.
The contractor is suing Keller for an amount to be determined when the extent of its own liability to the building's tenant is established.
VolkerFitzpatrick is facing legal action from tenant Accolade Wines, a major importer of wines into the UK, over losses stemming from the problems with the warehouse, which was built in 2008. The importer claims it may need to relocate from the warehouse, which it estimates could cost up to £41m.
VolkerFitzpatrick argued it would need to undertake "very significant remedial works" on the warehouse and said Keller "failed to exercise the appropriate standards of skill and care in undertaking their design and installation work".
But in papers filed in the Technology and Construction Court, Keller denied its work had been faulty and said that as it had never concluded the contract negotiations for the job it owed no "duty of care" to VolkerFitzpatrick.
Keller said that, contrary to VolkerFitzpatrick's claim, the piles were deep enough to hold the building and challenged the claimant to prove piling had been the cause of the cracking.
It added: "VolkerFitzpatrick will be required to prove the damage was not caused by intrinsic defects in the slab."
It added that the replacement of the piles was "neither necessary nor reasonable".
The piling firm said that an ongoing programme of injecting resin under the floor to raise and stabilise it - which started in April 2010 - would be enough to fix the problem and enable Accolade Wines to continue to use the warehouse "with little or no disruption".
Both VolkerFitzpatrick and Keller declined to comment.
A spokesperson for Accolade Wines declined to comment on the dispute. She added that the warehouse remediation would not impact on Accolade Wines' operations.