Research finds Part L regulations, due in next week, will result in buildings prone to overheating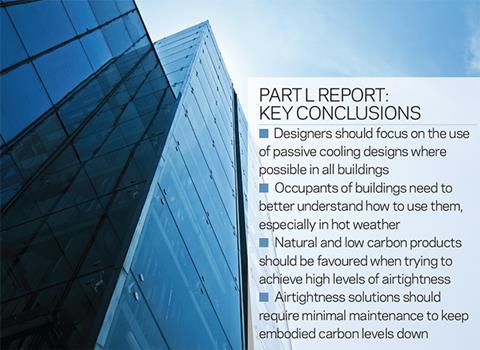 The government's new green Building Regulations will result in higher carbon emissions from new buildings compared to those built under current rules, an analysis published by Building this week has found.
The 2013 iteration of Part L of the Building Regulations, which governs the use of energy in buildings and forms a key part of the UK's efforts to cut its carbon emissions, comes into force next week (6 April) and will raise energy efficiency targets for homes by 6% and targets for non-domestic buildings by 9%.
However, analysis by consultant Sturgis Carbon Profiling for the RICS, published in Building this week, has found that a warming climate in the UK - as predicted by the United Nations' Intergovernmental Panel on Climate Change – would mean buildings designed to the 2013 regulations would in fact be less efficient to run by 2030, when compared to buildings designed to the 2010 standards.
It found that buildings built to the new standards would need air conditioning to prevent overheating from 2030 due to rising temperatures, whereas buildings built to the lower 2010 standard would not need to be air conditioned until 2050.
The study also found that the increased cooling requirements in summer outweighed the decrease in heating requirements in winter.
It also found that carbon emitted in the construction of more airtight buildings was up to 10% more than they saved in operational carbon emissions over a 60-year period.
The research follows a study by the Good Homes Alliance, revealed by Building last month, that warned of the risks posed by new build flats that are prone to overheating.
Building Regulations have steadily tightened efficiency standards since 2010 as the government moves towards the introduction of a zero- carbon standard for homes from 2016, and for non-domestic buildings from 2019. The higher efficiency standards for buildings are supposed to be part of the UK government's effort to deliver an 80% reduction in carbon emissions by 2050.
Gareth Roberts, director at Sturgis Carbon Profiling, said he was "surprised" by the results of the study. "What we are going to do is create a legacy of high-emitting buildings that reaches far into the future," he said.
David Frise, head of sustainability at the Building and Engineering Services Association, said the research "emphasised" that Building Regulations were too "prescriptive" and were "fundamentally flawed".
He said: "It would be better to define clearly what a designer is expected to deliver in terms of performance and then allow them to be innovative and design to meet the criteria."
Dan Jestico, head of research and development at Hilson Moran, said the study had implications for the zero carbon agenda.
He said: "If a building designed as zero carbon without a cooling system is found to overheat, occupants are likely to retrofit cooling systems which will be detrimental to energy bills, national CO² emissions and will present a significant deviation from the predicted energy use of the home."
A spokesperson for the Department for Communities and Local Government, said "well insulated" buildings were an "essential step towards to zero carbon" but the department was "mindful" of the effects of climate change on indoor temperatures.
For more see on this story see Whole-life carbon here