Housing developer reports hike in profit without using the government's Help to Buy scheme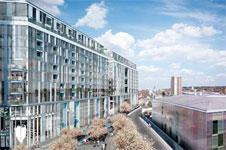 Telford Homes has more than doubled its pre-tax profit without the government's Help to Buy scheme driving its sales.
In its results for the year to 31 March 2014 the housing developer reported a pre-tax profit of £19m, up from a profit of £9m the previous year.
Its revenue decreased slightly to £141m in the year to the end of March 2014, down from £142m in the previous year.
The firm reported that it had forward sold 98% of its expected completions for the year to 31 March 2015.
Writing in the accounts Jon Di-Stefano, chief executive of Telford Homes, said the firm's customers "do not typically need high loan to value mortgages" and it had not made any sales under the government's Help to Buy scheme.
He said: "Our long term growth plans are underpinned by the demand for somewhere to live significantly exceeding the supply of new homes in the Group's non-prime inner London locations. We are operating in areas where people want to live and many can still afford to live with strong demand from both owner-occupiers and tenants."
Di-Stefano said that sales prices had been "better than expected in the year to 31 March 2014, but that the firm had also "benefitted from robust control of construction costs over the last 12 months".
He added that the firm was budgeting to account for "inflationary pressures on construction costs" that were a danger to profit margins over the coming years.
The accounts also revealed that Telford had forward sold 148 homes at its Stratford Central development within just four weeks of putting them on the market.
The development is due to complete in the year to 31 March 2018, the first time Telford has sold homes four years in advance.
Di-Stefano also embarked on a defence of the firm's policy of selling a portion of its homes to overseas investors. He said: "There has been substantial negative commentary in recent months on the issue of marketing London property to overseas investors.
"However much of this commentary is poorly informed and the Board remains comfortable with its strategy of selling a proportion of its homes overseas and will continue to do so in the future. Without the ability to forward sell properties well ahead of build completion the Group would not have been able to grow output to the same extent and this cannot be achieved selling exclusively to owner-occupiers.
"The investors buying from Telford Homes, either UK based or overseas, are not deliberately leaving their properties empty and are not contributing to the shortage of supply of homes in London. In fact the vast majority invest to secure a rental return, therefore satisfying increasing demand from potential tenants who either cannot afford to buy or do not want to buy."