A lot can be learned from the Singaporean developers who are delivering huge new areas of city with speed, gusto and delight
Cities have very specific characteristics, moods and attitudes - just like people. The title of Peter Ackroyd's book London - The biography meant what it said, it was a biography of a city as though it was a person; he described its background, its good times and its bad times, he tracked its DNA.
I found the book of great value in understanding London and realised that most cities of any interest can be described and interrogated in that way. I recently spent a week in Singapore which provided a fascinating subject for a bit of city psychoanalysis.
Singapore is small, ambitious and punches above its weight. It is growing in population and in physical size: over the years since independence in 1963 it has increased its land area from 581.5 km2 to 704 km2 through massive land reclamation projects.
The last time I was in Singapore was about ten years ago. Then Marina Bay really was a bay, full of water. Today it is largely filled in and is host to a plethora of massive towers including the iconic Marina Sands Hotel designed by Moshe Safdie and Singapore Gardens by the Bay which house two spectacular conservatories by Wilkinson Eyre. And there is still acres and acres of newly made ground waiting to be developed.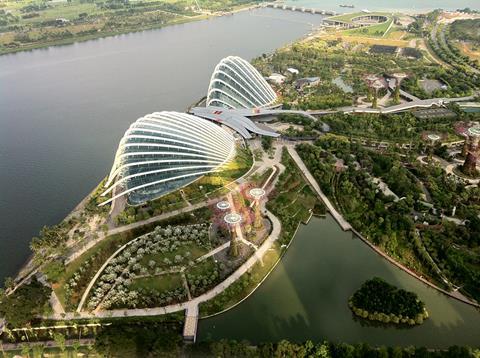 Ambitious and optimistic seemed to me to be key characteristics of the 'Lion City'. The new visitor is struck by a heady mixture of sensations: the heat and humidity tempered by overly cool air conditioning; the greeness of the streets as part of the 'city in the park' planning strategy; the celebrated cleanliness; the ease and efficiency of the MRT metro system and above all, the amazing variety of shapes of the new architecture. There are curvy buildings, pointy buildings, light glass buildings and heavy concrete buildings, and buildings covered in planting - all seem to have an ambition and optimism which put London's handful of cheesegraters, walkie talkies and gherkins in the shade.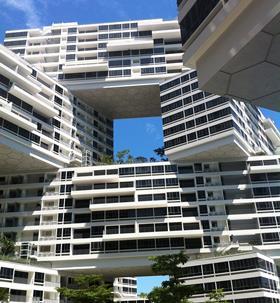 Ambition and optimism are evident in Capital Land's 1000-unit housing development The Interlace designed by Ole Sheeren and OMA - a seemingly simple stack of blocks piled at angles to each other to create a dramatic composition of solids and voids and one of the most striking housing developments I've seen in years. Ambition is reflected in Zaha Hadid's twisting towers at Farrer Road, Daniel Libeskind's angular Reflections at Keppel Bay, WOHA architects' Park Royal Hotel cascading with greenery, and of course Safdie's hotel where the Olympic-sized infinity swimming pool cantilevers out over the bay atop a 60 storey atrium creating a dramatic form that has become the island's new signature.
Not all the results are great architecture. The plethora of icons can be a bit too rich. Sometimes the places between the buildings leave much to be desired. Sometimes the finish is not quite up to the quality the design architect might have wished for; but Singaporean developers are delivering huge new areas of city with speed, gusto and not a little delight.
By comparison, our western delivery processes can sometimes seem tentative, slow and rather timid. Perhaps the influx of Far East developers like Setia and Sime Darby at Battersea, ABP China at the Royal Docks and ZhongRong Groupat Crystal Palace will shake things up a bit – let's mix up that DNA with the ambition and optimism to build the new airport capacity, new rail links, tunnelised roads and new homes that are urgently needed.
Peter Murray is chairman of NLA - London's Centre for the Built Environment