Fresh from their victory, the Stirling prize winners talk us through 27 years of non-shouty architecture
In the 1949 film version of Ayn Rand's novel The Fountainhead, Howard Roark, the arrogantly idealistic anti-hero architect played by Gary Cooper, booms, "I don't build in order to have clients; I have clients in order to build." Alan Stanton and Paul Williams, founders of 2012 Stirling prize winning practice Stanton Williams, would respectfully disagree.
"You have to recognise the ambitions of the client," says Williams. "Like many architects, we've always said we're looking for the enlightened patron, clients who believe that the quality of architecture can improve our lives. When we and the client are heading in the same direction from day one with shared ambitions and aspirations it makes the design process that much more uplifting."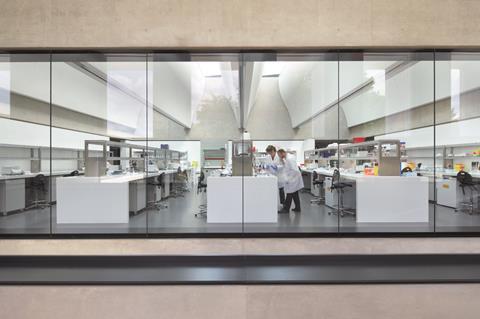 This strong client relationship is at the core of Stanton Williams' design approach and it suggests a humility and pragmatism that is reflected in their personalities as well as their work. As does their generous acknowledgement of the "crucial" role played by the client in the evolution of their Stirling prize-winning Sainsbury Laboratory.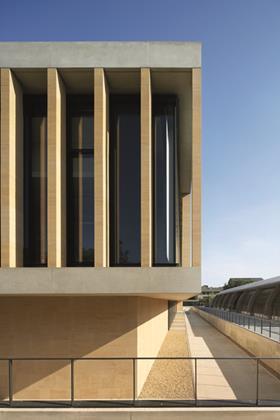 Unsurprisingly, the pair confess to being "extremely delighted" at their Stirling victory and Stanton views it as "recognition of all the effort that's been put in over the past 27 years" since the pair founded the north London-based practice. For Stanton, the building's function is also significant. "Of course it isn't a publicly accessible building unlike some of the other shortlisted projects. It's not an Olympic stadium, it's not an art gallery, it's not a theatre. So for us to have won with a building which is essentially a working building, a research institute, was especially pleasing. It was great to have that quality recognised."
The win certainly capped off a momentous year for the 60-strong practice. Its impressive new campus for the University of the Arts London at King's Cross Central was also on the Stirling shortlist and its Hackney Marshes Centre, a diminutive but elegantly robust football pavilion with a cafe and terrace, was on the longlist.
It also completed the permanent London 2012 hockey and tennis venue at nearby Eton Manor park and is working on major residential, academic and cultural projects in London, Oxford and Nantes. Yet more high-profile publicity is promised next year when its mighty King's Cross Square replaces the terminus' ridiculous seventies concourse shed, arguably constituting the most significant addition of public space to central London since the redevelopment of Trafalgar Square in 2003.
The Stanton Williams way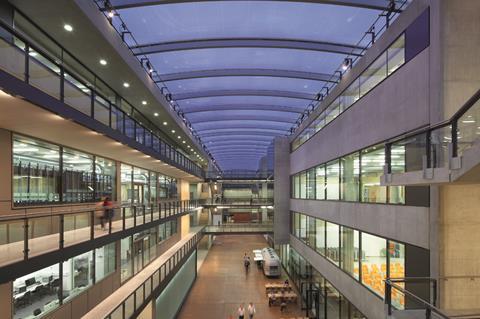 So what do the principals attribute their practice's astonishing recent success to? "Well, it has actually been a very long and very slow growth; we certainly didn't suddenly arrive," says Williams. "But over that time we like to think that we can put our hand to any design problem regardless of sector and not be pigeon-holed. That kind of diversity keeps you sharp and it means you consistently have to think creatively."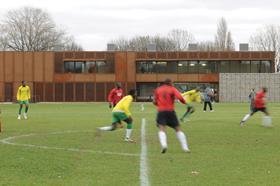 The Stanton Williams portfolio certainly reveals work across a broad range of sectors including arts, retail, research and commercial. It also features projects that have developed into new typologies. These include the Millennium Seedbank laboratories in West Sussex (2000), a conceptual forerunner to Sainsbury in the sense that the scientists and their work are on public display, and Birmingham's Four Brindleyplace (1999), the first development outside London to win the British Council for Offices' Office of the Year Award.
Stanton expands on this cross-sector theme. "We have had several clients who have had the confidence to come to us and say 'one of the reasons we have chosen you to do this is because you've never designed one before'. It is then possible to bring in the best specialised technical advice and expertise and this enables us to ask important, basic questions such as 'why is this done this way?' and 'why can't it be done another way'. It's this process that can lead to interesting and successful design solutions."
Of course, a big part of Stanton Williams' appeal and success - although naturally they are too modest to admit it directly - is that design quality. The practice's buildings are characterised by a rigorous, angular simplicity, often achieved by a layered massing of streamlined horizontal or vertical elements to form a sculpted, geometric whole.
As the ideological spats between Prince Charles and Richard Rogers show, style is a toxic term for most architects and there is barely a practice in the world that would openly admit to implementing a "house" or "signature" style, even though most clearly do. While both Stanton and Williams are equally reluctant to identify a prescriptive design style they pursue, they concede that inevitably, a consistent architectural language has developed over time across their work.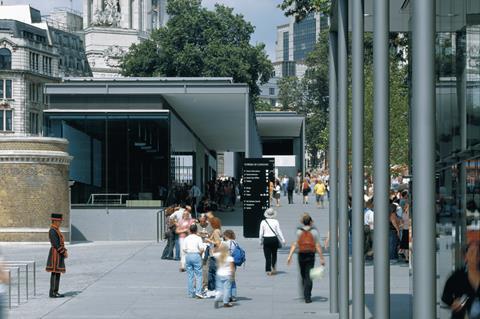 "It's very much intuitive," says Williams. "It has to feel right for us both and there is a strong sense of the appropriateness of proportions. We're also passionately interested in materials, particularly natural materials and we're not obsessed with preventing surfaces from weathering. Quite the opposite, that kind of change over time has to be cherished."
Stanton identifies another strong design consistency. "The kind of creative language we use is similar to that of a sculptor, carving or folding planes. Architecture can in some ways be seen as large-scale sculpture that you can inhabit and walk through. Much of our inspiration comes from artists, sculptors and painters, such as Barbara Hepworth and Eduardo Chillida."
"It's definitely not about a style or a look, we don't impose a shape or a simplistic single idea. Every time we start a new project we're essentially faced with a blank sheet of paper. The design evolves from the brief, the client and the context and our creative ideas spring from this."
Williams goes even further. "Common elements to our designs are the physical quality of interior spaces, to study how they are lit with natural and artificial daylight and to understand how people move through that sequence of spaces."
Both openly attribute this preoccupation with spatial experience to their early work in retail and exhibition spaces. The mechanics of how people "encounter spaces" as well as the intimacy of enclosure intrinsic to these smaller environments evolved into core design concerns that have coloured their work ever since. It is also evident in their studio's fondness for physical model-making, with models used extensively as both a communication tool for clients and a means to explore the spatial characteristics of their proposals.
Sense of history
Two other key concerns throughout the body of Stanton Williams' work have been public spaces and conservation, and intriguingly their philosophy in these areas overlaps. For Williams, you "cannot separate the public realm from the building", and Stanton makes reference to their long experience of placing "contemporary insertions within historic buildings". In both regards, the pair admits to being heavily influenced by the Carlo Scarpa methodology of "rough against smooth".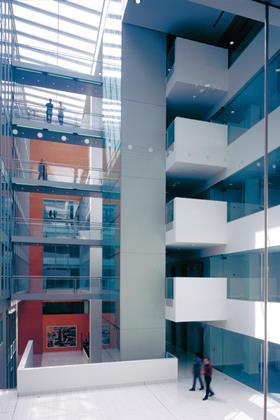 At their Tower Hill Environs scheme (2004) where honed, laser-cut landscaping forms an assuredly contemporary public square beside the 930-year-old Tower of London, Stanton maintains that "the richness of the past adds to the quality of the public realm". And there is a scintillating sense of drama in the interplay between old and new at the University of the Arts London. This scheme in particular is a pulsating ode to an approach that Williams summarises passionately: "The strength of historic buildings can be brought out by their juxtaposition with new contemporary design elements. What touches, what doesn't touch, it's all sensuous stuff and that's what really turns us on."
The issue of conservation ties in with another area that Stanton is keen to stress is a contingent of their work: sustainability. "It's a very loaded word and can apply to anything from transport to the maximisation of natural light that we spoke about earlier. But fundamentally, if a building is well designed and built and sufficiently flexible to be able to last and adapt over time to unknown uses in the future then that building represents real sustainable value. You can see that in good buildings from hundreds of years ago that are still in use today."
Williams expands by describing sustainability as being "totally embedded into the process and thinking from day one. It's not about adding on solar panels or windturbines later on, it's as strong a consideration as anything else".
The bleak spectre of the recession actually provides the pair with an opportunity to reaffirm the core approach to architecture that has guided them throughout their careers. "Design quality is not simply about spending lots of money. Good design is about real value and about creating buildings that respond extremely well to a particular set of needs and requirements which can include extremely limited budgets. Good architects bring intelligence as well as creativity."
Williams enthusiastically drives the point home. "There's nothing wrong with buildings that just do their job. Buildings don't have to shout and don't have to have glitzy finishes; we don't have to constantly reinvent the wheel. If a good, simple, contemporary, modernist way of doing things, as well as common sense prevails, then there should always be an appropriate type of architecture to handle both good and harder times."
What touches, what doesn't touch, it's all sensuous stuff and that's what really turns us on

Paul Williams
These pronouncements go to the heart of Stanton Williams' design philosophy and can arguably stand as an explanation for their success. For all the intellectual enquiry that informs their architecture, it is ultimately grounded by a pragmatic and rational approach that prioritises the experience of the end user. In a profession not unfamiliar with bluster and hyperbole, such humility is refreshing.
As is the poignancy and candour with which they speak of a process that affects us all. "As I get older I increasingly find myself incredibly moved by so many things other than architecture," reflects Williams. "Art, filmmakers, music, sound, touch, even the feel of my hand rubbing against brickwork or stone."
Stanton agrees and neatly summarises the sensory awareness that resonates throughout their work. "Art puts us in touch with our humanity and the material world around us. Everybody needs that."
Five favourites
City
Stanton: London
Williams: London or Rome
Building
Stanton: Fallingwater, Pennsylvania (designed by Frank Lloyd Wright)
Williams: Durham cathedral, or the Kimbell Art Museum in Fort Worth, Texas (designed by Louis Kahn)
Book
Stanton: The Leopard (by Giuseppe Tomasi di Lampedusa)
Williams: Impossible to answer!
Film
Stanton: The Leopard (directed by Luchino Visconti, 1963)
Williams: Roma (directed by Federico Fellini, 1972)
Music
Stanton: Stravinsky
Williams: Kind of Blue by Miles Davis