Uncertainty continued to subdue growth across most sectors, although large infrastructure projects provided a bright spot, while social housing experienced most expansion. Experian Economics reports
01 / Overview
The first Office for National Statistics (ONS) estimate of GDP for Q1 of 2019 showed UK GDP grew by 0.5%, quarter-on-quarter, in real terms in the first quarter of 2019, accelerating from a 0.2% rise in Q4 2018. This represents a 1.8% increase on Q1 2018, compared with a 1.4% annual increase in Q4 2018. Despite the strengthening in the latest data, output is projected to plateau this year at around 1.5% – this appears to be the current norm until the political turmoil surrounding Brexit eases.
Construction output in Q1 rose 3% to £41.42bn (in 2016 prices), against the same period in 2018. Public housing contributed to this with the largest percentage rise of 19% to £1.68bn – it is expected to grow by an annual average of 4% over the next three years. While the sector isn't heavily exposed to Brexit, it seems that the uncertain climate is weighing on social housing providers' ability to raise finance. Combined with a persistent recent decline in new orders, this has weakened prospects for 2019. Beyond this, growth is expected to tentatively enter positive territory in 2020 as the impact of government initiatives to boost housing numbers kicks in.
Private housing construction made a fairly modest contribution to overall output in the first quarter of 2019, rising 2% annually to £9.13bn, but still remained the largest new work sector for the 16th consecutive quarter. We expect sector output growth to remain subdued, with annual expansion at an average of 3%. Though this is weak growth by historic standards, it should be noted that private housing activity is running at a historically high level in output terms and is expected to continue growing throughout the current forecast period.
Of the new work sectors, infrastructure output made the largest contribution to overall expansion once again, up 11% annually in Q1 2019, to £5.6bn. The sector is expected to grow 7%, the strongest annual average growth of all sectors in the forecast period. The strongest drivers through the review period remain electricity, rail and road as Hinkley Point C nuclear power station moves to main construction and HS2 output increases, supported by increased work from the Highways Agency road programme. The ability to manage and deliver these projects and programmes to planned timescales will be key to achieving forecast levels of output.
Following seven consecutive quarters of annualised decline, output in the public non-residential sector recovered by 5% to £2.55bn in Q1 2019. Further gains are expected throughout the current forecast period, as work gets under way on several university expansion schemes and delayed hospital projects. Output is expected to average 3% a year to 2021, with stronger growth in the latter two years.
Output in the industrial sector ticked up by 1% in the latest quarter compared with Q1 2018, to a total of £1.25bn. Output growth is expected to remain similarly mild through 2019, gradually picking up pace thereafter to average annual expansion of 3% until 2021. As the factories subsector continues to struggle, overall expansion is likely to be driven by the requirement for new distribution and logistics facilities, particularly if Brexit means that just-in-time delivery becomes more difficult to sustain and firms are forced to hold more stock.
Despite remaining the second-largest new work sector by a clear margin, the commercial sector experienced the largest annualised contraction for a fifth consecutive year, with an 8% fall to £6.8bn in Q1 2019. As the sector most exposed to Brexit uncertainties, commercial construction is not expected to stabilise until 2021. Office construction will continue to decline this year and next, retail remains in the doldrums, and there is something of a hiatus in the leisure subsector after a long period for strong growth.
02 / New work output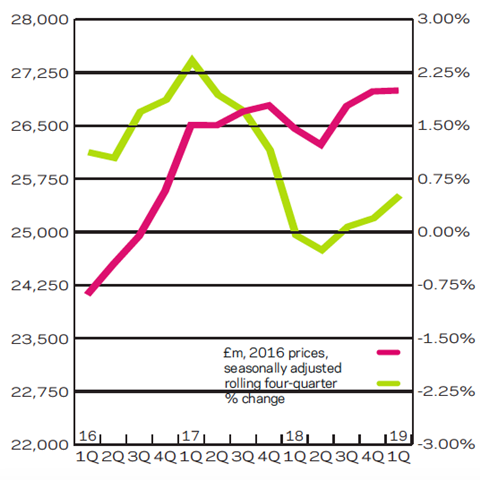 03 / R&M output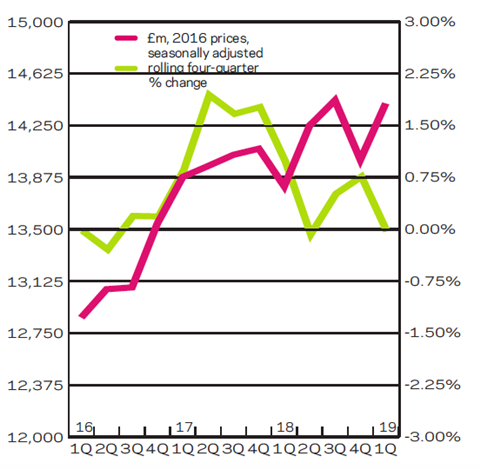 04 / New work orders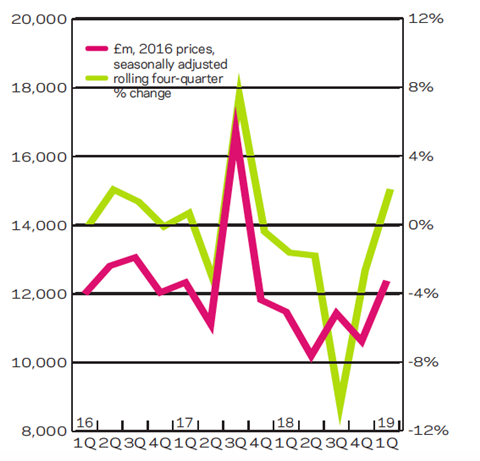 05 / 2019-21 forecasts
The public housing, private housing, infrastructure, public non-residential and industrial sectors are all expected to post annual average growth over the latest forecast period, with infrastructure output growth remaining strongest. Repair and maintenance (R&M) output is also expected to remain buoyant throughout. However, the private commercial sector is expected to post average yearly declines over the same period.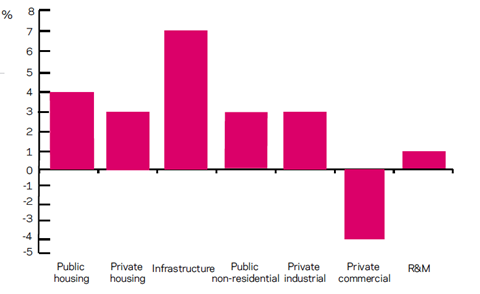 06 / Regional new work output
In the three months to March 2019, new work output in current prices increased in nine out of 11 regions and devolved nations on an annual basis.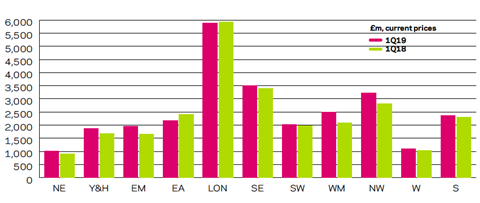 07 / Regional R&M output
Output for the R&M sector increased in eight out of 11 regions and devolved nations on the same measure.

08 / Regional new work orders
New work orders increased in just three out of 11 regions on an annualised basis in the first quarter of 2019. The single largest increase by some margin was seen in Greater London, which was largely attributable to the infrastructure sector. As the contract for the £1bn Silvertown Tunnel project in east London was recently delayed, this uplift is most likely related to remaining HS2 works not included in the main programme, for which orders were placed in Q3 2017.