Against all expectations, construction output seems to have grown in 2011. Which means that it's this year that the public spending cuts are really going to start hurting … Experian Economics reports
01 / OVERVIEW
Construction output totalled £27.2bn (in 2005 prices) in the three months to September 2011, a marginal 0.3% increase on the upwardly revised total for 2Q11 and, indeed, a similar amount above 3Q10. New work output fell marginally, quarter on quarter, while the repair and maintenance (R&M) sector grew by 1.1%.
Across new work, it was the commercial sector that saw the strongest growth, as output rose by 2.9% to £6.1bn. Public non-residential output also rose, albeit by a negligible 0.4%. This is surprising considering that public spending cuts came into effect in 2011, but our belief is that Building Schools for the Future "legacy" projects are being brought forward and thus the fall in output in 2012 will be heavier than previously thought.
Public housing construction, on the other hand, fell by 8.4%, quarter on quarter, in 3Q11. The latest statistics from the Homes and Communities Agency show that just 207 affordable homes were started in England in the six months to September 2011, compared with 13,626 in the same period of 2010.
The outturn of £800m for the industrial construction sector was 7.5% lower than in 2Q11, and was the weakest quarterly figure for two years. There is little impetus for manufacturers to increase investment levels, with domestic demand falling and the export-led recovery evaporating.
Given the amount of work ongoing on various projects, such as Crossrail, Thameslink, M25 widening and various station upgrades, it was surprising that infrastructure output fell during 3Q11. However, it was only 0.2% and the outturn was just slightly weaker than 2Q11's 18-year high.
Looking at the first three quarters of 2011 as a whole, revised construction output data totalled £80.6bn, in 2005 prices, up 3.6% on an annual basis. This suggests that output for the year as a whole is likely to be higher than 2010, as output in 4Q11 would have to be down substantially (-12%) in order to produce a flat outturn.
Following a substantial decline in 2Q11, new orders rose by 13% during 3Q11. Growth was strongest in infrastructure (28%), but the commercial sector also saw a 21% increase. Public non-residential orders rose 12%, quarter on quarter, but this followed a 29% drop in 2Q11.
The outlook is for a return to contraction for the construction sector in 2012, following 2011's unexpected growth. In addition to the deteriorating economic environment, it appears that spending cuts have taken longer to feed through into output and thus a better-than-expected performance in the public non-residential sector means a weaker outlook for 2012.
02 / NEW WORK OUTPUT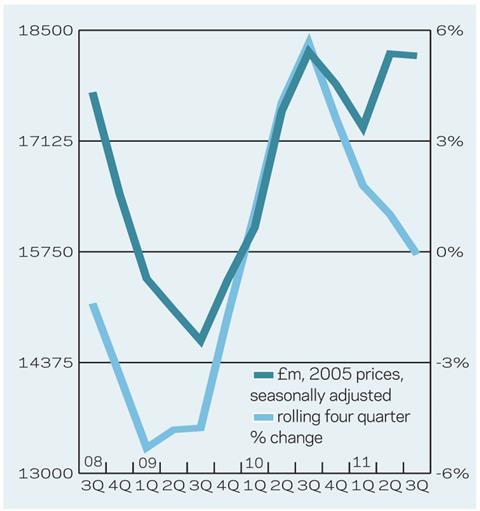 03 / R&M OUTPUT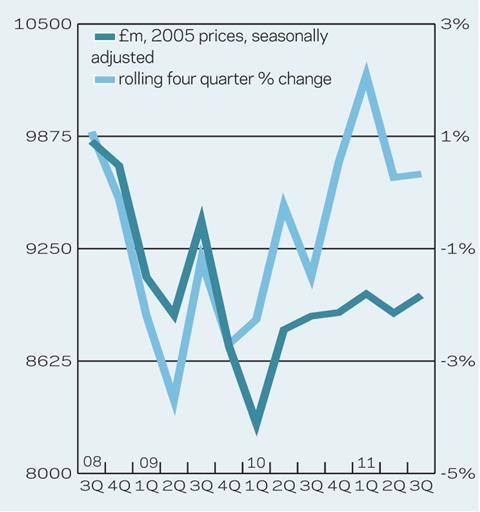 04 / NEW WORK ORDERS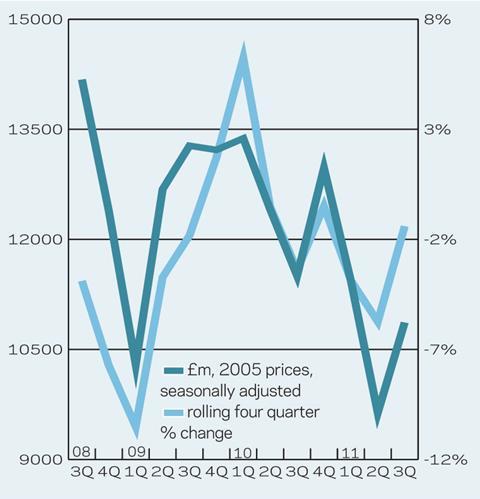 05 / 2012-14 FORECAST
The chart (below) presents sectoral forecasts for 2012 to 2014. The public non-residential sector is expected to fare the worst over the period, with output 45% lower in 2014 than its estimated outturn in 2011, while the public housing sector is also forecast to see output fall markedly. Growth is expected to be strongest in the private housing sector - demand is expected to pick up as conditions in the wider economy improve and credit conditions start to ease. The infrastructure sector will also fare well, as work gathers pace on a number of substantial projects, such as Crossrail and the Thames Gateway port.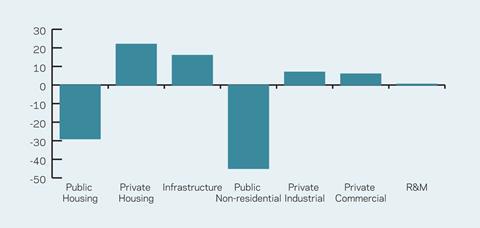 06 / REGIONAL NEW WORK OUTPUT
Six of the 11 regions and devolved nations saw an increase in new work output in 3Q11 compared with 3Q10. London saw the strongest increase, rising by 13%, followed by the South-east (9%). Growth was only modest (1%) in Yorkshire and Humberside, the East Midlands and the South-west. In contrast, output in the North-west fell by 7% and by 5% in both the West Midlands and in Scotland, while in the North-east it declined by 3%.

07 / REGIONAL R&M OUTPUT
The most marked increase in R&M output in 3Q11 was in Wales, where it rose by 32% compared with 3Q10. London (24%) and East Anglia (16%) also saw strong growth. The North-east and the North-west both remained unchanged, year on year, in 3Q11, while double-digit contractions were recorded in Yorkshire and Humberside (-18%) and Scotland (-14%).

08 / REGIONAL NEW WORK ORDERS
Just three regions recorded a year-on-year increase in new construction orders in 3Q11 - the North-east (34%), the South-east (22%) and London (15%). In contrast, new orders dropped by 32% in Wales and by 23% in the East Midlands. The North-west and Scotland both saw falls of 18%, while the West Midlands recorded an annual decline of 17%.