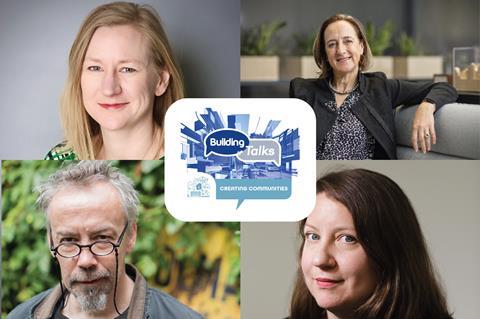 How do we help existing communities thrive, and ensure that when we build new places to live that they are conducive to people living healthy and fulfilling lives? These are perennial questions for built environment professionals and society at large. And yet, as a country we sometimes seem to struggle to agree on the basic principles that underpin the creation of strong, beautiful communities.
This is a time of massive change and uncertainty for the UK's built environment. With a housing crisis that shows no sign of being resolved soon, a struggling retail sector, and a climate crisis, traditional ideas of what makes successful communities are being re-examined and challenged. And as the Labour party promises a housebuilding boom, questions around how we deliver good quality urbanism become more critical and urgent than ever.
Over the last few months, I have been speaking to four leading figures from the worlds of architecture, planning and urban design, to understand what drives them and how they see the future of placemaking.
These interviews will be broadcast as a new season of the Building Talks podcast over the coming weeks, produced with our sister title Building as part of the Building the Future Commission's focus on creating communities.
What does placemaking even mean?
One of the key lessons I've taken away from my interviews, is that the term itself – placemaking – is increasingly being interrogated and questioned. There's now a widespread view that it implies a top-down approach – something that's done to communities, not by them. And there's also a strong feeling that 'places' are not conjured up out of nowhere by design geniuses.
A new development in a town centre is not creating an entirely new place, but rather adding to an existing urban context. Designers should therefore always see towns and cities as living tapestries, to which they have the privilege to contribute. Even a greenfield site has a history, a context, ecology and human memories attached to it – all things that professionals working in this field should be aware of and responsive to.
Our podcast guests
The first of these podcasts is with Jo Wright, managing director at Perkins & Will. Jo talked to me about huge projects she's been involved in, such as the most recent revisions to the Battersea Power Station masterplan. She also referenced how her architectural education at Bath informed an approach to urbanism that ensures she always sees individual buildings within a wider fabric.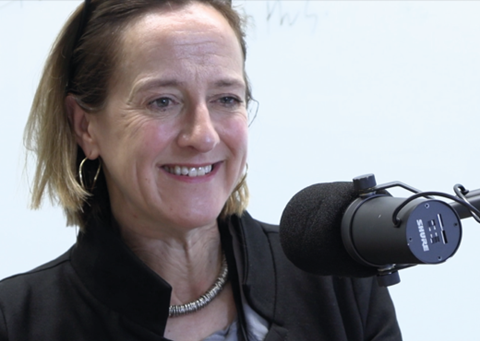 Jo moved to Perkins & Will from Arup, where she had played a key role in integrating architects into the fabric of the parent business, which had always been primarily engineering-focused. That experience was one of the main reasons she was attracted to Perkins & Will, as it provided an opportunity to once again solve issues around getting multidisciplinary teams to work together within a bigger business – in this case, Dar Group.
This emphasis on interdisciplinary teams and collaboration are not just important in business, but critical to successful outcomes in the creation of thriving communities. David Rudlin, director of urban design at BDP, has dedicated his career to bridging the divide between planning and architecture. As one of the UK's leading authorities in the sector, he has advised the government and contributed to the delivery of several major urban regeneration projects.
David grew up in Birmingham at a time when its new concrete buildings and roads were seen by many as the future. But David could already see how the modernist landscape of underpasses and fragmented cityscape was not conducive to a healthy city.
As with so many successful urban designers, his ideas have evolved through observation and experience, as much as they have from theory. He was increasingly drawn to the vibrant street life of the city's inner Victorian residential areas, with their dense housing, and active street frontages.
Too often, perhaps, we forget that good design and successful places are only possible when we have talented clients
As a leading member of the influential consultancy, Urbed, David was part of the team that won the prestigious Wolfson Prize for Economics in 2014, and has also written the National Model Design Code. He believes Britain still has a long way to go towards consistently delivering high-quality good new urbanism, but that design coding could have a vital role to play in helping raise standards.
Selina Mason has been a leading figure in debates around masterplanning for several years, and I was delighted to interview her for the series. Currently director of masterplanning and strategic design at Lendlease, she specialises in seeing the bigger picture when it comes to our major cities.
Currently working on the huge Smithfield masterplan in central Birmingham, her job involves marrying high quality urbanism with commercial viability. Much of her success lies in promoting a culture of high quality design within a profit-led organisation. Too often, perhaps, we forget that good design and successful places are only possible when we have talented clients, with the ambition and skills to envision and deliver great urban design and thriving communities.
Like Selina, my fourth guest, Anna Mansfield of Publica, places a huge emphasis on consultation and working with communities to deliver change that meets local needs. Publica is an urban design and public-realm practice that likes to work with the grain of existing places, helping to draw out their existing strengths and character.
I hope the discussions highlight the huge breadth of expertise that exists in the UK
Anna, a part-time magistrate, is fascinated by the systems and subcultures that lie behind successful cities. That interest in the culture of places informs an approach that is highly people-focused and has helped draw attention to the particular needs of women and young people in our built environment.
In our interview, she highlights the importance of retail environments, not only to the economy, but as social and cultural convening spaces, that have historically acted as important places for women and young people in particular to engage with each other. With the demise of department stores, she worries about the loss of these gathering opportunities in our towns and cities, and looks forward to finding news ways of reinvigorating high streets.
I believe that each of these conversations provides useful insights into how these industry leaders view the current challenges facing the built environment. And equally importantly, I hope the discussions highlight the huge breadth of expertise that exists in the UK, giving us all hope that whatever the challenges we face, there is no shortage of ideas, talent and commitment to addressing them.
Ben Flatman is Building Design's architectural editor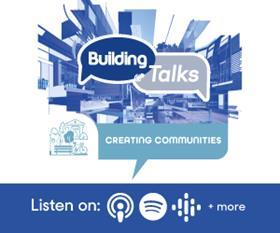 Listen to the trailer: Building Talks Creating Communities
You can hear the trailer for the new season of Building Talks by clicking on the player below and at the top of this page. The first episode is out tomorrow and we will release future episodes every Tuesday for the next three weeks.
If you wish to subscribe so that you receive each episode, then go to one of the main podcast providers such as Spotify and Apple, search for Building Talks and click to subscribe.