Many industries including manufacturing, insurance and retail are using data to gain new market insights and become more responsive, efficient and provide better service. In the third in our series on innovations with the potential to transform construction, we ask what it will take for the industry to catch up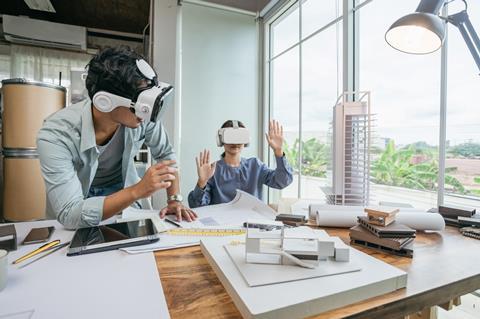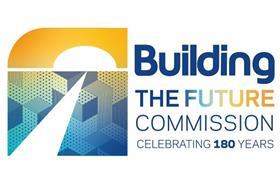 My local supermarket is at the forefront of making food shopping quicker, cheaper and easier. It is one of a handful of UK supermarkets where customers walk in, put their purchases straight into their carrier bags and leave without fear of being chased down the street by security guards. An app is used to enter the store, cameras monitor everything bought and an itemised receipt is emailed shortly afterwards.
The system identifies purchases with amazing accuracy and the experience is quick and convenient. This approach should lead to lower prices because the store is unlikely to fall victim to the £1.76bn annual cost of retail crime which everyone is paying for in higher prices because it is impossible to steal anything from the store.
There are no security guards, instead there are staff dedicated to helping customers. Critics will say camera-monitored shopping is very "Big Brother", but anyone who thinks they are not being captured on CCTV when they go into a supermarket is suffering from delusion.
True, the system excludes people without smartphones or bank accounts, but there is another supermarket less than 50m away complete with a bank of self-service checkouts which seem to attract more complaints than ones without.
This story demonstrates how other sectors are already embracing sophisticated digital technology to provide a better and more convenient customer experience and reduce costs too.
Construction, however, has been rather slower to embrace the full benefits of digital technology, which is hampering efforts to overcome its low productivity, high costs and project over-run problems.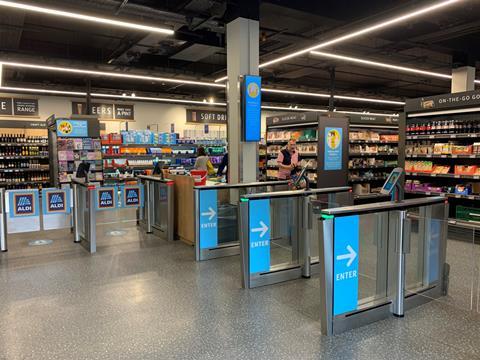 In the third in our series for the Building the Future Commission on how innovations could transform construction, we look at how far construction has come down the technology road. And how much further it still has to go to catch up with the likes of the big supermarkets.
What is the extent of digital adoption?
The use of technology in construction has come a long way since the days when 2D CAD was regarded with suspicion by those who thought it would never replace the drawing board.
Building information modelling (BIM) was another leap forward as it enabled designers to attach attributes to objects in a model so this could be shared by others in a project team and used for project costing and planning, and for building operation by clients.
Initially slow to adopt BIM, this was given a big helping hand by the 2016 BIM mandate which required anyone working on public sector projects to use the technology. The mandate was backed by the BIM Task Group which supported the industry with guidance and standards to make adoption easier and more consistent.
There are multiple other technology tools available today to improve efficiency; project collaboration platforms where teams can share information securely online, project planning tools and more recently virtual reality where teams can rehearse project delivery in a realistic, 3D environment. Virtual reality is also useful for enabling clients to experience what their building will look like and the effect of design variations.
There are multiple other tools, such as point cloud scanners for capturing as built information for refurbishment projects, snagging software and lone worker monitoring systems which allow workers to send alerts in case of an emergency. Firms use sophisticated information management systems for internal processes with more and more turning to the cloud as this allows people to work from anywhere with an internet connection, particularly useful for construction.
>>Click for more on the Building the Future Commission
Machine learning is making inroads too. Generative design tools can quickly crunch through a list of client needs and project constraints to produce a shortlist of design options from which a team can develop in detail. Machine learning tools can scrutinise images of building facades, roads and so on and quickly identify defects. There are tools, such as nPlan which use machine learning to examine tenders to see which are the most realistic, and project delivery plans to identify unforeseen risks.
Mark Enzer, the former director of Digital Built Britain and strategic advisor on digital transformation at Mott MacDonald, says there are plenty of excellent examples of digital adoption in the industry, but these are happening in relative isolation. "There is everything from digital surveying techniques, the automation of plant, digital delivery processes using artificial intelligence in all sorts of interesting ways including using it to spot problems on programmes to using data and digital processes to improve health and safety onsite," he says.
"There are plenty of good examples, but they're not evenly distributed across the industry. It is hard to see how they could scale up because an awful lot of the good examples are clearly within the bounds of an individual project or organisation and is it very hard to see how those can actually be shared across the whole industry."
Mark Bew, former chair of the BIM Task Force and now CEO of digital solutions specialist Cohesive, says industry firms have embraced digital technologies for internally facing processes more readily than those that facilitate information sharing and collaboration between external teams. "The adoption of organisational tech has always been ahead because people are trying to gain competitive advantage," he says. "I'm seeing companies really getting into corporate data and improving their internal businesses."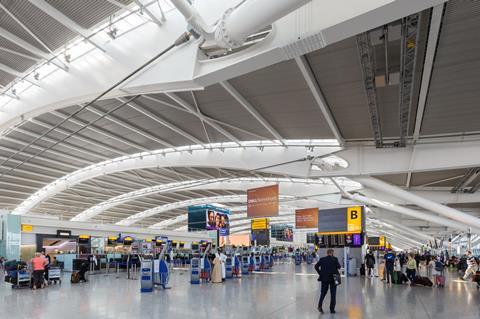 He adds that manufacturing focussed firms have been particularly good at automating processes whereas the teams within cost consulting and project management firms have been poor at sharing their data with others. There is a new trend of these firms putting information into central libraries to better analyse cost and programme performance.
Construction projects bring together multiple companies who need to collaborate and share information for effective delivery. BIM is a central part of that collaboration process which is why it was mandated for public sector work in 2016. But this is where the industry underperforms compared with the adoption of internally facing digital tools.
According to the NBS digital construction report, a pan industry survey of digital technology adoption last carried out in 2021, 71% of respondents had adopted BIM. This has fluctuated between 69% and 73% since 2018 suggesting that BIM adoption had reached or was close to saturation point. BIM adoption covers a broad spread of uses ranging from internal facing use as a 3D design tool to sharing data for external collaboration with other members of a project team.
The latter application is where Bew reckons the industry is still lagging because its underlying structure militates against greater collaboration. "The old problems that we've always had are still there," he says. "We take businesses through a process of competition to select them and then ask them to collaborate. The notion of getting organisations to share information, methods and data freely while they're in competition is, in any other world just bonkers."
The potential of digital twins
To improve industry productivity, the ideal is for project teams to use digital tools and processes collaboratively to design high performing, attractive buildings and deliver them as efficiently and as predictably as possible. Clients take some of that digital information to operate and maintain the building efficiently and sustainably. The 2016 BIM mandate, the so-called level 2, was designed to facilitate digital collaboration by setting out how data should be classified and included information exchange methods to enable effective collaboration between teams for design and delivery.
Firms created their own models and combined as a federated version to protect their intellectual property. The primary focus of the 2016 mandate was design and construction. There was a nod to the operational benefits of BIM as it included the so called COBie protocol for handing as built information over to clients ready for them to populate facilities management software tools.
Level 2 was seen as a stepping stone to level 3 where firms shared information in the form of intelligent objects – the 3D building elements in a model combined with data describing attributes such as cost, the make, service intervals and so on – in a common data environment rather than using federated models.
Since then, the notion of BIM level 3 has been replaced by the digital twin. As its name suggests, this is a digital manifestation of a physical building including an as built 3D model complete with comprehensive information about the physical assets making up that building. This is linked to the building's systems for more effective operation and maintenance.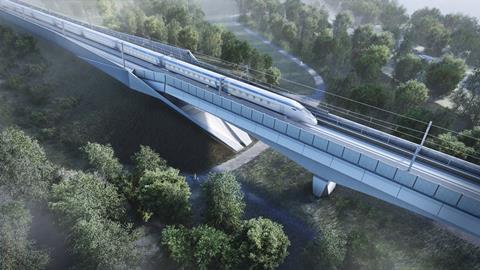 Bew, whose company Cohesive helps create digital twin strategies for clients including HS2 and manages these on their behalf, says the real benefits of digital twins are gained during the post completion building operation and maintenance phase, particularly in terms of reducing operational carbon emissions. The other big benefit is that knowledge gained from that operational phase can be used to improve the design and delivery of subsequent projects.
Indeed, the digital twin process operates as a kind of virtuous loop which starts off with client requirements that inform the building design which is done digitally. The design goes through an assurance and testing process to make sure it meets client requirements and all regulatory requirements before construction work starts. Bew says that not enough attention is paid by clients, particularly the public sector to this stage.
"This should be part of the green book [public sector appraisal and evaluation] and investment process, so that there's a digital assurance and pathway in the business case before you start spending money on concrete and steel," he says. "That would dramatically change the way that we provide assets in the future."
The digital twin is updated as necessary to reflect the completed building. It is linked to building systems via an array of sensors that monitor how different building elements such as a pump or a lift are performing. The digital twin is used to optimise operational energy efficiency and can detect via the sensors when something isn't operating as it should, enabling an intervention before the item fails.
This aspect of a digital twin helps to ensure buildings are operated and maintained optimally. Performance is measured and compared against the initial requirements. If the building doesn't measure up, this information is captured and used to inform the next project so the issues that contributed to subpar performance aren't allowed to reoccur.
The Centre for Digital Built Britain, a partnership between Cambridge University and the Department for Business, Energy and Industrial Strategy that ran between 2018 – 2022, established the national digital twin programme, which as the name suggests, is an ecosystem of connected digital twins which will enable data to be shared between organisations leading to better performing assets.
There is a long way to go to realise this vision. Bew says very few clients are leveraging the full potential of digital twins let alone sharing these with other organisations. "We have seven to ten clients globally and not many are in the UK," he says.
HS2 and Highways England have digital twin strategies – both organisations have a lot to gain from this as these can be used to operate and maintain their rail and road networks respectively. Bew isn't concerned about the low rates of digital twin adoption saying three London developers are close to achieving digital twin maturity with another three on the rung below. He adds they have realised that creating and managing digital twins isn't part of their core business so Cohesive does it for them – a model that could become more common for smaller businesses who stand to benefit from digital twins but don't have the specialised expertise to build and run these.
The data and information management challenge
Data is the building block of digital technologies and way it is stored, organised and accessed is fundamental to success. Machine learning, in particular, relies on high quality, consistent data. Unfortunately, construction suffers from poor quality data and information management which is a major barrier to more effective collaboration.
Construction lags behind other industries as it has a habit of taking paper-based processes and digitising these – the classic example is a pdf document – rather than making direct use of the data. "If you took a QS from 1890 and time travelled them to now, I reckon, with a couple of weeks training on Excel and some time to get over the culture shock, they would still be able to function as a QS," says James Garner, the global head of data and intelligence at Gleeds.
Bew says there are signs that industry firms are beginning to move away from a paper based mentality where firms, or even departments within firms operate in silos and are unable to effectively share information. "Every other high performing industry is routinely sharing data, not files. We need to stop sharing electronic paper or indeed actual paper and move to a place where we routinely share objects and proper atomic data," he says.
"And that is happening; we are starting to see products come on to the market that enable object level sharing and we're starting to see a few big projects like HS2 and Highways England beginning be able to cope with data. It is progressing."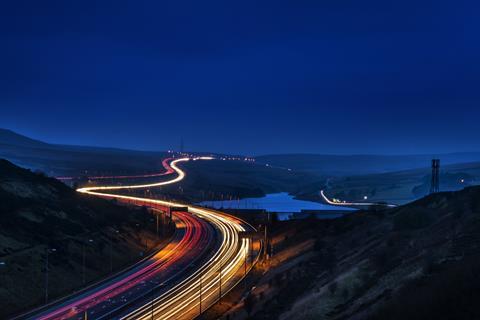 While that is a good sign Bew says creating systems to integrate data so it can be used for high value purposes such as digital twins is expensive and that the systems tend to be bespoke to each organisation which precludes wider data exchange.
"That integration strategy is expensive and not repeatable as each one is bespoke to the client because each one has its own requirements, language and processes. There is some good functionality emerging and there is some good understanding of data quality and driving that up. But the standardisation of object based data is missing and so the ability to be able to share that on a widespread basis is missing."
Enzer agrees. For him the industry is being held back by being unable to share best digital practice.
"There are examples of clients who crack how to get the supply chain to provide excellent services on a project. But that supply chain is broken down and reformed in a completely different shape for another client on another project. Because they can't share that across the whole industry you end up with a frustrating picture of excellent examples in lots of different places that just don't connect," he says.
Promoting better quality information sharing
There are some established open data standards used by the industry such as Industry Foundation Classes (IFCs). The IFC schema describes the names and attributes of objects which can be used for how an asset is designed, built and operated. It is described by an international standard and is designed to be easily used across a wide range of platforms and devices.
Contractor Kier used IFCs as the primary information exchange for the design and construction of HMP Five Wells for the Ministry of Justice and for providing data to the MOJ for building operation. Kier is also developing a digital twin using IFCs for the design and construction of HMP Millsike for the Ministry of Justice and intends to develop these in the future for operation too.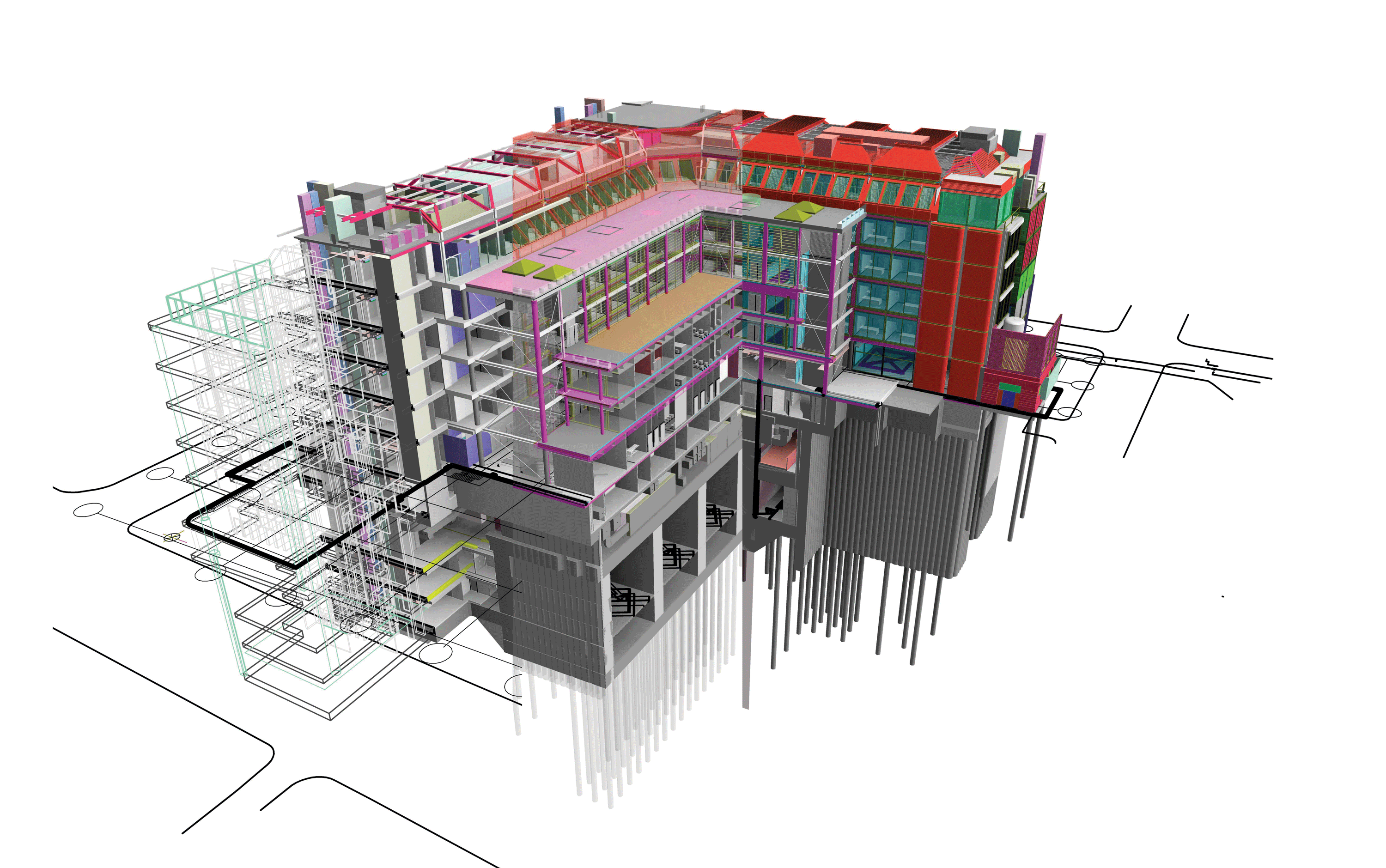 IFCs are useful for exchanging data but don't describe how information or processes should be organised. Enzer says the industry needs to agree how data should be shared consistently across a wide variety of processes so project teams could use the same approaches on multiple projects for multiple clients. This would need to transcend sectors for the national digital twin programme too.
Aware of this issue, the Centre for Digital Built Britain created an information management framework setting out a high level approach for managing data so it can be used by multiple parties, used consistent definitions for assets, is consistently structured, and can be trusted. "The information management framework goes into the space of digital twins and connected digital twins," Enzer says.
"Data isn't just being shared around a project, but being shared between organisations, say between a client organisation and a regulator or between one regulator and another or between energy and transport. It is a much bigger ambition for secure and resilient information flow. The benefit to the country would be absolutely enormous if we could get our act together and make that happen."
The Centre for Digital Built Britain has now been disbanded but Enzer says there are multiple organisations continuing the national digital twin agenda including the Digital Twin Hub where over a hundred people meet on a call each week to share best practice. There are other initiatives including a digital twin demonstrator on the Isle of Wight which is being led by the Department for Business, Energy and Industrial Strategy. And there is the Apollo Protocol, a mechanism for formalising cross sector digital twin interfaces which is being promoted by the Institution for Engineering and Technology.
Enzer praises these initiatives but cites them as another example of industry fragmentation. He says this is why the industry needs to find a way of connecting and co-ordinating these and other digital initiatives to come up with an agreed, coherent set of standards that everyone could adopt.
The industry must embrace step change
All the experts to whom Building spoke for this piece emphasised the need for industry step change by moving to a more open, collaborative model of information sharing. Bew says if information was more transparent – for example, knowing how buildings are performing – this would open up new ways of demonstrating value rather than lowest price. He says other industries have managed to drive out huge chunks of cost and waste by the effective use of data.
"The retail market completely reversed the whole value chain and until recently we've enjoyed much cheaper food than if we had stayed in the old model," he says. "Amazon has completely transformed the retail supply chain; small organisations can compete on the same basis as big organisations without anyone knowing."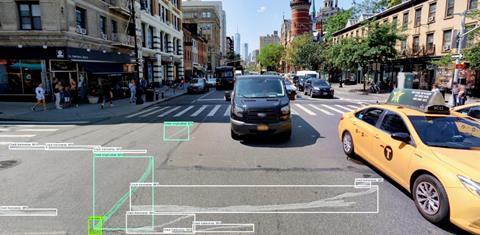 For Garner artificial intelligence will be the catalyst for major change. "The big paradigm shift that's happening is not just doing things digitally, but totally reinventing how we do things," he says.
"AI is important because it is allowing us to think outside the box and do things totally differently. So instead of taking a process such as tendering and asking how can we do that digitally, what we need to ask is why are we doing it like this in the first place and what would it look like if we were to invent it from scratch? If a big tech company was to come in and start from scratch, would they do it the same way? Probably not."
Garner says the industry is vulnerable to a big company coming in and doing exactly that by inventing new, more effective ways of doing things then selling this back to the industry. He cites the example of the music industry where artists receive tiny amounts of the money generated from streaming.
"If we don't take control of the situation as an industry, then my fear is that the big tech companies will because that's exactly what they've done in other industries," he says. "If you take the music industry you can see how that's been decimated and totally transformed by the advent of streaming. This wasn't because music was digitised but because streaming totally changed the way that people consume and interact with music."
Garner says companies need to become much more protective of their data, for example when signing licence agreements for software products. He says, "The industry needs to come together and put some rules and governance in place. Yes, let's embrace these tools but we don't have to just sign away our knowledge to the big tech companies."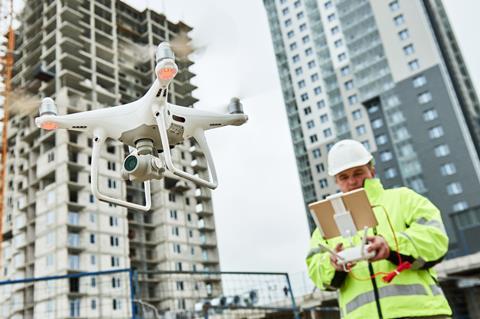 Enzer describes the transformation the industry needs to go through in terms of three horizons. The first is business as usual, which is difficult to break out of because there are so many pressing issues such as energy and material prices to focus on. The second horizon is a stepping stone such as reforming procurement to facilitate the third. The third horizon is a much more connected industry where there are common approaches to a whole raft of processes including data management. This will not only make the industry more productive and efficient but help it tackle big issues such as climate change.
"We are getting to the end of the road of doing what we've always done and not making a change," he says. "We will find that climate resilience a systems based thing and we've got to embrace joined up thinking because you can't solve a big systemic challenge in silos."
The role of government
The success of the 2016 BIM mandate backed by the support of the BIM Task Group begs an obvious question: should the government stage another intervention to drive the step change that is needed to create a 21st-century digital construction industry?
Bew, the former chair of the BIM Task Group, says that although this might sound appealing, he describes it as a "blunt instrument". "To raise awareness and get people to move the game forward to get very high value, you need to create competition and create an environment rather than a policy," he says.
The mandate covered the use and exchange of data. Most of the BIM Task Group's work focused on protocols and methods of data exchange which were not mandated.
"What that did is it allowed competition to happen on both sides and allow people to communicate," he says. "For the data journey we need to look at what it is we are trying to achieve and what is the minimum touch we could do. It's a very thoughtful, careful minimum intervention backed up by policy and a long term commitment to the supply chain."
Garner says the industry cannot sit around waiting for government intervention so it must take the lead. "We cannot afford to go at the pace of government because they can't keep up with the pace of technology. We will be lucky if we get some regulations on ChatGPT by the time we're on to the next iteration of AI," he says.
The message is clear: the industry needs to come together to develop a digital strategy on its own terms – before someone else does it instead
"The government will look to the industry bodies for guidance and there is a role for government in terms of enacting it."
Enzer dismisses the idea of government intervention, partly because it doesn't have the money which was the reason why Digital Built Britain was disbanded, and because he thinks a top down, command and control approach will not work. Instead, the industry needs some visionary leaders, who want to change things for the better, to bring people together to develop a vision for construction.
"I don't think that an over-centralised approach is what we want. What we need is an approach to leadership that brings people together and in my experience, this works really well."
Bew points to Paul Morrell who proposed the BIM mandate during his stint as chief construction advisor to the government. "Paul Morrell was just an absolute genius at supporting us [the BIM Task Group]," he says." His relationship with ministers and the political scene and aligning that was the power of what we did."
Unfortunately, Bew does not think there is anyone in government or industry with the ability to progress the digital agenda because of covid, government ructions and now inflation and the cost of living crisis. "Let's recognise that and spend some time over the next couple of years getting clarity on what the intervention should be," he says.
"So that, when an administration does come in that has the bandwidth and time, the industry is ready rather than rocking up with a half-baked idea then wondering why it doesn't get traction. We should be developing that idea now ready to be submitted in two years' time."
The message is clear: the industry needs to come together to develop a digital strategy on its own terms – before someone else does it instead.
Join us at the Building the Future Commission Conference
You can join the Building the Future Commission Conference in Westminster on 27 September to hear from leading figures across the construction industry and find out more about the work of the commission.

The day will include panel debates on net zero, digital transformation and building safety as well as talks from high-profile keynote speakers on future trends and ideas that could transform the sector.

There will also be the chance to feed in your ideas to the commission and to network with other industry professionals keen to share knowledge.
You can follow our progress using #BuildingTheFuture on social media.