Since the aquatics centre's 160m-long roof was lowered into place last year, work on the Zaha Hadid-designed venue has continued to power ahead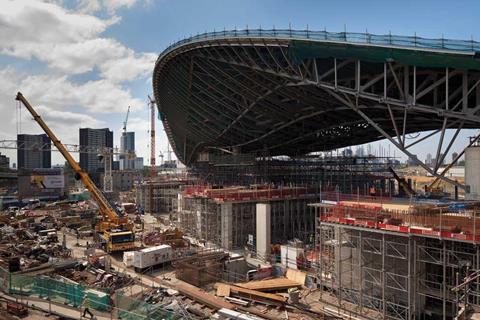 Last November, construction on the Olympic park passed an important milestone when one of the most technically challenging jobs on one of the most high-profile buildings was completed. The team working on Zaha Hadid's dramatic aquatics centre lowered the 3,000 tonnes of complex steelwork making up the 160m-long, wave-shaped roof from its temporary supports onto three columns. This support is so minimal the roof structure has appeared to hover above the ground ever since.
Since then, contractor Balfour Beatty has been making solid progress on the £250m project. Most of the work has concentrated on excavating and concreting the dive pool and two 50m-long pools used for the Games. These have been waterproofed and tested for leaks and the team will soon start installing 180,000 tiles. Separator booms to divide the pools into smaller areas and moveable floors to vary depth will be built in for use after the Games. Sand filtration units to allow the water to be reused for toilets are being installed, and work has also started on the changing rooms and permanent seating and on the foundations of the temporary stands that sit on either side of the building.
While the project team is pressing ahead with the pools and user facilities, overhead, work continues on the roof. The external lining has been completed and the team is now installing the insulation and standing seam roof cladding, which is already half finished. The timber cladding to the underside of the roof is also under way. This consist of strips of red louro, a sustainably sourced hardwood. This follows the sweeping curves of the roof soffit but has to be laid dead parallel to the competition pool to help ensure swimmers doing backstroke swim straight.
The aquatics centre is scheduled to complete next year.
Project team
architect Zaha Hadid Architects
structural engineer Arup
M&E engineer Arup
pool design S&P Architects
concrete A J Morrisroe
roof structure Rowecord Engineering
external roof cladding Lakesmere
timber ceiling Finnforest
Aquatics Centre in numbers
17,500 capacity during the Games; 2,500 post-Games
Includes two 50m swimming pools and a 25m diving tank, which contain over 10 million litres of water and will be lined with 180,000 tiles
160m-long, wave-shaped steel roof, 80m at its widest point, weighs more than 3,000 tonnes
Roof rests on just three concrete supports
Structure incorporates a 250m-long and 45m-wide land bridge that forms the roof of the training pool and the main walking access into the Olympic park