In recent weeks we've heard all about BIM - its advantages, the sharing principle, the downfalls,the training needed and the cost, but what does it all actually mean? Thomas Lane follows one BIMed-up project from beginning to end
Compulsory use of Building Information Modelling on all public sector projects could help save the industry from itself. Using design information collaboratively has been shown to produce cost savings of up to 10%. These savings could make the difference between surviving and going bust in today's tough environment - yet BIM is still a minority activity.
Chief construction adviser Paul Morrell aims to change all that with his proposal to make BIM compulsory on public sector projects - an idea that is being backed by the government, as a recent working group report showed minimum savings of 5%.
The savings come from sharing design information, which saves each team member from drawing up designs from scratch. Holding data in common means design information is consistent and co-ordinated, eliminating expensive clashes once projects get to site.
It sounds great in principle - so why isn't BIM the norm rather than the exception?
The first barrier is that it involves switching from working in 2D to 3D, which means software upgrades, expensive training and a change in mindset. The second is that while sharing information is fine in principle, the questions arises of who owns the information and who you blame when something goes wrong. That is a difficult issue to resolve in a notoriously fragmented industry.
So how does using BIM work in real life? Building decided to follow a project's team from start to finish to see how each member gets on. We join the team at the design stage to see why they are using BIM and how the information is being shared. We will revisit the team once the project is on site, to see how BIM is benefiting the construction process, and finally will see how the design information will be used to help maintain the building once finished.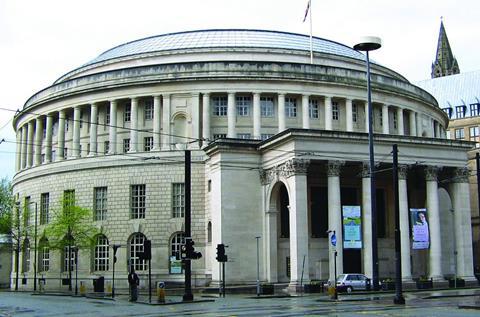 The project
As Morrell's proposals centre on the public sector, Building decided to follow the remodelling of Manchester's Central Library. This should spice things up, as BIM is usually associated with new-build. "We are using BIM on a very complex grade II-listed building, so if it can work for us it can work for the whole industry," says John Lorimer, capital programme director for Manchester City Council.
The building is grand looking, with more than a passing resemblance to Rome's Pantheon. However, the purpose-built library was completed in 1934. The design was based on the American idea that borrowers don't browse; the librarian gets their desired tome from hidden book stacks. This means 70% of the library is not accessible to the public. Architect Ryder wants to reverse this ratio so 70% of the building is accessible to the public.
Much of the hidden space consists of four floors of book stacks sitting under a huge, circular reading room. These are integrated with the building structure so their removal is a complex, structurally challenging job and will necessitate new structural elements and floors. Vertical circulation is unsatisfactory, so a new core will be punched through one side of the building, which will contain new staircases and lifts. Services will be threaded through the existing structure. Asbestos removal is under way and contractor Laing O'Rourke is getting ready to demolish the book stacks.
Why the client went for BIM
Manchester City Council is convinced that using BIM will be beneficial and has already used it on a housing scheme and a school. It invested £100,000 on BIM for the housing project in the hope this would save money. "We already have a gross return of £260,000 on the investment in the form of programme benefits, less waste and an improved product," says Lorimer.
When Ryder said it wanted to use BIM on the library, Lorimer was keen to back the idea. "We are using it because we believe once the building is finished and we take over the model we can better manage it throughout its life. For us that is the real gain."
Lorimer says that using BIM will help everyone fully understand the design and provide greater certainty on site, thus reducing the risk of the project overrunning the budget and programme. Using BIM isn't a contractual condition of this job, but to win a place on the framework that was used meant subscribing to the council's values, which included innovative ways of working.
Lorimer says the "soft" approach adopted when using BIM on this job would be replaced by a more robust approach next time. "We are exploring another contract down the road and we will be much more explicit about asking for BIM."
How BIM works on this project
The existing library had to be surveyed and drawn up before design could begin. Ryder persuaded the council to cough up £42,000 for a 3D survey of the building. This is done by scanning the building with a laser that measures up to a million points a second. The scan is put into Revit, a 3D modelling tool. The survey cost £4,000 more than a conventional 2D survey but provides far more information. Ryder has used this model for its architectural design, and the other consultants have used Ryder's model for their own designs.
Each member of the team has ownership of their model and uses the other models as an external reference. The models are updated against each other regularly. For this to work, everyone needs to create their model with the same drawing conventions. Structural engineers URS Scott Wilson and Laing O'Rourke had created drawing protocols when they worked together on prison projects, so suggested the team used the same protocols on the Central Library.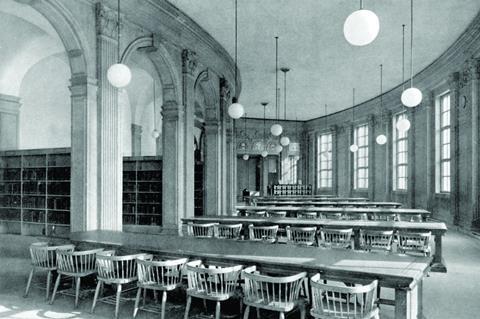 Project manager - Mace
How are you using BIM?
Mace associate director Paul Mulcahey was involved in the programme early on and advised Manchester council to choose BIM on this project due to the complexity of the job. He describes the building as a "stage set" because the traditional-looking finishes hide modern construction methods. The wooden panelling hides the steel structure of the building and hollow marble columns house ventilation ducts.
BIM makes it much easier to understand the building. Mulcahey used 3D visualisations to explain the logistical challenges of working in a tight, city centre site to bidding contractors. Winner Laing O'Rourke took this information and incorporated it into its project planning.
Advantages
Mulcahey says using BIM has promoted more efficient team working and having easily understandable 3D visualisations has helped for planning consultations. He says BIM also makes it easy to audit changes to the design.
Disadvantages
"I've had the luxury of a really well drilled team and I am not aware of any problems," says Mulcahey, although he has encountered issues with drawing protocols on other projects.
Costs
The team works out of a council-owned building that didn't have enough bandwidth to handle the BIM models. Making the office BIM-ready cost about £10,000.

Architect - Ryder
How are you using BIM?
Ryder decided to switch from AutoCAD to 3D modelling package Revit in 2007 and says working collaboratively in a BIM environment was the natural next stage from working in 3D. On this job, Ryder based its architectural design on the laser survey. Other consultants use Ryder's model for their designs, and Ryder incorporates their elements into its model by updating it weekly.
Advantages
The firm says it regularly uses BIM for integrating architectural design with M&E, structure, clash detection, programming, pedestrian flows and solar and thermal modelling. "Another fringe benefit of having a single, integrated model is design meetings are hosted around it, so everyone has a clear understanding of what people are talking about," says Ryder director Ian Kennedy.
Disadvantages
"There isn't one set way of using BIM," says Kennedy. "Everyone is at different stages, so you have find a way of working that is beneficial for all."
Costs
As Ryder made the decision to switch to Revit four years ago, there have not been any specific costs associated with this project. But it took 18 months for all the people in the practice to undergo Revit training. The costs of training, licences and PCs are £25,000 per person over a six year period. "The learning curve shouldn't be underestimated. I think it is a bigger leap than going from paper drawings to CAD," says architect Lee Taylor.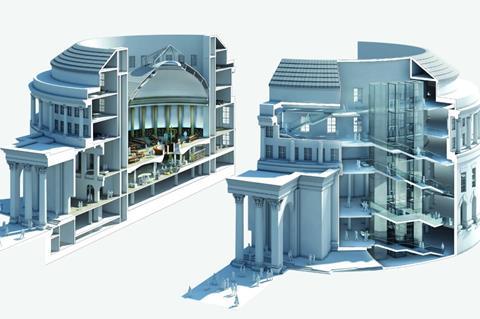 Structural engineer - URS Scott Wilson
How are you using BIM?
This job involves ripping out four levels of bookstacks that are integrated structurally with the floors and the floor of the main reading room, above. Additionally, a new circulation core is being inserted to one side of the building. "It's quite detailed and fiddly modelling, so we decided at tender stage to use 3D," explains Jim McNally, technical director of buildings and infrastructure at URS Scott Wilson.
McNally says he was aware of a push to use BIM on this project, so used this as a selling point to win the job. McNally takes Ryder's 3D information and incorporates it into Revit Structure, a version of Revit with tools for structural design and analysis.
Advantages
"The benefits will be fewer surprises on site," says McNally. "We will get a much better fit of the structural members as everyone is forced to think about the detail and the design is more fully developed. With 2D there is a tendency to fudge things and then sort it out on site, which isn't great if the contractor has got 200 men standing around because something doesn't fit."
Disadvantages
McNally is concerned about copyright. Firms spend a lot of time building up libraries of elements that can be quickly incorporated into drawings. When a model is shared, other companies have access to this information. McNally says this issue hasn't been resolved on this job.
Costs
The firm decided to switch to Revit partly because of this job. This involved getting faster computers running Windows 7, which in turn meant training up staff. McNally reckons it has cost about £30,000 to get the team up to speed, but it's worth it. "We would like all our engineers to get used to Revit as it is the design tool of choice rather than AutoCAD. It is quite an expensive process, though."
M&E engineer - BDP
How are you using BIM?
All the services in the library are being replaced, which is challenging as these have to work with the existing structure. BDP is using the architect's and structural engineer's models but also relies on original drawings and surveys, as the laser survey can't see inside service voids.
It is working with AutoCAD MEP, a services version of the popular CAD tool. This interfaces seamlessly with the Revit models used by other consultants. Robert Ferry, the environmental engineer director for BDP, says the firm also uses Revit MEP but started off using AutoCAD on this job so it made sense to persevere with it.
Advantages
"The benefits are pretty clear, you can visualise the 3D environment, which means it aids co-ordination and clash detection," explains Ferry. "The biggest thing that comes back to bite you are the clashes on site. Frankly, BIM has made problems at site level disappear." Ferry adds that service items in the model can be given attributes. This means a list of these items can be run off at the press of a button which helps with ordering equipment.
Disadvantages
Because not everyone in the firm is up to speed with BIM, some of the team took a while to get used to the system, slowing the job down.
Costs
BDP has been investing in 3D for two years. "It just so happens we were BIM-ready, so we haven't had to spend any extra," Ferry says.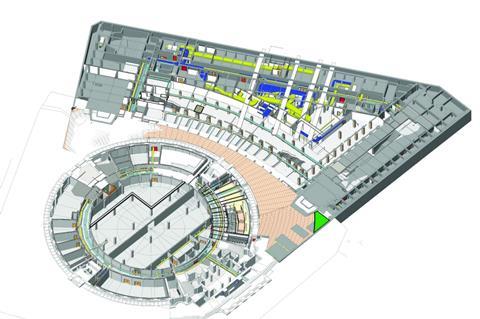 Cost consultant - Davis Langdon
How are you using BIM?
Davis Langdon is the odd one out in this project as it isn't using BIM. Instead, the BIM models are used to generate conventional 2D drawings which DL uses for cost management.
Stephen Naismith, the Davis Langdon associate on the job says he would like to use BIM and thinks cost consultants will start using it. "Cost managers will have to get more involved in building up the model," he says. "You can use BIM to produce pricing schedules, which would be beneficial as it would give us live cost reporting. Ultimately, we are going to have to work slightly differently."
Contractor - Laing O'Rourke
How are you using BIM?
Laing O'Rourke is no stranger to BIM, having used it on Heathrow Terminal 5 and, with Manchester, on two BSF schools. It will use the models created by the consultants but selectively check critical areas on site. Laing O'Rourke will create mini models for temporary works and to show English Heritage how the work will be done. It also uses specialist software package Synchro to model how the work will be done in real time and ensure workers don't get in each other's way on site.
It will also invest in a dedicated BIM workstation for the main design office and another for the site office, to be used by organisations that don't have access to the model. People can view the model using Navisworks, a program that creates a file that can be read by anyone with a simple viewer installed on their computer. Laing O'Rourke also offers training and support.
Advantages
Laing O'Rourke's unapologetic enthusiasm for BIM is down to the advantages it brings contractors. According to Simon Lane, Laing O'Rourke's design manager, it will save contractors money. "It's given people a better understanding of the job and the more they understand, the more detailed the package that can be sent out for pricing," he explains. "This means less risk is attached, which means less risk pricing."
Building the project virtually means most of the problems that could crop up on site are ironed out and the job is less likely to lead to cost and programme overruns. Lane says Laing O'Rourke is also using BIM for site logistics, inductions and accommodation and working out where delivery points should be. "It all comes to life in the model."
Disadvantages
Lane says the disadvantages are more to do with perception than reality. "There is a trust issue with the model. At every conference someone raises the issue of who owns the model. It's simple, everyone owns their own model, you bring these together and overlay the information so this isn't an issue."
Another concern is the compatibility of different software packages. "I keep being told by our BIM engineers it really doesn't matter," says Lane.
Costs
Most of the modelling is done by the design team, not Laing O'Rourke. The two BIM workstations cost £1,500 each plus software license costs. There is also the cost of training and support to the team.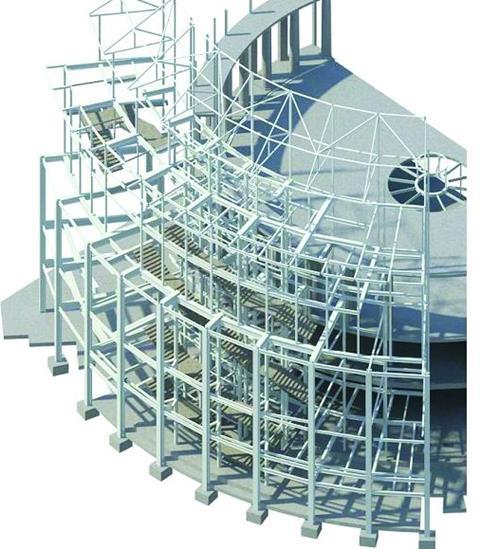 Specialist M&E contractor - NG Bailey
How are you using BIM?
The firm is already working in 3D because it is perfect for coordinating complex services. It also finds contractors including Laing O'Rourke want BIM to be used on all their projects and Procure 21+ and Welsh Healthcare Estates also want BIM. "If you don't start on this road now you will find yourself running out of options," warns Tony O'Connell, NG Bailey's design manager.
On this project the firm works with all the other consultants' models and some on-site surveys to work out the details of the services installation.
Advantages
3D modelling's ability to "see" how the building fits together is the best way to ensure prefabricated modules can be fitted into buildings and is handy for making sure there are clear routes through service corridors for maintenance staff. Instead of drawing up exploded diagrams of how the services fit together, the firm can walk clients through the services using the 3D model. O'Connell says the company is beginning to find it quicker to create a BIM model than 2D drawings and sections.
Disadvantages
The firm has to produce 2D drawings for its supply chain, as many of the companies are SMEs that don't work in a 3D environment. Production drawings in 2D include text and dimensions that have to be managed separately, otherwise they end up suspended in 3D space, cluttering up the model. "You can spend a long time on the BIM model then spend a lot more time on the production information in the 2D drawing," explains O'Connell.
Copyright is also an issue for NG Bailey, as it is for Laing O'Rourke, and means some architects refuse to release their BIM data. "There are a lot of test cases to be thrashed out before we get to the bottom of the copyright issues," O'Connell says.
Costs
Because NG Bailey is further down the supply chain, it needs a lot of computing power to work in 3D. This is because it has to work with the architectural, structural and M&E consultants models at the same time. "We have to deal with so much information the machines fall over," says O'Connell. "If the graphics card is more than a year old you've got a real problem."
O'Connell adds the graphics cards need to have at least 2-3GB of memory - the cost of these is measured in thousands of pounds. However, because NG Bailey is using BIM already there were no additional costs on this project.