The nominees for this Building Awards category range from entire new villages that are super energy-efficient to high-density schemes ideal for inner-city living. Ike Ijeh takes a whistle-stop tour through the shortlist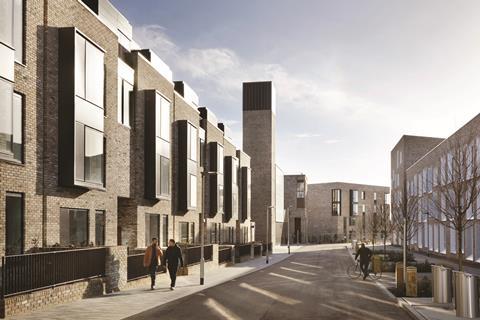 Eddington, Lot 1: North West Cambridge, Cambridgeshire
Architect: WilkinsonEyre / Mole Architects
Client: University of Cambridge
Contractor: Bam
Submitted by: WilkinsonEyre / Mole Architects
The University of Cambridge's masterful and ambitious redevelopment of its former agricultural lands to the north-west of the city has already set a national benchmark for exemplary urban regeneration and city expansion. To all intents and purposes Eddington is a new town in its own right. Lot 1 includes 117 one- and two-bedroom residential key worker units arranged around a 2,000m² national chain supermarket, a landmark energy centre and a landscaped market square. Lot 1 has been broken down into a series of distinct buildings ranging from large flat blocks to terraced avenues, each one imposing a unique neighbourhood character on its immediate surroundings. Units have been built to Code for Sustainable Homes level 5 and with their buff brickwork and planted courtyards they form a contemporary reinterpretation of traditional Cambridge vernacular.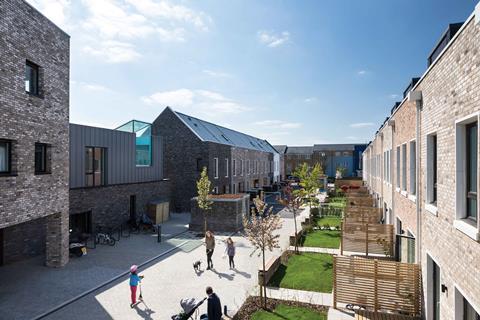 Marmalade Lane, Cambridge, Cambridgeshire
Architect: Mole Architects
Client: TOWN and Triselhus for K1 Cambridge Cohousing
Contractor: Coulson Building Group
Submitted by: Mole Architects
While co-housing has only made tentative inroads into the UK housing market so far, there are three reasons why Marmalade Lane could finally mark something of a turning point for the fledgling sector. First, the scheme was commissioned by the local authority to be built on former public land. As such it represents an interesting example of how co-housing, traditionally perceived as a private enterprise, can be facilitated and perhaps expanded by local authority input. Secondly, Marmalade Lane includes several custom-build elements, with some residents able to select features like internal layouts and elevational finishes. This principle builds on the individual choice central to the co-housing ethos. And, finally, as Marmalade Lane is one of the first UK co-housing schemes of a significant scale – containing 42 units – it forms a unique design response that for the first time, attempts to develop a specific co-housing architectural language that deals with wider urban design principles such as streets, permeability and the interaction between public and private realm.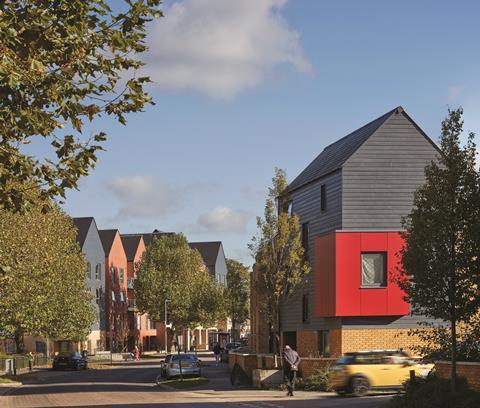 Wallis Fields, Maidstone, Kent
Architect: AHR
Client: Golding Homes
Contractor: Denne Construction / Bouygues
Submitted by: AHR
This charming rural housing development provides a vibrant and exciting take on local Kent domestic vernacular architecture. A failing 1960s housing development is utterly transformed by the imposition of a new masterplan which features a simplified layout, a more pedestrian-friendly environment, active frontages all within a rejuvenated and re-landscaped public realm where small parking courts and subtly integrated on-street parking provide a neat and sheltered village-like streetscape. The architecture of the houses and flats themselves is also key to the contemporary rural character the development maintains. The scheme is broken up with colourful projecting window bays dotted among the homes. Materials are also stylish reinterpretations of local vernacular, with brickwork, slate roofs and horizontal weatherboarding adopted across the site.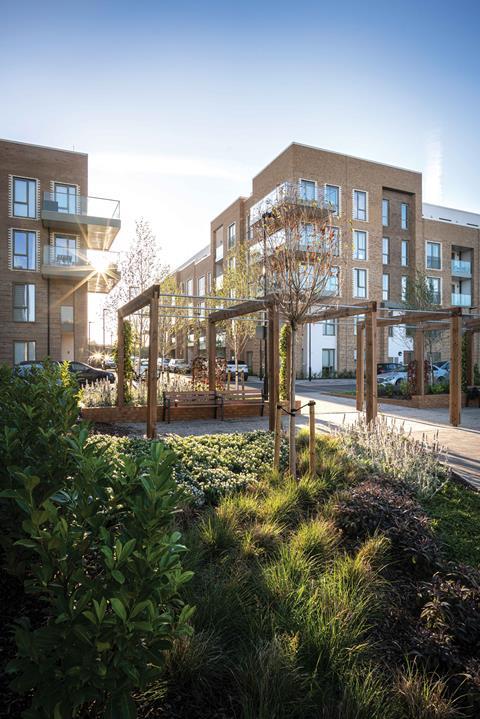 Trinity Square, London
Architect: HTA Design
Client: Barratt
Contractor: Barratt
Submitted by: HTA Design / Barratt
This development proves that suburban residential schemes can still maximise densities while providing the family units essential to maintain a growing, mixed urban community. The scheme features four courtyard "doughnut" flat and duplex blocks interspersed with new streets and surrounded by shorter terraced ranges. The blocks are finished with yellow brickwork in the London tradition, but are decked with contemporary flourishes such as striped string course bands and a distinctive corbel stitching detail around doors and windows. Central to the scheme's ambition to provide high density accommodation within a human-scaled environment are its double and triple-aspect units and its generous provision of amenity space. A total of 13,706m² is provided across the development, 30% more than that stipulated by the local authority and 600% greater than Greater London Authority housing guidance.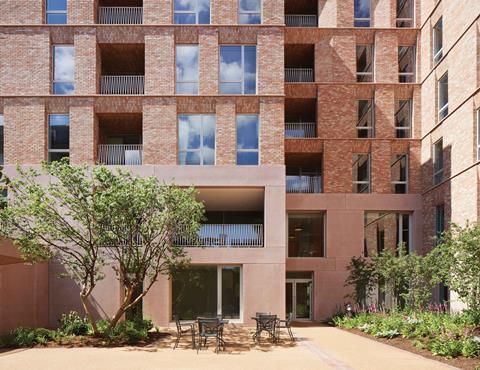 Belle Vue, London
Architect: Morris+Company
Client: PegasusLife
Contractor: ISG
Submitted by: Morris+Company
Gone are the days when older people were consigned to sedate suburban institutional housing estates on the sleepy city fringes. The UK's ageing population means people are living longer and increasingly demanding all the activity and amenities traditionally offered to younger counterparts in city centres. PegasusLife has been at the forefront of this emerging trend and in recent years has produced several showcase schemes that seek to imaginatively reinvent perceptions of how and where old people choose to live. The latest of these is in London's affluent Hampstead and seeks to attract the often-wealthy local retirees who might wish to downsize, but do not necessarily wish to sacrifice the energy and stimulation of city living to do so. Accordingly, the development provides a model of dense and urbane living whose interlocking brick blocks are arranged around planted courtyards and that are provocatively higher than local conservation guidelines normally permit. Additionally, as well as an array of generously proportioned and apportioned flats, the development provides a host of active leisure amenities including a swimming pool, gym and roof terrace.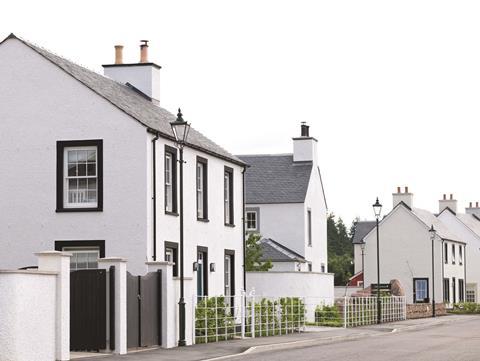 Tornagrain, Inverness, Inverness-shire
Architect: Ben Pentreath Architects
Client: Moray Estates
Contractor: ZeroC
Submitted by: ZeroC
Ever since Poundbury started construction in 1993, it has captured popular and professional imagination as the totemic, if divisive, template for a contemporary traditional model village. But other models are available and Tornagrain is one of them. Built against the natural backdrop of the Scottish Highlands, the new town aims to build on the architectural and planning traditions of the local area and provides a mix of flats and houses all expressed in traditional form, with sash windows, chimneys, brick and rendered facades and hipped and gable slate roofs that are all consistent with local vernacular. But behind this cloak of tradition lies a pioneering sustainability agenda with all homes insulated to ensure minimal energy waste, electrical roof wiring to allow for the future installation of solar panels and even light pipes to ensure that natural light reaches inner hallways and thereby reduces reliance on electrical lighting.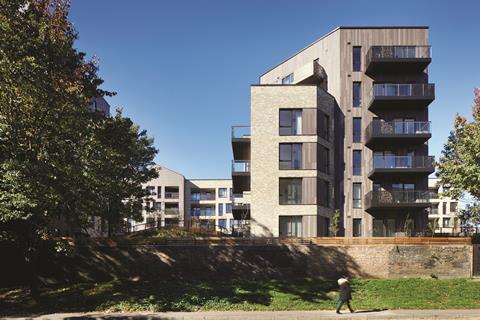 The Pavilions, London
Architect: Jestico + Whiles
Client: Telford Homes
Contractor: Telford Homes
Submitted by: Jestico + Whiles
This ingeniously conceived scheme redevelops a challenging inner-city site that was previously a derelict railway embankment once purchased for the construction of the Channel Tunnel rail link into nearby St Pancras. The resulting transformation sees the construction of a series of standalone tower pavilions set among landscaped gardens and enclosed by a long linear terrace that acts as a barrier between the site and the adjacent Overground railway line. The buildings are expressed as a handsome combination of brick facades and vertical timber strips, marked with deep inset or projecting balconies and all surmounted by a series of crisp zinc roofs. By crafting a richly landscaped garden pavilion solution to a difficult railway embankment site, the masterplan cleverly revitalises a formerly forgotten and unattractive strip of inner-city land.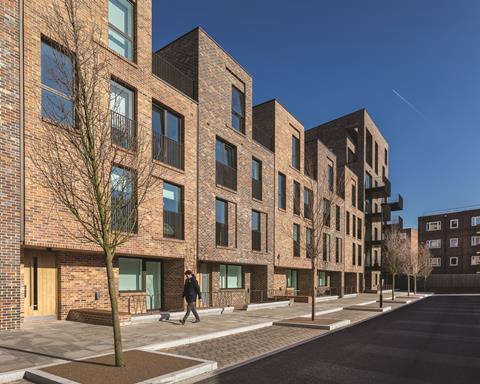 Branch Place, Colville Estate, London
Architect: Karakusevic Carson Architects
Client: London Borough of Hackney
Contractor: Higgins
Submitted by: Karakusevic Carson Architects
The massive Colville Estate masterplan seeks to redevelop a 1970s east London council estate into 925-unit mixed tenure residential development, more than twice the number of homes that were on the original site. Branch Place is the second phase of its monumental redevelopment and delivers 116 mixed-tenure homes over two new buildings alongside new public routes, landscaping and play areas. The public realm is characterised by the reinstatement of historic routes that reconnect the estate back into the wider area. Buildings are crafted from a considered palette of high-quality tenure-blind materials ranging from brickwork and copper to aluminium and timber, all chosen to reflect the surrounding Victorian townscape. Robust detailing of windows and doors establishes commonality throughout the development, with all dwellings achieving Code for Sustainable Homes Level 4 and Lifetime Homes standards.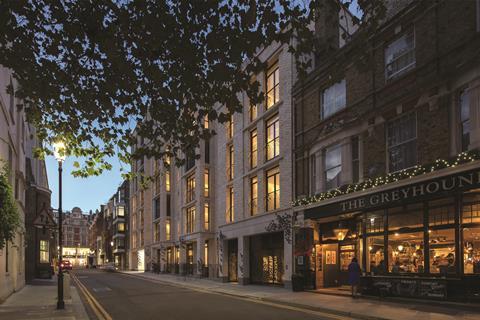 21 Young Street, London
Architect: Assael
Client: Grainger
Contractor: Ellmer Construction
Submitted by: Assael
Redevelopment opportunities rarely emerge in this historic quarter of central London's Kensington and Chelsea and beside Kensington Square, one of London's oldest. But the replacement of an incongruous and insensitive 1960s NCP car park provided a rare opportunity. To relate to its historic context, the building's principal elevation is expressed as a series of vertical townhouse bays alternately receding or projecting to mimic the scale and rhythm of the local streetscape. Light yellow brickwork set on a precast concrete ground floor retail plinth also reinforces historic sensitivities, as does the sheltered private elevated courtyard deftly concealed at the rear of the building. Decorative ironmongery at the building's base helps complete what is an assured contemporary take on a traditional London urban residential block.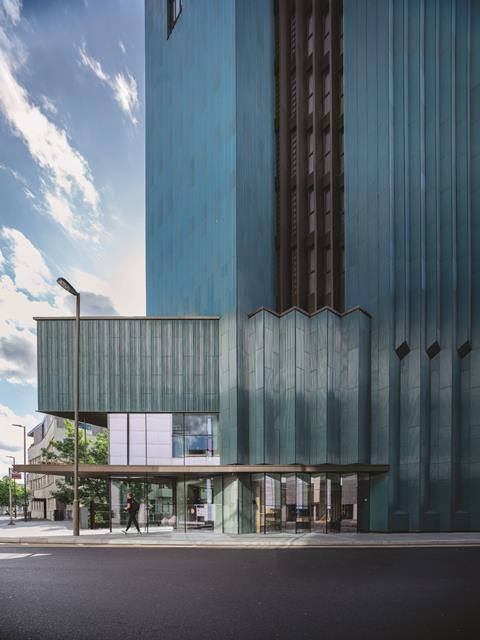 Mapleton Crescent, London
Architect: Metropolitan Workshop
Client: Pocket Living
Contractor: Donban Contracting UK
Submitted by: Metropolitan Workshop
High-rise residential living is a well-worn typology in modern London, but here it is delivered with flair, ambition and originality. A new 27-storey tower overlooks Wandsworth town centre in south-west London with a staggered triangular loosely similar to the layout for the Barbican towers. But here the configuration is devised in response to a tight triangular site located on formerly wasteland beside a shopping centre car park. Also, this layout allows for two splayed rows of flats separated by a central core, all contained within a jazzy, shimmering external envelope finished in glazed green ceramic tiles co-produced with a local artist. The triangular theme is maintained at the tower's base with the introduction of a distinctive sawtooth undulation to the elevations that demarcate the entrance and enliven local streetscape.