20 Fenchurch Street - or the Walkie Talkie, has somewhat overshadowed the Leadenhall building. A shame, as the Cheesegrater represents some of the best in sensitive design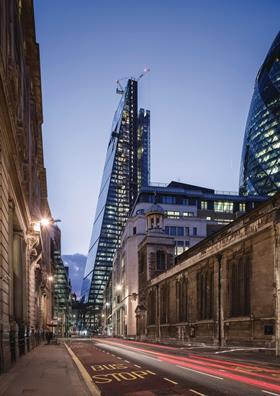 Many Londoners are probably under the impression that the fortunes of the commercial market have never wavered, as the skyline and news pages have been dominated by the construction of two very tall and very visible City towers. The Leadenhall building and 20 Fenchurch Street - or the Cheesegrater and Walkie Talkie as they are more commonly known - topped out this year, with the latter attracting most of the attention.
All the furore surrounding the Walkie Talkie's bulging facade and its ability to melt cars at 20 paces has meant that the construction of Richard Rogers' Cheesegrater has passed almost unnoticed. This is a shame as the building has been as sensitively designed as a tall tower can be. Its triangular shape preserves the view of St Paul's from Fleet Street and the public will benefit from a huge double-height public space under the building when it completes next year. This is in marked contrast to most recent towers that reserve "public space" for exclusive bars or viewing platforms at their summits.
The building takes prefabrication to a new level with the number of workers on site reduced by half. The floor slabs have been constructed with precast slabs, a first for a high-rise, and the north core was assembled from elements that included the structure, floors and services in one unit.
Happily these two additions to London's skyline herald a real resurgence in the office market. Kieran Timberlake's new US embassy, Kohn Pedersen Fox's Scalpel tower and Make's London Wall Place will all start on site next year, followed by Google's HQ - once the client has settled on a design and contractor. The speculative office sector is set to bounce back too, with Derwent's White Collar Factory, an innovative take on the warehouse conversion set to start on site next year. And there's activity further afield, with large schemes set to break ground in Manchester and Yorkshire and Humberside.