The Daytona International Speedway was the first motor sports stadium in the world when it was built in 1959. This year, a British-led team helped tear it down and rebuild it - but a non-negotiable deadline compelled them to go at a speed more normally found on the track. By Ike Ijeh
Car speedway racing may not be all that popular in the UK but it is big business across the pond. Nascar, the National Association for Stock Car Auto Racing, is a multi-billion dollar sports industry across North America and in the US it is second only to the National Football League in terms of revenue, sponsorship and television audiences. Its most prestigious race is the world-famous Daytona 500, the iconic 500-mile Sprint Cup series motor race that takes place every February in Daytona Beach and is said to generate annual earnings of over $2bn for the local Florida economy.
Over the past two and a half years the 101,500-capacity Daytona International Speedway racetrack has been completely rebuilt in a massive £260m project that involved reconstructing a grandstand so long that it was forced to accommodate the curvature of the earth. Moreover, despite both Nascar and the Daytona 500 being quintessential slices of Americana, the team driving the Daytona site's transformation had significant input from the British Isles and is testament to the global reach of UK construction expertise.
Derek Muldowney, vice-president of client and site owner the International Speedway Association and ISC's president of design and development, originally hails from Ireland and has extensive quantity surveying experience in both Ireland and the UK. David Price, vice-president of Michigan-based project contractor Barton Malow is a Yorkshireman by birth who has previously helped deliver football ("soccer") stadiums for US cities. And perhaps most significantly, the cost and programme consultant for the entire project was a British construction consultant with an expanding portfolio of US work, Gleeds.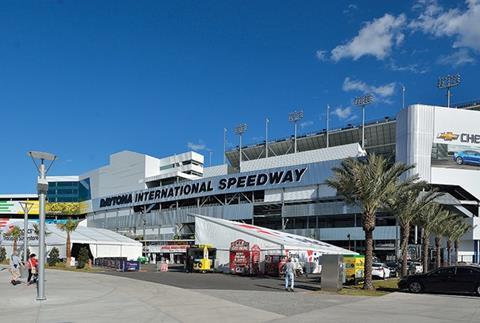 The original Daytona International Speedway was built in 1959. However, as Muldowney explains, it had failed to keep up with modern times. "It may be difficult to understand abroad but Daytona is an absolutely huge brand here in the US; it's one of our biggest sporting events. Accordingly, when the original racetrack and grandstands were built in 1959, it was the first motor sports stadium anywhere in the world.
"However, by the 21st century the venue was exhibiting several problems with regard to capacity, facilities and wear and tear on the original structure. We were faced with the challenge of what to do. We looked at lots of options but eventually we found that the most efficient was to tear it down and start again."
While reconstruction avoided the logistical intricacies of refurbishment, it presented its own set of challenges. One of the most obvious was the sheer size of the scheme. The site covers a vast area of around 500 acres with a 180-acre infield capable of accommodating 16 Wembleys, itself Europe's second-largest stadium. The grandstand is a stupendous 0.9 miles long, which means that despite the site being largely flat, the lowest structural slab level fluctuates by around 200mm to accommodate the earth's curvature.
About 20,000 tonnes of structural steel was deployed on the reconstruction of the grandstand which also involved replacing its former composition of timber decking on structural steel with aluminium decking in order to minimise fire risk. Apart from the main grandstand, the full site is comprised of up to 80 ancillary buildings. The complex also incorporates 40 escalators, 17 lifts, 3,000 broadcast speakers, almost 2,000 sanitaryware fixtures and up to 4,268 miles of new fibre optic cabling.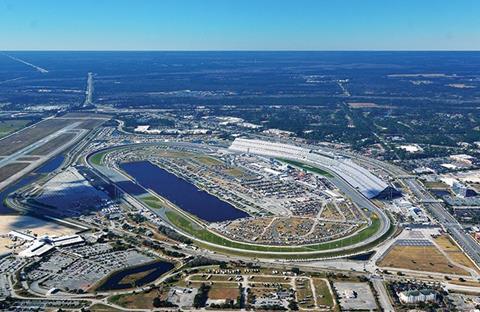 Managing a project of this size was an immense challenge and, according to Gleeds project and construction manager Chris Soffe, required an "aggressive programme and procurement process and lots of attention to detail". The contract was managed on the basis of pioneering design build novation which, for a project of the size, is a rare mechanism in the US.
But Soffe insists that the most important factor was establishing quantities and information upfront. "The price, construction process and crucially, allocation of risks were all clearly established from the outset." These preliminary cost plans enabled the client to agree the design, produce value-engineered evaluations and ensure that ongoing construction costs were complying with initial sums by running parallel estimates throughout construction.
Risk proved to be a particularly exacting element of the project and this was most evident in the strict programme which, as Muldowney reveals, had to fit in with Nascar's demanding race schedule. "The dates for Daytona 500s are set years in advance with tickets sold on the basis of spectators buying specific seats in a specific location so they enjoy their preferred view of the race. This meant a number of things.
"First, we had to maintain access to the speedway for key dates, which meant that we couldn't close it for the duration of construction. Secondly, while construction proceeded around the 2014 and 2015 Daytona 500s, we had to finish in time for the 2016 race. And thirdly it meant no temporary seating during construction as seating number and manifests are included in ticketing terms of sale."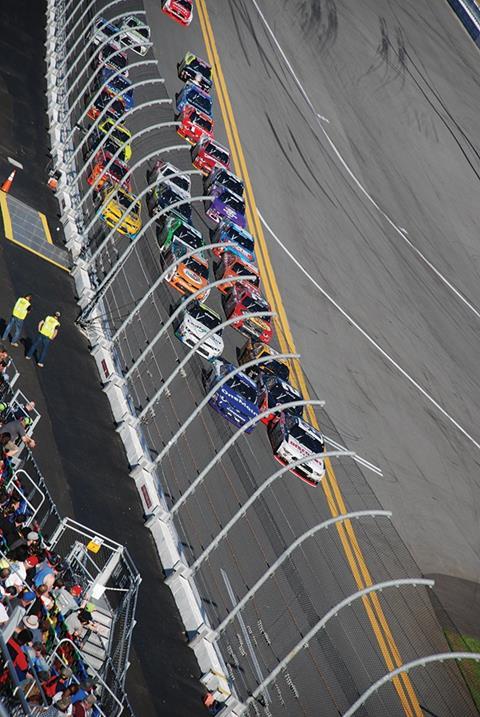 Construction started in 2013 with a 33-month schedule and contractor David Price describes Daytona's "non-negotiable deadlines" as one of key risks – and challenges – of the project. "It was inevitable that a phased construction programme was required with an enormous amount of complex logistical planning. Up to 750,000 members of the public walked through the site during construction, which is pretty much unprecedented. And while we couldn't erect temporary seating, there was a huge amount of other temporary apparatus and facilities such as paving and fencing, which almost required a separate project in itself to organise."
Price also reveals that Daytona's race schedule wasn't the only risk the project presented. "We also had to take on the risk of severe weather. Florida is subject to hurricane seasons every year but because of the fixed race deadlines, we had absolutely no leeway to build in any time contingencies for adverse weather, there was zero slippage. Plus, over such an extended programme, we also had to deal with unknowns such as fluctuations in the local labour market and the fact that Daytona Beach is quite small, which meant that we couldn't rely exclusively on local resources and supply chain."
Price admits that taking on this level of risk was "unusual" but that this forced the team to "schedule works appropriately" in order to avoid the "substantial" liquidated damages triggered in the event of contractual breaches. One aspect he reveals was key to risk management was the fact that despite the project's size, it was entirely paperless and adopted Tekla BIM software throughout the build.
"This became the most connected jobsite of its kind in America. It was impossible to run something on this scale without closely managing the schedule and knowing the exact quantity and location of building materials on site. One of the ways we achieved this was by developing a sophisticated barcode system that enabled us to digitally track the location of every piece of building material. We've taken on this principle of continual adaptation on post-Daytona projects."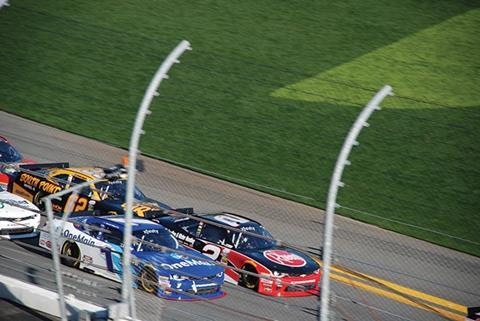 Price also reveals that other risk management measures included digitally laser scanning the entire structure during construction to ensure that elements were being correctly co-ordinated; and making sure that the construction was primarily based on prefabricated modules to ensure effective repetition across the entirety of the vast site and grandstand structure.
The gigantic project was completed on time and on budget in time for this year's Daytona 500 race in February. One inevitable question that emerges is why a British cost consultant was selected for such a prominent and quintessentially American project? In answer, Muldowney, who reveals himself as a former Gleeds employee, cites the need for "a big project management presence from an organisation with US experience. It was also important that they were capable of working closely with the contractor on a project of this size and complexity to ensure that the client's views and intentions were constantly being addressed".
The Daytona International Speedway may be a highly bespoke project conceived on the kind of mammoth scale and pre-ordained timescale that is unique to the requirement of the mass sporting events it hosts. But in its logistical innovation, forensic planning, upfront precision and robust approach to risk management, it offers universal lessons that can be applied across the construction industry as a whole.
Project Team
Client International Speedway Association
Architect Rossetti
Contractor Barton Malow Company
Cost consultant / project manager Gleeds