Dixon Jones' £28m reworking of South Kensington's great museum quarter, Exhibition Road, resolves the long stand-off between pedestrians and cars by allowing them to share the same space. Ike Ijeh is knocked over by the simplicity of the design. Photographs by Tim Crocker
Pedestrianisation has always had a volatile relationship with London. While Covent Garden and the South Bank are consistently held up as exemplars of a flourishing, traffic-free public realm, the Barbican and London Wall are renowned for the sterile, desolate anonymity of their labyrinthine, windswept plazas. The varying success of these and hundreds of other pedestrianisation schemes has had a decidedly polarising effect on civic debate. Does pedestrianisation promote a civilised and more harmonious public realm? Or does it stifle the cosmopolitan vigour of urban life and inevitably lead to abandoned, intimidating canyons of paving, particularly at night?
Exhibition Road in London's South Kensington has forged a pioneering and typically English compromise between these two opposing positions. The famous half-mile stretch of roadway that forms the spine of London's museum district has been transformed by a £28m scheme designed by architects Dixon Jones. In London's biggest public space project since the redevelopment of Trafalgar Square in 2003, pavements and kerbs have been swept away to form one of the largest "shared surface" public spaces ever created. But unlike Trafalgar Square, cars and pedestrians occupy the same carriageway.
The "shared surface" concept is not new and can already be found in the "home zones" recommended by national planning policy and the City of London's excellent Street Scene Challenge programme. But it is the unprecedented scale and radical ambition of the Exhibition Road venture, as well its high-density, high-profile city-centre rather than suburban context, that renders it unique.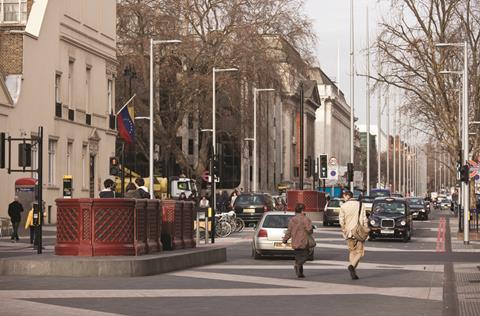 The area around Exhibition Road hosts an unprecedented collection of civic institutions that together form one of the most renowned cultural quarters in the world. It is visited by over 11 million people a year and welcomes more tourists than Venice. Its roll-call includes the Victoria & Albert, Natural History and Science museums, Imperial College, the Royal Albert Hall and countless other academic societies and organisations.
However, since the sixties, rapidly rising traffic levels provoked a corrosive distortion of its public realm. The area became defined by narrow pavements, an uncoordinated streetscape, poor pedestrian connectivity, sporadic parking and an avalanche of intrusive street clutter such as bollards, barriers and traffic signage. An enduring symbol of its chaotic configuration was the pedestrian tunnel that links South Kensington tube station at it southern end to the museums. The implication could not have been clearer, scurrying pedestrians submerged underground while the car was allowed to triumph above.
Buoyed by the success of their subtle revamp of nearby Kensington High Street in the nineties, local authority Kensington & Chelsea held an international competition to transform the area in 2003. In Dixon Jones's winning design, the new Exhibition Road was finally born.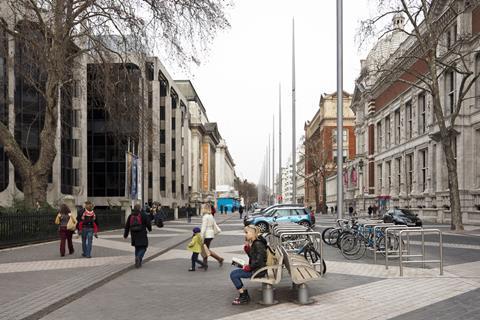 The strength of the scheme as built lies in the startling simplicity of its design. The new physical components of the masterplan can essentially be summarised as just new paving and new lighting. Twenty-eight slender, tapering 20m steel lighting masts define the centre of the carriageway north from Cromwell Road. But the scheme's boldest physical feature is the diagrid criss-cross paving pattern that forms the most charismatic pavement in London. This giant chequerboard extends uninterrupted for the full length and width of the street from building edge to edge only breaking - regrettably - for the tarmac juggernaut of Cromwell Road.
Architect Edward Jones explains that the pattern was chosen to "disturb linear movement across the street and emphasise the diagonal routes pedestrians follow as they cross between the museums on either side". It is undeniably a decadent visual motif that unfolds over the carriageway like an embroidered stone quilt. While its relentless geometry might jar with the subtlety evident elsewhere in the scheme and also creates some awkward junctions with conventional paving at Cromwell Road and Prince Consort Road, it nevertheless succeeds in installing a vital sense of uniformity and co-ordination across Exhibition Road's large and disparate streetscape.
It is not the paving that is Exhibition Road's most radical feature, however, but how the surface above it is used. Kerbs have been removed and a new level surface has been created which is used by both cars and pedestrians. Although the speed limit has been reduced to 20mph and two lanes of two-way traffic only occupy the eastern half of the road, the full breadth of the space can theoretically be shared by both cars and pedestrians.
The theory behind shared surface design is that it gives priority to pedestrians by intuitively encouraging both them and drivers in particular to take greater care and responsibility when negotiating movement in close proximity to each other. Originating in the late sixties, the concept is principally based on the research of pioneering Dutch traffic engineer Hans Monderman who observed that "individuals' behaviour in traffic is more positively affected by the built environment of the public space than it is by conventional traffic control devices and regulations".
This is a radical departure for central London. It has not been without its detractors, principally the Guide Dogs for the Blind Association who forced a judicial review over safety fears. But in practice the arrangement appears to be working well enough so far, traffic has effectively been "calmed" and the huge increase in pedestrian space has undoubtedly had a positive effect on local urban environment, although the amount of retained parking could be reduced. Kensington & Chelsea is committed to monitoring the new system and the development has already attracted several visiting delegations from overseas.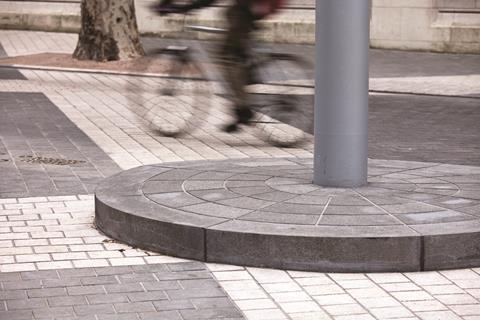 The design team is also insistent that the shared space option remains preferable to full pedestrianisation which, significantly, was never considered. "There is no precedent at all for it in this area, much of which is residential," points out Mahmood Siddiqi, director of transportation and highways at Kensington & Chelsea and Hammersmith & Fulham councils. "And there were concerns about it attracting the wrong kind of people, particularly at night." Architect Edward Jones also admits that although the shared space solution involves an "element of compromise, it still represents the kind of dynamic overlap that is part of urban life".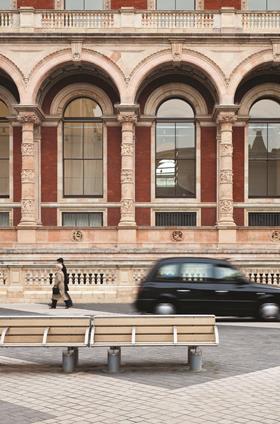 Throughout the new Exhibition Road, extraneous street clutter has been stripped away and new street furniture, such as the steel and timber benches, has been kept to a minimum and conforms to a unified and stylish palette of materials. The trio of stainless steel corner studs that demarcate parking spaces and replace the ubiquitous painted white line is symptomatic of the finely tuned restraint that characterises the entire design.
"This is deliberately not an over ambitious project," explains architect Jeremy Dixon. "It's a simple, strong idea that sets a framework where conditions and events can happen and emerge." Subtle, passive intervention is indeed the hallmark of the entire project and it provides welcome relief from some of the overdesigned paraphernalia that sometimes occupies British public spaces.
The results of the new scheme are already in evidence. Although the tunnel between the tube station and the museums is still open, it is now used far less. While the V&A and the Natural History Museum still maintain their principal entrances on Cromwell Road, they are now seeking far more interaction with Exhibition Road and plan to use the new space for seasonal installations and displays. Several of the facades along Exhibition Road have been or are in the process of being cleaned in apparent recognition of the more unified streetscape of which they are now part.
And, in one of the most positive practical aspects of the entire development, the area around South Kensington station, once a warren of narrow overcrowded pavements and miasmic one-way streets, has benefited greatly from a simplified highway configuration and generous new paved forecourts on either side of the station entrance arcade. As a result, Transport for London has reported that bus timings across the area have improved.
The success of Exhibition Road will invariably depend on how users exercise the greater responsibilities it demands of them. Nevertheless it clearly represents a pioneering and progressive attempt to find an equitable solution to the perennial urban quandary of how to distribute priority in our cities between the car and pedestrian more fairly. That the scheme represents a visible shift in priority towards the pedestrian while maintaining capacity for the car marks a credible evolution of the pedestrianisation principle and is to be applauded. South Kensington is a monument to Victorian utopian ideals of learning and advancement. It is therefore appropriate that its principal thoroughfare has been transformed into an experimental urban promenade that may yet have much to teach us about how to civilise our public spaces.
Project Managing Public Space
Wayne Solman of Schal, which project managed the Exhibition Road scheme, is clear about what he feels secures the success of public space projects such as this. "Consultation right from the start is crucial," he explains. "We produced monthly newsletters, were constantly emailing residents and managed to get all the museums to buy into the vision and offer their support."
Community engagement may not initially appear to be a groundbreaking strategy for securing local support but in an area with a residential population as enfranchised and influential as Kensington's, it was imperative. It was Kensington residents who threw out an equally well-intentioned shared space masterplan for nearby Sloane Square in 2007.
Schal's previous experience of complex large-scale public space works includes its involvement in the part-pedestrianisation of Trafalgar Square in 2003. Exhibition Road's £28m price-tag has also raised eyebrows in some quarters, particularly as Trafalgar Square appears to be a far more radical scheme yet cost £3m less. Andrew Housam counters this by pointing out that "we have essentially rebuilt the road to last for another 50 years. Its cost/benefit ratio is also enormous and the increased visitors and improved built environment are already a huge benefit."
Project Team
Architect Dixon Jones
Executive client Royal Borough of Kensington & Chelsea
Client partners City of Westminster, Transport for London, Mayor of London
Main contractor/civil engineer Balfour Beatty
Project manager Schal
Structural engineer Arup
Traffic/highways engineer Project Centre
Stone subcontractor GU Contracts and T & T Groundworks
Lighting subcontractor Woodhouse
Quantity surveyor Davis Langdon