Urban Splash and Places for People's £140m regeneration of a North Shields dockyard at Smith's Dock includes a high proportion of modular homes manufactured offsite, showing how modern methods need not produce standardisation in aesthetics as well as construction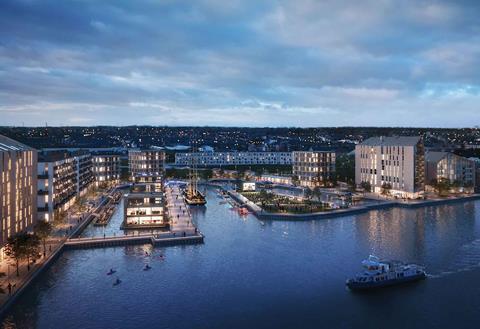 Smith's Dock is a £140m scheme to breathe new life into a derelict shipyard in North Shields, just east of Newcastle upon Tyne. As an urban regeneration project it takes a pioneering approach, by combining conventionally built flats with a high proportion of offsite manufactured housing.
Having first opened in 1851 on the northern bank of the River Tyne, Smith's Dock was once one of the largest and busiest shipyards in the North-east, with its seven docks seeing the production of thousands of ships. But industrial decline in the latter half of the 20th century eventually led to the docks' closure in 1987, after which a familiar pattern of urban dereliction set in.
This has now been comprehensively reversed by an ambitious regeneration scheme by Urban Splash and Places for People, which are redeveloping the dockyard into a residential scheme that will include a mixture of 850 houses and flats. Although the site was purchased in 2006, construction was delayed by the global downturn. This postponement did, however, provide an opportunity for the developer to make an early investment in infrastructure in terms of new roads and electricity networks and the filling-in of four of the former shipyard's seven docks. When construction eventually began back in 2017, it was able to benefit from this early investment and proceed at pace.
The latest phase has just been completed. The Smokehouses are a £14.5m development that incorporate a pair of SimpsonHaugh-designed blocks of flats situated right on the riverfront and providing a total of 80 flats. With zinc cladding and shed-like pitched roofs, their form and materials are directly inspired by the site's proud shipbuilding heritage.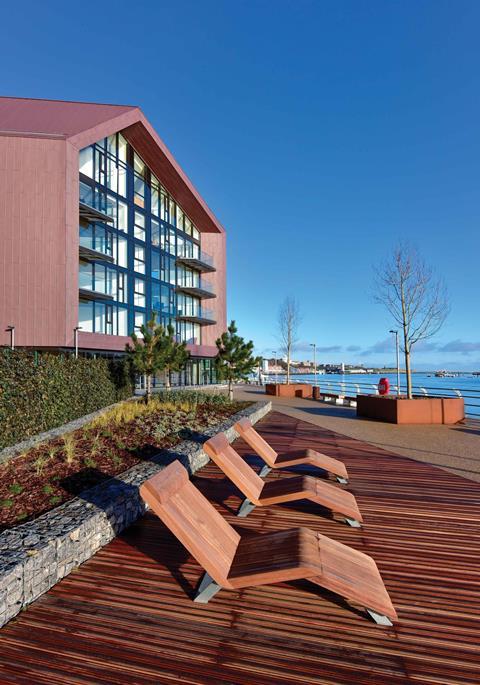 Making the most of the river
Floor-to-ceiling glazing also makes dramatic use of spectacular panoramic river views over the Tyne. As Nigel Brewer, planning and design director at Places for People, points out: "Shipyard workers lived in Victorian terraces nearby that would deliberately face away from the river because the last thing people wanted to look at when they got home was their place of work. That trend has totally reversed now and the scheme really appreciates how much of an asset having the river beside us really is."
The Smokehouses contain retail and leisure units on their ground floors and are conventionally built concrete frame structures. In this they differ from the first phase of the Smith's Dock regeneration, which opened last year and in which the buildings were constructed entirely by offsite manufacture.
The first phase includes two segments, both of which are now fully occupied. One comprises 24 three-storey townhouses that occupy a curved crescent on a raised plateau located just behind the Smokehouses. Built using modular, volumetric construction systems, they form the second iteration of architects Shedkm's House concept, first developed in New Islington in Manchester in 2016. The second element is 10 two-storey homes known as Fab houses, designed by TV presenter and architect George Clarke.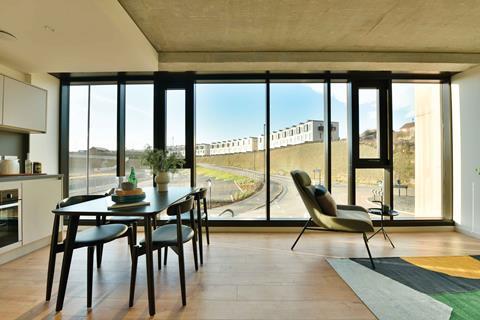 Both house types set a benchmark in the evolution of UK offsite construction methods by challenging the traditional stereotype of prefabricated housing being of low quality, by instead embracing high spatial, design, layout and material standards. These high standards were also combined with factory levels of speed, precision and engineering efficiency.
Since construction began at Smith's Dock, Urban Splash has significantly expanded its offsite construction portfolio. Last year the developer acquired modular offsite construction company SIG Building Systems and as a consequence now has its own modular factory in the East Midlands and its own patented modular housing system. It is also working on a number of new housing schemes using offsite construction, such as Icknield Port Loop in Birmingham and Irwell Riverside in Salford.
While Brewer advises that a more "traditional, solid form of construction" was deemed more appropriate for the Smokehouses' target market, even more ambitiously Urban Splash is also developing a mid-rise offsite system to be used on a CLT-constructed block of flats at the original New Islington site. Similarly, further offsite housing is also planned for future phases of Smith's Dock itself.
According to Mark Latham, regeneration director at Urban Splash, the first phases of housing at Smith's Dock have been hugely influential in the development of the firm's future offsite projects. "We learned a great deal from Smith's Dock. It's been a continued learning process but it's allowed us to refine processes like construction logistics, delivery and assembly and apply offsite construction to different types of ground conditions," he says.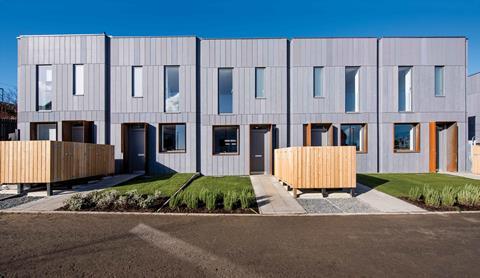 Pushing the boundaries
Latham also maintains that Smith's Dock pushed the boundaries of offsite construction by incorporating three key differences from the earlier New Islington scheme, despite being based on the same house-type concept. The first difference was that it had a curved rather than a flat terrace: the crescent form of the townhouses at Smith's Dock is a contemporary response to Percy Gardens in nearby Tynemouth, a fine crescent of grand Victorian houses overlooking the sea. The second difference refers to design refinements in terms of layout and elevations; Smith's Dock, for instance, tends to offer additional under-stair storage and also incorporates curved elevation infill panels.
The most significant difference is to do with customisation. One of the most significant innovations of New Islington involved the customer being able to choose from up to 72 different internal floor layouts off-plan. This did not happen at Smith's Dock for a number of reasons, but its absence has given the developer the confidence to know that the concept is flexible enough to accommodate a variety of different marketing strategies.
"At Smith's Dock we specified everything and we made the decision not to offer off-plan sales. This was because we concluded that potential clients here were more conservative and risk averse than they might have been at New Islington. So we predetermined a number of different layouts and the houses were sold on this basis. But the importance was the system still allowed us to offer the customer a high level of choice between house types that still conformed to the parameters of the modular offsite design model."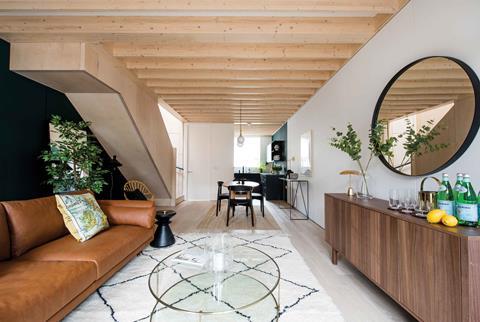 Offsite and end-user choice
Latham believes that future Smith's Dock phases will offer the same level of customisation as at New Islington and for him, end-user choice is one of the key advantages that offsite housing construction offers. "It definitely makes choice much easier to deliver because a combination of modular and offsite still enables the same level of control to be applied to an almost infinite number of design options. Our initial ambition for Smith's Dock was driven more by quality than by choice: we wanted bigger windows, larger rooms, higher floor-to-ceiling heights et cetera, but were pretty neutral on construction methods.
"But when we realised that a modular, offsite system allowed us to offer a number of different layouts, cladding, fixtures and finishes while meeting production, assembly, efficiency and specification standards, it became the natural choice for construction."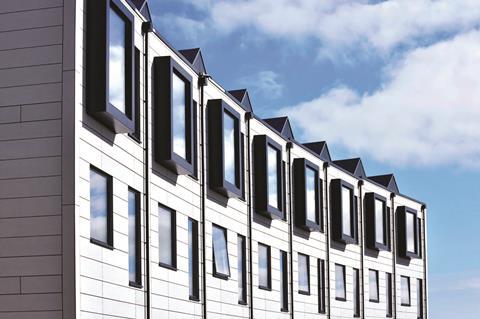 It is for these reasons that Latham is passionate in his belief that offsite techniques as used at Smith's Dock are the future of the residential construction sector. "We've obviously made a big investment in it, but that's because of the huge benefits it gives us with regard to logistics, choice and quality. It gives a production line efficiency to housebuilding and it means that timing becomes critical. There has to be a close relationship between site and factory, but that means we can create an even more efficient and precise design and construction process which clearly drives down costs and risks.
"Some Scandinavian countries have up to 50% of their housing construction market occupied by offsite but in the UK it's still much lower. This represents a huge opportunity."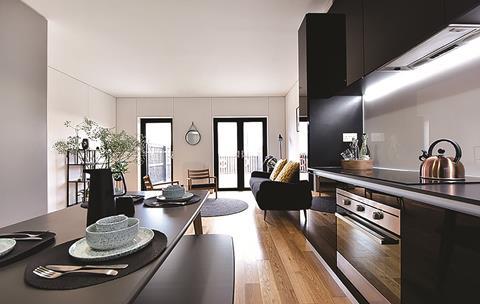 Latham admits this opportunity has been hindered in the past by the stigma of low-quality post-war housing, and he reveals that the word "prefabrication" has been all but banned from Urban Splash's corporate parlance. But he also says that such stigma has not been a problem in marketing Smith's Dock or the developer's growing band of other contemporary offsite developments to potential customers, and that residents react positively to being given greater choice.
Ultimately, New Islington and the Smith's Dock townhouses look very nearly identical, but the Fab houses show that offsite techniques need not produce standardisation in aesthetics as well as construction. This is a critical distinction if offsite housing is truly to succeed. For if the same level of customer choice and variety it offers for layouts and finishes can be applied to the architectural form and materials of the building envelope, then the kind of offsite construction pioneered at Smith's Dock really does have the potential to transform our housing industry.