The Troubadour theatre in White City is based on a tried-and-tested model of pop-up venues on London sites. The only difference is that it's not going anywhere.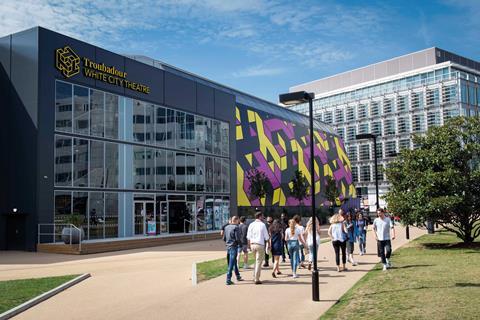 Until a few years ago, a "pop-up" was a book you gave to your children. But since the credit crunch, it has come to mean something else: a pop-up installation, now an increasingly familiar aspect of urban life. While developers navigate planning or wait for land to accrue sufficient value to make it worth building something permanent, coveted city centre sights – particularly in London – have become home to all manner of temporary structures offering a range of commercial or leisure amenities.
These "meanwhile" developments are located on prime city-centre land and tend to be characterised by two features. First, while pop-up parks or pop-cinemas are by no means unheard of, most of these temporary operations are retail oriented. Boxpark – which rebrands and repurposes shipping containers into small shopping and eating centres aimed at young people – is arguably the most visible operator, with outlets in Shoreditch, Croydon and Wembley.
The second aspect is that these developments are specifically built as temporary structures with no anticipation of any permanent shelf-life.
But a new development in White City is out to ambitiously challenge both these perceptions.
It's fully recyclable: the entire building can be packed up, moved away on the back of a lorry and reassembled somewhere else

Oliver Royds, Troubadour Theatres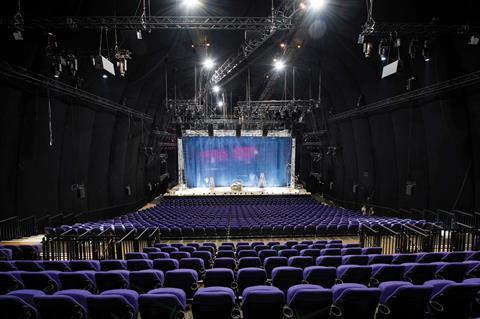 Flexible
Troubadour Theatres is an independent theatre production company that specialises in building its own temporary, flexible performance venues in often unexpected urban locations. It has just completed two new large theatre venues in London. The first is a £5m, 1,000-2,000-capacity theatre within the former Fountain Studios in Wembley, once the filming location for such pop-culture stalwarts as The X Factor and the original Star Wars film franchise. The theatre is located within Quintain's massive Wembley regeneration site and forms a key component of the scheme's cultural offer.
Perhaps even more intriguing from a construction point of view is Troubadour's new White City Theatre, a £5m double auditorium containing a 1,200-seat fully flexible theatre and an 800-seat multi-purpose, state-of-the-art theatre. White City is a standalone new-build scheme, but sitting on a former car park earmarked for development. It is located within a vast urban regeneration masterplan – Stanhope's massive White City redevelopment – and lies close to Europe's largest shopping centre, Westfield London, and adjacent to the recently converted former BBC Television Centre.
Unlike most pop-up installations, White City Theatre is fully kitted out with all the spectator, refreshment and performance facilities one would expect of a permanent site. But even more radically, the theatre is a semi-permanent building that has planning permission to operate for five to seven years but would be perfectly physically capable of lasting longer, even though the site is earmarked for future development.
Additionally, from the start of construction to hosting the first theatregoer took just 16 weeks.
Ideally we'd prefer to build on flat land but the gridded raft support system means we can literally place the theatre anywhere

Oliver Royds, Troubadour Theatres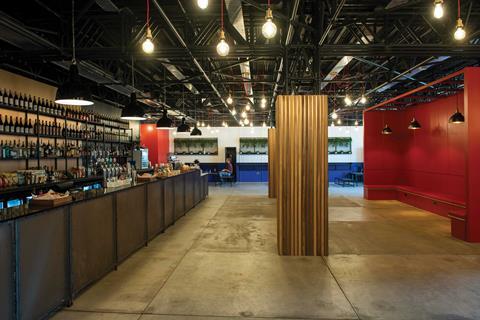 Pop-up
"Pop-up" is a term Troubadour Theatres joint founder and chief executive Oliver Royds is not entirely comfortable with but is prepared to tolerate – for the time being at least.
"The problem with most pop-up installations is that they're environmentally and economically wasteful, when the installation closes you end up throwing most of its components away. Not only is White City a semi-permanent structure that can be on site for a significantly longer period of time but it's fully recyclable: the entire building can be packed up, moved away on the back of a lorry and reassembled somewhere else."
So why go to all the trouble of building what is essentially a portable, semi-permanent theatre on the edge of a city centre that contains one of the world's most famous theatre districts? For Royds there are two overriding reasons. "First, West End theatres are incredibly beautiful, historic, gilded buildings. But they are incredibly hard to get into, are almost always fully booked and are confined by their historic composition which often creates problems with issues like flexibility and accessibility.
"And secondly, audiences are changing. The Netflix generation is indicative of a growing market for immersive, open-air, live-action entertainment experiences that are diverse and fully accessible and include a genuine, leisure offer in the form of bars and restaurants that stay open long after the theatre doors have closed."
Consequently, in the past 15 years Troubadour Theatres has tried to satisfy this demand by crafting unorthodox theatre installations in unlikely locations. In 2009, the company erected a 1,500-seat temporary tent theatre in Kensington Gardens for a production of Peter Pan. Between 2010 and 2011 it constructed a 1,000-seat pop-up theatre on the then disused former Eurostar terminus platform at Waterloo to perform a production of The Railway Children, complete with working steam train. And between 2014 and 2017, the temporary King's Cross theatre sat on the site of what is now Google's under-construction European HQ, and hosted a theatrical tie-in with David Bowie's final album as well as works by Covent Garden's famous Donmar Warehouse.
The King's Cross theatre in particular has convinced Royds that these types of temporary theatre installations can have serious commercial as well as cultural currency. "We hosted up to 6,000 people a day at King's Cross, that's a huge footfall for what would otherwise have probably been an abandoned development site and it actively helps promote the regeneration the wider masterplan is there to create. Plus embedding a theatre into a commercial development adds obvious cultural kudos and helps to attract all the other retail, restaurant and leisure uses traditionally primed to deliver regeneration."
But King's Cross also exposed limitations within Troubadour's former venue model, as Royds continues. "It was essentially a bastardised version of a corporate hospitality structure and wasn't really purpose-built to the demands of a theatre. It forced us to start thinking about how we could make our venues better."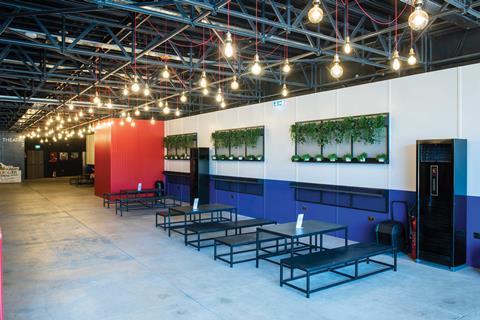 Accessible
The result of that thought process is White City. With less than a five-minute walk from the local tube station, the site offers the same level of public transport accessibility as its West End counterparts, a crucial consideration in making the venture viable. The brief that Troubadour developed was for a theatre that could be quickly constructed and was fully demountable but would have all the services and facilities infrastructure of a conventional, fully permanent theatre building. Royds says his company scoured the market to find a temporary structure to fit the bill but when they were unable to do so, decided to develop their own bespoke model.
That model, as realised at White City, is essentially a scaffold steel frame portal structure supported on a panellised concrete floor system supported on gridded rafts. In this way the building requires no foundations which Royds was desperate to avoid due to the significant additional time, cost and excavations this requires. "Ideally we'd prefer to build on flat land" he explains, "but the gridded raft support system means we can literally place the theatre anywhere."
Exterior walls are constructed from a composite metal cladding system infilled with condensed rockwool insulation and attached to the internal scaffold steel frame. The external face of the cladding is coloured in anthracite rather than black tones as the heat the latter would have absorbed would have created problems with excessive movement of the steel frame. However, Royds says that if necessary the exterior can be covered in a decorative tensile membrane – as at White City – to create a visual impact that fits in with local townscape and context.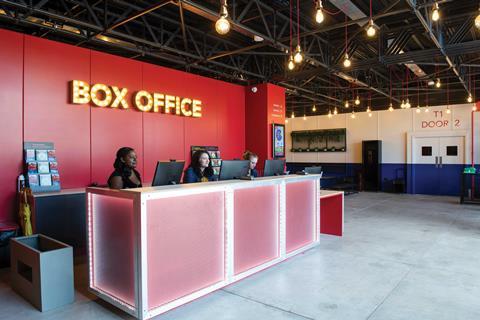 Services are run on the inner face of the external walls that enclose the auditorium and then concealed internally behind acoustic curtains that can be opened for easy access and maintenance. While the building is partially powered by rooftop solar panels, it is primarily cooled and heated by the same mechanical plant equipment that would conventionally be deployed on large tent or marquee concert and hospitality structures.
This is one of the areas Royds commits to improving and refining on future iterations of the theatre model.
Internally the scaffold frame is left exposed on ceilings and internal foyer walls are lightweight metal studs faced with timber panelling. Unlike most West End theatres on more cramped sites. Provision of bar and toilet space is generous, with the toilets forming highly refined versions of the modular plug-in units commonly used for large outside events.
A public restaurant is also located above the foyer on the first floor. The auditoriums themselves are flexible and functional black box volumes with the seating on the larger, 1,200-capacity space capable of being altered to all manner of configurations from traditional stalls to theatre-in-the round.
This larger space is also a lofty 18m high and fully exploits its scaffold steel ceiling frame to hang all manner of lighting, props, gantry and AV equipment from it. This is one of the most potent examples of how the semi-permanent structure of the building actually facilitates the operation of a theatre in a way that the limitations imposed by the historic fabric of West End theatres can't.
Royds describes the project as the first stage in a learning process that he hopes will be fine-tuned on future iterations of the template. One example is the issue of fire safety, a pressing concern with nearby Grenfell Tower visible from the theatre's planted entrance forecourt. The addition of a second floor for back-of-house offices and administration required the incorporation of onerous 60-minute fire compartmentalisation measures that might have been avoided had the building remained at two storeys, rather than three. "Of course, safety is paramount," says Royds, "but we'll probably avoid having a second floor in the future."
Rather than "pop-up", whimsically Royds appears to prefer describing his White City theatre model as a "travelling circus that sets up for years rather than weeks." But the success of the model is that while this clearly, is the logistical reality to the staff, management and owners who run the building, to the theatre-going public, White City has pulled off the trick that most temporary buildings aspire to but don't often attain – it feels permanent.
Project Team
Client: Troubadour Theatres
Main contractor: Acorn Structures / Skyebuild