The 32 venues that will host the Rio 2016 Olympic Games are a mix of futuristic new build and ambitious reconstruction. Ike Ijeh takes us on a tour of the architectural highlights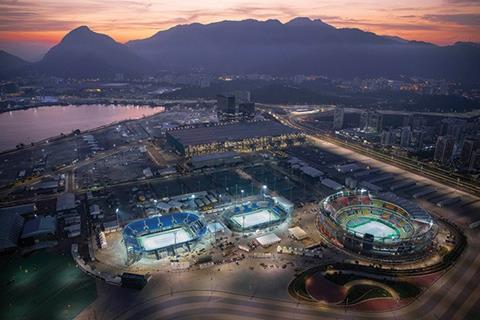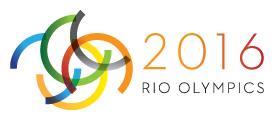 Four years after London's hugely successful Olympic Games, Rio 2016 takes the mantle with tonight's opening ceremony. In many ways all modern Olympiads follow largely the same physical format and there will be many similarities between Rio 2016 and London 2012. Their cost is roughly the same (£9.1bn for Rio as opposed to £8.7bn for London), both saw a combination of new build, refurbished and temporary venues, both used landmark urban locations as venue backdrops, both saw the construction of an Olympic park and village and both sought to harness the Games to help deliver wider long-term urban and economic regeneration.
But there are marked differences too. Unlike London, Rio has not seen the construction of a new Olympic stadium. While London has now hosted three summer Olympics, this will be Rio's first. With the exception of football, all Olympic venues are located within Rio and not, as was the case at London 2012, spread across the country. Private, rather than public money has financed construction of the Olympic village.
While the last major UK international sporting events before London 2012 were Euro '96 and the 1994 Commonwealth Games, neither of which left a legacy of venues for the Olympics to use, Rio has been able to reappropriate several ready-made venues built for the 2007 Pan American Games, the 2013 Confederations Cup and the 2014 World Cup.
Rio 2016 has a total of 32 venues, two fewer than London 2012. This includes nine major refurbishments, 10 permanent new sites and seven temporary venues. Six venues were already operational and required no significant additional work. In Rio the venues are located within four Olympic clusters. The biggest of these, the coastal Barra da Tijuca, contains the Olympic park and village as well as the bulk of the venues. The world-famous Copacabana beach will host beach volleyball, Maracanã houses the eponymous football stadium which will be the Games' largest venue and Deodoro will host equestrian events. The five cities hosting football events outside Rio are Belo Horizonte, Brasília, Manaus, Salvador and São Paulo.
Architecturally the venues are a mix of futuristic new build and ambitious reconstruction. With Rio's municipal urban development department taking a lead role in design and construction of many of the venues, there has been little room for the involvement of the global architectural household names who worked on Beijing 2008 and, to a much lesser extent, London 2012. Nonetheless, there is significant British input: Aecom UK, lead consultant on the design and delivery of London's Olympic park, designed the Rio Olympic park's competition-winning masterplan. It did so in conjunction with Wilkinson Eyre, which also designed London 2012's temporary basketball arena.
Below are the architectural highlights of the Rio venues which will be dominating TV screens across the world over the next few weeks.
MARACANÃ CLUSTER
Maracanã stadium
EVENTS: Opening and closing ceremonies, football
CONSTRUCTION TYPE: Refurbishment
CAPACITY: 78,639
LEGACY: Football, major events
With a peak attendance of an alleged 210,000 spectators for the 1950 World Cup for which it was built, the legendary Maracanã stadium was once the largest in the world. Today its more modest capacity still marks it as one of the largest stadiums in South America. Although Brazil's official national stadium occupies a new building in the capital Brasilia, Maracanã is revered among Brazilians in a similar way to how Wembley is here and will doubtless prove to be the most emotionally charged of all Rio 2016 venues. Rio will also be one of the few Olympics where athletics takes place in a different location to the opening and closing ceremonies. Additionally Maracanã will become one of only six stadiums worldwide that have ever hosted a World Cup final and Olympic ceremonies. As the stadium was already extensively refurbished three years ago for the 2013 Confederations Cup and the 2014 World Cup, it has not required additional upgrades for the Olympics. The reconstruction works that have taken place were completed in spite of a crippling series of labour strikes and involved expanding the stadium's roof and reconfirming its two-tier seating bowl.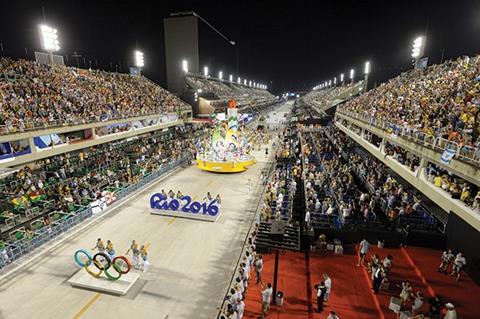 Sambadrome
EVENTS: Archery, marathon
CONSTRUCTION TYPE: Refurbishment
CAPACITY: 37,000
LEGACY: Rio carnival, major events
Because sports stadiums have only recently been considered a serious architectural pursuit, only a handful of Olympic Games can boast venues designed by some of the foremost architects of the 20th century. Thanks to Oscar Niemeyer's spectacular Sambadrome, Rio 2016 will be one of them. Constructed in 1984, the 700m-long open air parade avenue was built to host glittering samba processions performed by competing schools during the Rio carnival. As such it promises to add some charismatic local flair to the Games as this is a typology of building unique to Brazil. Wisely, Niemeyer's work has been left virtually untouched, and the streamlined, sculptural geometry of monumental grandstands flanking a soaring parabolic arch has been carefully maintained.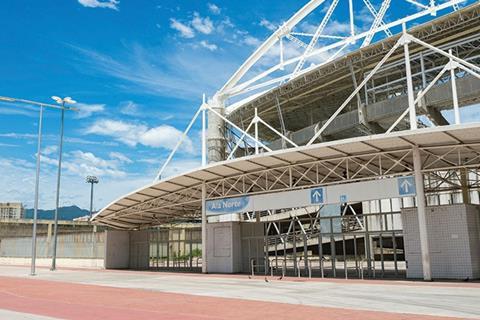 João Havelange stadium
EVENTS: Athletics
CONSTRUCTION TYPE: Refurbishment
CAPACITY: 60,000
LEGACY: Football, athletics, major events
Built for the 2007 Pan American Games during a firestorm of controversy which saw its budget swell to six times its original sum, the João Havelange stadium is Rio's second-largest Olympic venue. Despite being barely a decade old, extensive reconstruction was carried out for the Olympics which involved increasing its capacity from 45,000 to 60,000 and closing the venue entirely between 2013 and 2015 in order to carry our structural strengthening work and repairs to its roof. Like Maracanã and in spite of its athletics role during the Games, the stadium is principally a football venue and is home to the local Botafogo football team. It is also a multipurpose venue and has previously hosted a diverse range of musical luminaries ranging from Paul McCartney to Justin Bieber.
COPACABANA CLUSTER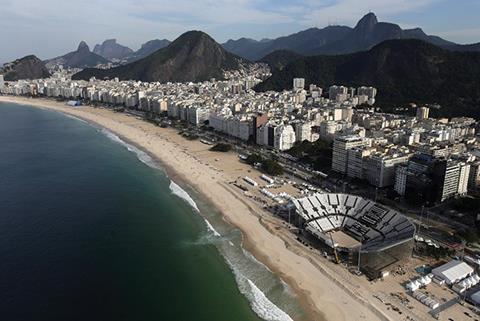 Copacabana stadium
EVENTS: Beach volleyball
CONSTRUCTION TYPE: Temporary
CAPACITY: 12,000
If the inspired siting of beach volleyball in Horse Guards Parade during London 2012 helped project a quintessential idea of Britishness to a global TV audience, then its equivalent location on Copacabana Beach for the Rio Olympics is likely to do the same for Brazilian national image. The stunning urban backdrop of one of the world's most famous beaches overlooked by the rugged profile of the equally famed Sugarloaf Mountain means that the stadium itself can get away with being a rather rudimentary affair. The temporary arena is raised on stilts directly above the beach and includes a 12,000-seater central court surrounded by seven training courts.
However, the unrivalled 4km stretch of golden beaches wrapped around a pristine blue bay was not selected purely for its breathtaking scenery. If the Maracanã is the spiritual home of Brazilian football, then Copacabana is the equivalent destination for beach volleyball, a sport that is hugely popular in the country.
BARRA CLUSTER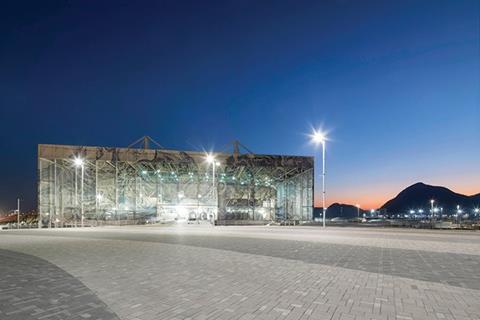 Aquatics stadium
EVENTS: Swimming
CONSTRUCTION TYPE: Temporary
CAPACITY: 15,000
The aquatics stadium is often a showpiece work of architecture at Olympic Games, as was the case at both London 2012 and Beijing 2008. But Rio 2016 is unique because unlike several recent Olympic Games, this aquatics venue is temporary. The building is a simple orthogonal box that was originally conceived with a giant digital screen wrapping. Cost cutting meant this idea was shelved and replaced with the rather curious mural envelope it features today. Sixty-six 27m-high tiled panels by celebrated Brazilian artist Adriana Varejão offer a surreal, proto-baroque allegory of sea and angels, none of which quite detracts from the impression of a warehouse in drag. Its sustainability credentials are on surer ground – 15,000 strategically placed holes have been drilled into the facade to facilitate natural ventilation, a feature the Rio government maintains saved it the equivalent of 10,000 household air conditioning units. The building's two pools hold a capacity of 3.7m tonnes of water and in another laudable sustainability gesture, the building will be dismantled after the Games and its parts used to construct four local schools.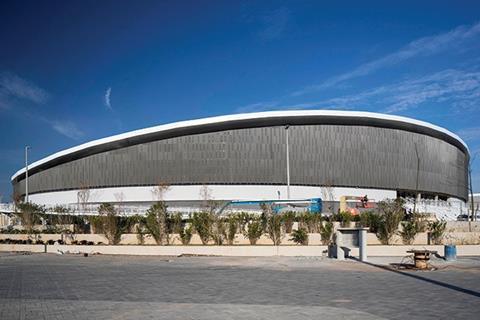 Olympic velodrome
EVENTS: Cycling
CONSTRUCTION TYPE: Reconstruction
CAPACITY: 5,000
Arguably the most problematic of all 2016 Olympic construction projects has been the velodrome. It was only officially inaugurated barely a month ago, over a year late, and with all planned test events cancelled. Its protracted gestation was the result of a horrendous series of crises and disputes which involved constant delays and a change of architect and contractor. Its problems began when it was constructed for the 2007 Pan American Games as the first indoor track cycling arena in Brazil. It was originally designed to be a temporary venue but when the organising committee changed their minds and decided to make it permanent, a host of legal, structural and bureaucratic issues delayed its opening by two years. Afterwards, Rio had hoped to keep the venue for the Olympics but when the International Cycling Union deemed it inappropriate for Olympic events – partly because the track was obscured by structural columns – it was decided to dismantle it and rebuild it. However, much of the structural frame of the original building was retained, meaning that a significant amount of new steelwork had to be introduced onto the roof in order to eliminate the columns. The result is visible today in the gigantic and oppressive grid of steel trusses that weighs down on the indoor arena. Externally the venue appears more sinuous and assured and has been conceived as a cycle helmet. The German architectural practice that designed the current venue, Schurmann, is a veteran of scores of Olympic velodromes across the world having designed the venues for the Berlin, Rome, Mexico City, Munich, Seoul, Barcelona and Beijing Games.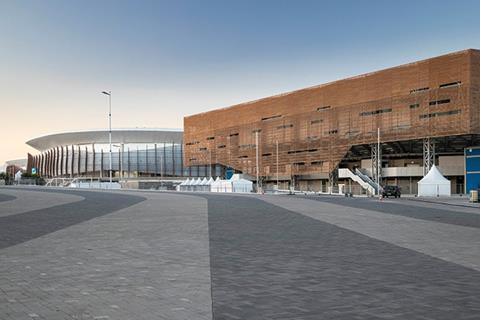 Future arena
EVENTS: Handball
CONSTRUCTION TYPE: Temporary
CAPACITY: 12,000
If the Future arena has a direct London 2012 equivalent, it is the handball arena. This venue will host handball and it too has been designed to be super-efficient, multi-functional and cost effective. The building is clad in timber rather than copper, both envelopes are coloured in a rusty hue and both buildings are shaped as low-slung rectangular boxes. However, there are key differences. Rio's simple, streamlined cladding punched with horizonal openings enables it to achieve a greater level of sculptural elegance than its predecessor. Plus, the Future arena is temporary. Like the aquatics stadium, it will be dismantled after the Games and its components will be recycled for the construction of four local schools, a key component of Rio 2016's sustainability commitments. This concept of dismantling and reusing temporary venues has been given a new name among Olympic organisers; they refer to it as the "Nomadic Concept".
DEODORO CLUSTER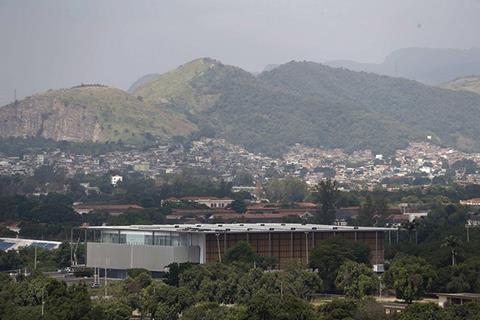 Deodoro stadium
EVENTS: Rugby sevens, equestrian, modern pentathlon (running and shooting)
CONSTRUCTION TYPE: Temporary
CAPACITY: 15,000
The Deodoro district lies to the west of Rio and is defined by its rich greenery and open spaces. As such it was selected as the location for cycling, biking, equestrian and pentathlon events including shooting and fencing, the latter sports reflecting the region's strong military heritage. With barracks housing 60,000 servicemen and women, the region is home to South America's largest concentration of military personnel and was the host site of the 2011 World Military Games. The location of London 2012 shooting events in the shadow of historic Woolwich Arsenal Barracks was based on a similar principle. Deodoro was also a key venue location for the 2007 Pan American Games which once again meant a ready made set of infrastructure for Rio 2016 to deploy. It is for this reason, coupled with the inaugural Olympic inclusion of rugby sevens, that the centrepiece Deodora stadium is a temporary structure. This is surrounded by a number of indoor and outdoor venues including the national hockey, equestrian and shooting centres.