How much time and money is wasted on writing up site surveys? GoReport® is a new tool aimed at streamlining the process and reducing admin costs by using the latest mobile technology to generate surveys or inspection reports
Time is money and construction professionals will wish they could recoup the hours lost writing up reports of site visits. It is extremely time consuming deciphering your scribbled handwriting, matching photos to notes and manually inputting data. But what if that could all be done for you?
GoReport® is an innovative mobile report generation tool that promises just that and readers of Building were given a taster of its capabilities at the product's official launch at the magazine's London headquarters. GoReport® uses iPads to deliver its data capture and report solution, doing away with the antiquated system of using paper notebooks on site and generating reports automatically in the cloud instead. This helps users save time and become more competitive.
GoReport® is the brainchild of CEO Conor Moran. The idea came to Moran when he was working as a mechanical engineer on a water authority project, struggling with another massive report following a site survey. Surely there was an easier way of making sense of his notes, downloading photos, assigning text to images and compiling a high quality report? His eureka moment has resulted in GoReport®. Users log in to the secure GoReport® website to create their report template. You can create as many headings and tables as you like, adding tips to sections to prompt users while they're collecting data.
Once the app has been downloaded, this template will be synchronised on a company's iPads, allowing surveyors to use the tool on site. Users can enter text, make sketches, take photos, record video and dictate, with the template acting as a checklist. It's possible to annotate and make sketches on photos, add titles to images and choose where they should appear in the report. Users can upload the data, have their dictations transcribed and generate a report almost instantly.
The report can be edited and any supporting information uploaded, such as a cover page or appendix. It can be downloaded in Word or PDF format and tables can be separately exported to Excel. GoReport®'s data is securely stored and backed up using UK based servers provided by Rackspace.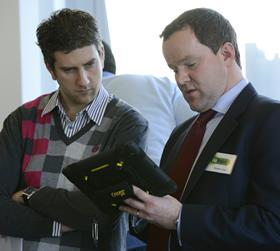 GoReport®'s first customer is a global engineering consultancy who is using the technology to carry out lifecycle surveys as part of a contract to survey hundreds of commercial properties and schools. They have assigned a team of ten surveyors to test GoReport®. First, they built a copy of their usual template using the GoReport® web application and synchronised this on the iPads which they took out on site. The template included multiple row tables and pick lists. The surveyors could then input the data and photographs into the template while they were on site and upload it into the cloud. The data was then available on their desktops at the office through the web application.
The senior building surveyor overseeing the use of GoReport on this projected commented "We have used GoReport®'s software to significantly improve our survey processes, allowing us to introduce new efficiencies across a range of surveying activities.
Using GoReport® on site has made the process of gathering data and exporting it to our office IT network much easier. This has a significant impact on our business by maximising our surveyors' productive time, with less time spent on admin.
Moran is confident that huge savings can be made. "Users have told us of the efficiencies they've made and they particularly like the way you can customise templates." The company says that reports can be delivered to clients faster, with reduced administration costs and margins increased by up to 70%.
Moran is confident that this is what the industry is waiting for; so much so that the company is offering a 30-day free trial. Can you afford not to give it a try?
For more information and to start your free trial, visit www.goreport.net
---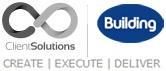 Produced by Client Solutions.
If you'd like to do a project with Building please contact Ollie Hughes in the Client Solutions team on 020 7560 4228 or email oliver.hughes@ubm.com.