Women who have made it to a leadership position in construction have a responsibility to nurture female talent at a more junior level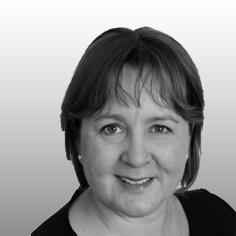 Sheryl Sandberg, chief operating officer of Facebook encourages Women to "Lean In", JLL's CEO Guy Grainger to "Jump In"; and after a fine glass of Argentinian Malbec and the encouragement of a colleague, I "Stood Up" and took the opportunity to chair the JLL Women's Network in the UK.
Throughout my career I have sought only to be judged by colleagues, clients and the property profession as a property professional. But with maturity and for me a new leadership appointment at JLL, comes greater responsibility and a growing awareness of that responsibility to a wider network of colleagues, clients and fellow professionals.
Being a woman in construction doesn't make you special or unique in any way, but it is unusual. It is fair to say that property is a male-dominated industry, I realised this when I was studying 20 years ago as one of only four girls on a building surveying undergraduate course of 60. The industry is improving but it is still challenging - the fact that we increased the number of female directors by 50% in the JLL Buildings & Construction team of 240 by appointing one earlier this year puts the novelty in commercial context. However, the numbers are greater in many other JLL business lines, and there is a real commitment from the board in the UK and globally to encourage diversity. Not just because it's 2014, but because it is good for business and it is what our clients expect.
Being a woman in construction doesn't make you special or unique in any way, but it is unusual
I don't juggle a family with a career, and I am lucky to be well managed and nurtured within the business, but still women need to recognise their worth and capability in this industry and not apologise, while business needs to learn to manage and accommodate women better. Women will change the face of property by succeeding in business and earning the respect deserved by anyone who makes business decisions and leads business change. Their approach and style may differ from those of male colleagues, but self-belief and confidence are the keys to realising this. From my own experience, I know how important these beliefs are. It has taken the guidance of an excellent mentor and the insight of an intensive leadership course for me to realise this.
I step into 2015 as a business leader, not a female surveyor. I am whole heartedly committed to ensuring that JLL is a better place to work for its women, and because of its women. If this involves more networking with colleagues, more female client entertainment, more mentoring of junior talent or calling out poor behaviour so be it. It's time for me to give something back as chair of the JLL Women's Network; and I can't wait.
Helen Gough is head of JLL's Buildings & Construction team