This week, Summer sizzles to the sound of ribs on the grill, willow on leather and the zip of the Serpentine pavilion being cordoned off, while Bam's boss is relaxed about his football team's relegation, and a Mace bigwig makes his Mark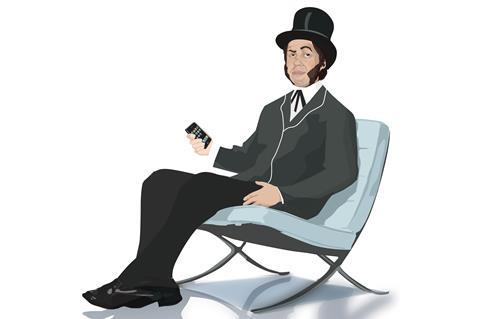 A ribbing
Last month, some of my team were lucky enough to go with Gleeds to watch the Cirque du Soleil troupe troop their stuff at the O2 in Greenwich. Pre-show dinner was held in a Brazilian restaurant where one of my hacks struggled to work out how to tackle the rack of ribs that had been served. Should she stick with company manners and delicately pick at the glazed meat with a fork or go the whole hog and pick it up with her hands? Gleeds chairman Richard Steer seemed surprised by her travails. "I would have thought Americans would be OK with this sort of thing," he said. "Well, they might be," she said, "but I'm Australian." Fair dinkum.
Drinking to victory
After the event, my hacks and the Gleeds team headed for the glamorous confines of All Bar One for a Cirque du Soleil debrief. Also in the watering hole was England opening batsman Jonny Bairstow, who was there nursing a pint of lager with a group of friends – perhaps they were telling him that not everyone wants England to lose. Anyway, it clearly did him the world of good – four days later he blasted a match-winning century as England overcame India at Edgbaston. Probably the best innings of his life, as one lager firm might say.
Hoping on housing
Bairstow and the Building team might not have been the only ones to indulge in a late night at the O2. Mayor of London Sadiq Khan was taking part in a "state of London'" debate at the arena on Thursday evening but failed to turn up to the launch of his own app the following morning at 9am. It's designed to boost housing supply in London, something others want to see more action on. "There is room for the mayor to go further," said Tom Copley, chair of the London authority's housing committee, in a recent report into the issue. Getting as far as turning up for the launch event might be a start.
Derby devotee
Bam's chief executive James Wimpenny is a Huddersfield Town fan and after two seasons in the Premier League, the Terriers were relegated last season. Wimpenny doesn't seem too fussed. "It's nice to have a lot of local derbies to look forward to," he says. I agree. It must have been difficult to get worked up for games against Premier League Bournemouth, but now, Town fans can get into a vein-popping frenzy against my favourite Yorkshire team, Leeds United.
What a performance
Mace's deputy-chief operating officer Mark Castle shared a little of the pressure senior executives can feel when they take on an industry-wide role on top of the day job. He's stepping down as chair of Build UK after two years and at the group's summer bash last week, he flagged the publication of payment performance tables as one of the achievements of his tenure. "It has not made comfortable reading around many boardrooms over the last six months," he admitted. Perhaps he can take inspiration from an unlikely source – fashion designer Vivienne Westwood. "The only possible effect one can have on the world," she once said, "is through unpopular ideas."
Adding up
One of my hacks was at a recent event called The Problem with Affordable Housing. Speakers included Zaha Hadid director Patrik Schumacher and former Peabody development director Claire Bennie. She talked the crowd through the arithmetic of housebuilding to demonstrate that the numbers just don't stack up without some kind of subsidy. "We need to make an active decision to generate gap funding from a national crowdfunding initiative," she added. "That's called tax, by the way."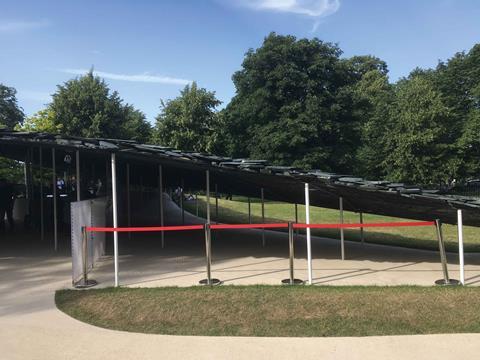 That's the limit
How to get round the problem of a building which has a roof too low for anyone except a Hobbit? That is the dilemma parts of this year's Serpentine pavilion, designed by Japanese architect Junya Ishigami, have posed to visitors. It appears from this picture, taken last week, the tried and trusted method is best – rope it off.
Send any juicy industry gossip to Mr Joseph Aloysius Hansom, who founded Building in 1843, at hansom@building.co.uk