The venue: The Camden Centre The winners: Best Performance - Zero Charm; New Band - Mr Meaner; Best Fundraiser - Zero Charm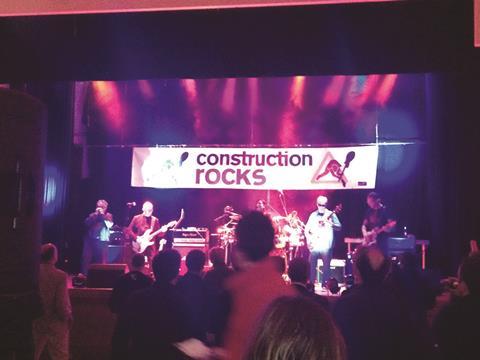 When the drummer of Balfour Beatty and Mansell band Zero Charm took to the stage in a gorilla suit at the Camden Centre in north London the crowd knew they were in for an entertaining set.
The gorilla drummer proceeded to thrash out the drum solo we all know gorillas perform best - the famous intro to Phil Collins' In the Air Tonight.
It was an amusing and frenetic start to what turned out to be a highly enjoyable and prize-winning set.
The final band of the night was unanimously proclaimed the winner by a panel of judges including musician Peter French, music promoter Gina Way and our very own editor Sarah Richardson. As the winner, Zero Charm will now get the chance to put down some of their covers - including their novel take on Britney Spears' Toxic - in a recording studio.
But there was a lot of great music, memorable dancing and copious drinking enjoyed before the crowning of Zero Charm.
A special mention has to go to property "superband" Common Thread - made up of musicians and vocalists from Nabarro, Threadneedle, Land Securities and Great Portland Estates - who got the crowd moving with several crowd-pleasing numbers, including Lynyrd Skynyrd's Sweet Home Alabama and Amy Winehouse's Valerie. They also managed to make Coldplay's much-disliked song Yellow sound rather moving.
Zero Charm will get the chance to put down some of their covers - including their novel take on Britney Spears' Toxic - in a recording studio
The night also featured Construction Rock's first solo artiste, Maria Hanrahan from Catalyst Housing Association, who slowed the tempo down with soulful classics including Bob Dylan's I Shall Be Released and Leonard Cohen's Hallaluiah.
Fans of the Jam were well-catered for by Jamtastic, an outfit from KLH UK and Structure Tone, who stuck true to their name with an enjoyable trawl through the mod band's back catalogue. The band got such a good reception a pair of pants were flung at them, apparently another Construction Rocks first.
Work In Progress consisted of an army of musicians from Robin Partington Architects who threw everything at their set - hitting a high point with Fleetwood Mac's The Chain. The judging pack explained the band formed after a jamming session on a pirate ship in Cornwall last year, which may go some way to explaining their energetic but rather rough-around-the-edges sound.
Returning favourite Wild Sex Party of WSP pulled off perhaps the sassiest cover of the night with Next To Me by Emeli Sande, while Mr Meaner of CBRE and Cluttons picked up the best newcomer award with a slightly intense but deft set that took in the Rolling Stones, the Kinks and Blur.
The dad dancing award goes to the lead singer of Rolfe Judd and the Lost Profits who clearly had a lot of fun on stage, although perhaps more than the audience. Roadshack completed the line-up with a lead singer equipped with a gravelly voice pitched perfectly for Mac Davis and Billy Strange's Little Less Conversation.
The whole event raised £12,000 for property industry charity LandAid. Congratulations to Zero Charm, who as well as winning the best performance, also raised an impressive £2,225.
Roadshack BNPPRE/Mason Philips/Quartz
Rolfe Judd and the Lost Profits Rolfe Judd
Wild Sex Party WSP
Zero Charm Mansell/Balfour Beatty
Work in Progress Robin Partington
Common Thread Nabarro, Threadneedle, Land Securities, Great Portland Estates
Jamstastic KLH UK/StructureTone
Maria Hanrahan Catalyst Housing Association
Mr Meaner CBRE/Cluttons
The Instigators HLM Architects