The Worcester Park development fire throws up questions beyond the use of timber frame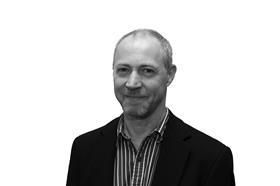 Last week's fire in an apartment block in south London has placed the issue of rapid fire spread in timber-framed buildings back into the spotlight.
If built properly, the walls of a timber-framed building should be able to resist the spread of fire for one hour, which is plenty of time for people to get out
A resident described the fire as "ripping through" the New England style four-storey building, part of a Berkeley Homes development in Worcester Park. It took 125 firefighters five hours to get the fire under control. Fortunately, the 70 residents in the building escaped unharmed.
Even more fortuitously, 150 elderly residents escaped unharmed when their timber-framed care home in Crewe went up in flames in August. The building was burned to the ground. Next time people may not be so lucky.
At first glance, the extent of the Worcester Park fire didn't seem that surprising, as it appeared to be clad with timber which would facilitate rapid external fire spread. But the Berkeley Group confirmed the cladding was in fact a concrete composite material of limited combustibility. A building surveyor, Arnold Tarling, who visited the aftermath confirmed the building was insulated with a non-combustible mineral wool with a plasterboard lined internal wall.
The building featured a cavity between a breather membrane over the frame and insulation and the composite concrete cladding material. This is a standard form of construction used on hundreds of timber-framed buildings up and down the land.
Tarling also said that he saw no evidence of horizontal or vertical fire stopping on the damaged block and the areas of a neighbouring block in the same development that had been opened up for inspection. Berkeley has since issued guidance to residents advising them to evacuate in the event of a fire.
If a full investigation into this fire does reveal that cavity barriers were missing, it would probably come as a relief to the timber frame industry because these are required by building regulations to prevent hidden fire spread. Their absence would suggest the problem is not inherent to timber as a material but in the workmanship required to make it safe.
It also wouldn't come as a surprise to experts close to the issue of fires in timber-framed buildings, who say most investigations reveal that fire stopping is inadequate. This was confirmed as an issue in 2000 by a BRE fire test on a real building. Subsequent research revealed that missing or incorrectly installed cavity barriers was a widespread problem.
The insurance industry has been unhappy about the disproportionate losses they suffer when a fire spreads through timber-frame buildings for years.
The Structural Timber Association (STA) has done what it can to tackle the problem with an assurance scheme for quality and fire safety for timber frame manufacture and erection. But the STA can't guarantee the quality of follow-on trades that put on the cladding and fit cavity barriers.
The reality is that the nature of timber frame makes it vulnerable in the case of poor-quality workmanship and inadequate scrutiny of work by building control bodies, issues that contributed to the Grenfell fire.
Post-Grenfell, we've had the ban on combustible materials in cladding systems on buildings over 18m tall and the government is considering the responses to a consultation calling for a much stricter safety regime for buildings over 18m. The Construction Industry Council is also consulting on a new competency framework that would apply to high-risk residential buildings – that is to say, buildings over 30m high.
But none of this is going to do much to improve the quality of timber-framed buildings that are six storeys or fewer, under the 18m threshold. Some, including local authority building control, are warning that this could lead to a two-tier system, with the risk that quality standards slip on buildings under 18m because of the increased focus on the safety standards of high-rise projects.
The calls for sprinklers to be fitted to residential buildings under 30m are going to get louder after these relatively low-rise fires. The government is already consulting on reducing the height requirement to 18m and is asking the industry whether this should be as low as 11m, which would bring four-storey buildings into scope.
While there may be a case to reduce the height threshold for sprinklers from 30m to 18m and any lower-rise buildings that are inhabited by elderly or vulnerable people, a blanket requirement for sprinklers to be fitted to all low-rise buildings smacks of a sticking plaster solution.
If built properly, the walls of a timber-framed building should be able to resist the spread of fire for one hour, which is plenty of time for people to get out. And the fire shouldn't spread to other apartments within a block if cavity fire stopping measures are properly installed.
It would be better to focus efforts to raise safety levels by improving the competence of all those working on timber-framed buildings, which would have the added benefit of upping quality for all.
Thomas Lane is group technical editor at Building