Housebuilding targets must be pursued, but L&G Homes boss says we also need to focus on placemaking and building viable communities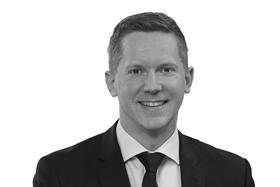 The government has pledged to deliver 300,000 additional homes a year by mid-2020, and is encouraging developers to build out more quickly and boost land release. And while prime minster Theresa May suggests that a planning overhaul is imminent, no matter what the policy, there are challenges that remain for housebuilders, particularly when it comes to impactful placemaking.
In the rush to build homes, there is a danger that placemaking will be ignored, as opposed to being an integral part of the planning process. At Legal & General we are supportive of the government's proposed overhaul of the planning rulebook and would welcome a more transparent system that is aligned with our continued priority to build homes quickly and create thriving communities that are supported by appropriate infrastructure. Housebuilders should be building homes and communities that work now and for the future, supported by a planning framework that recognises and encourages innovation and best practice.
It is not just the number of homes being built that matters but also the opportunities these new homes can bring to the local area – improving it for the long term
Building homes is essential but building the right homes and communities is even more so. Speed need not compromise quality or placemaking, so we need to recognise that it is not just the number of homes being built that matters but also the opportunities these new homes can bring to the local area – improving it for the long term. This means early delivery of social infrastructure as well as other voluntary commitments to improve the area, and looking at the social value a development generates.
Thoughtful placemaking will also help to counter the negative misconception – not always entirely wrong – that new-build developments provide small homes that have been thoughtlessly slapped down anywhere. And 38% of people say that they wouldn't buy a new-build home due to the perceived poor quality and smaller rooms.
With continued pressure to build more homes quickly, there is a danger these preconceptions will be proved right, and without a multifaceted approach to the planning, design and management of these public spaces, and focus on the local community's assets, inspiration and potential, new homes will not be welcomed by neighbours or potential occupiers, or be efficiently future-proofed.
The plan-led system that we have at the moment provides a framework for determining planning applications but fails to encourage a more dynamic approach to advances in sustainability, technology, build configuration and infrastructure across developments. For example, rather than setting minimum standards, should we have a points-based planning system, with a presumption in favour of approving applications that feature higher predicted energy assessments, offsite manufacturing use or early delivery of much-needed infrastructure? Making places needs a holistic approach that may well stray from planning policy but that ultimately will deliver a more enduring and sustainable community.
So, housebuilders need to build homes that are integrated into new and existing communities, and invest in the provision of the right local infrastructure and amenities. These investments need to work for the area in five, 10 and 20 years' time so that they can continue to flourish. We have a unique opportunity to build better. We have the chance to deliver homes that surpass buildings of the past in terms of quality, efficiency and comfort, while ensuring the developments provide much enhanced public realm, facilities and infrastructure.
Key to this has been our adoption of a multi-tenure approach, which has allowed us to deliver housing faster and create inclusive communities. This simultaneously meets the government's ambitions for accelerated delivery of much-needed homes as well as the associated societal benefits. Why shouldn't the planning and taxation systems recognise or even encourage this approach? Our developments can accommodate a more diversified demographic, removing the often prevalent segregation of age groups, social class and ethnicity. Intergenerational equality is vital to successful planning, and the delivery of new communities and well-designed homes. In the UK the number of 20- to 34-year-olds living with their parents has increased by 25% in two decades, to 3.3 million, and the young are set to amass £100bn in student debt this year. Meanwhile there are 3.3 million homeowners aged over 65 seeking to downsize, representing £820bn of housing wealth locked up in homes no longer fit for purpose.
A truly inclusive community can help alleviate the exorbitant cost of such segregation to the UK economy and help bridge intergenerational inequality. By adopting a diversified tenure and demographic strategy we could be saving the UK economy billions each year.
Often piecemeal in nature, the traditional housebuilder model cannot meet our housing needs alone and doesn't always encourage a diversified community. That's why we have adopted a model to deliver build-to-sell housing alongside build-to-rent, traditional build alongside modular construction, and "later living" alongside student accommodation, first-time homes, family homes and affordable housing. Through this, we can create thriving, sustainable and diversified communities. A multi-tenure approach allows developers to truly establish place as well as accelerate delivery of these much-needed homes.
Read Building's feature on the Raynsford Review and its suggestion that the English planning system is in need of a total overhaul tomorrow.
Postscript
James Lidgate is chief executive of Legal & General Homes