It's like being in a time machine this week what with Back to the Future fervour, the return of Nick Clegg, the never-quite-finished Sagrada Familia, Croydon heading towards hipdom, and the ONS rewriting the past
Mañana, mañana
The longest-running project in the history of construction - Antoni Gaudí's masterful Sagrada Familia cathedral in Barcelona - is finally entering the conclusive phase of construction, in its 133th year on site. The basilica is to have six new towers added to it, completing the work begun by Gaudí in 1882. This final stage of the build is on track for completion in 2026 to coincide with the centenary of Gaudí's death. However, decorative elements could take up to 2032 to complete. I have watched this project with relish since the beginning. It surely serves as proof to any battle-scarred developers out there that good things do come to those who wait!
Go figure
The recent downward trend of construction output figures is provoking concern across the sector but how much weight should really be given to the Office for National Statistics' estimates? Tucked away inside its first estimate of August output earlier this month was a set of major revisions to previous data, including £1bn of new infrastructure work miraculously found for July. This is only the latest in a series of volatile revisions over past months which have left economists scratching their heads, and ruing the opaque nature of the ONS' calculations, which one economist jokingly likens to "omertà".
The more things change …
The world went Back to the Future crazy last week, as the calendar reached 21 October 2015, the date visited by time travelling duo Marty McFly and Dr Emmett Brown in the 1980s blockbuster movie Back to the Future II. Equipment hire firm Hewden sought to capitalise on the fervour by hiring a futurologist to predict what the future holds for construction in 30 years' time. Said futurologist Ian Pearson predicts that by 2045 the London skyline will feature super-tall structures and a spaceport, driverless cars will be commonplace, and builders will wear super-strength exoskeletons creating half-man, half-machine workers. Whether or not contractors will be making any money by then was not mentioned.
We agree with Nick
Nick Clegg - yes he is still around - has waded into the housing association debacle. In a column for the Evening Standard last week he wrote that during his stint in government he was "often bemused" by the apparent government vendetta against housing associations, which he argues actually fitted David Cameron's "Big Society dream". He adds that housing associations were once the "footsoldiers" of a Thatcherite departure from state-owned housing and notes his own support of them. Describing the recent voluntary agreement under Right to Buy as "effectively nationalising charitable assets", Clegg also calls this quiet assault an egregious "betrayal of working people". I wonder if the housing associations wish the Lib Dems were still in power to help them fend off the Tories' assault.
Off colour
Bam was chuffed last week when two of its major Manchester projects - the National Graphene Institute and Manchester City Football Academy - were chosen to show off the city's capabilities to Chinese premier Xi Jinping on his state visit. Sadly for Bam the hoardings had long been taken down, and there was disappointment for the attending George Osborne as there were no opportunities to don his favourite attire of a hard hat and hi-vis jacket.

Oh-so with-it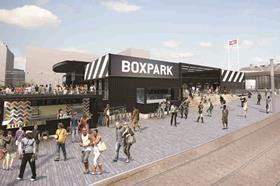 As the regeneration of Croydon hots up, could this brutalist sprawl become the new Shoreditch? That is certainly the hope of Croydon council, which has approved plans for its own version of the achingly hip Shoreditch Boxpark, to be built next to East Croydon station. Opening next summer and made up of 97 shipping containers, the scheme will occupy the derelict Ruskin Square site during the wider redevelopment of 1.25 million ft2 of office space, 625 new homes and 100,000ft2 of retail space by Stanhope and Schroders. One thing the Croydon Boxpark surely will have in its favour is the absence of bearded Shoreditch-types hanging out there, who are not to everyone's taste.