This week, the long-awaited Kanye West/OMA collaboration, the white heat of technology at the BCO conference and a Godzilla-sized image of the House of Windsor looms over London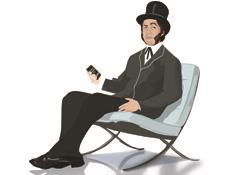 Communication breakdown
There were squirms at RIBA last week after the government politely pointed to areas of duplication between the institute's generally well-received report on procurement reform and existing government effort. At the launch of the report, Cabinet Office head of procurement policy Sally Collier said most of its 30-plus recommendations were already in train, sparking mumblings from both sides about improving communication between government and industry. Collier's colleague and head of construction policy and standards, Philip Heenan, helpfully suggested the RIBA might do well to keep a closer eye on the Cabinet Office's website in future.
Walk like an Egyptian
What is it about hip-hop stars and architecture? Hot on the heels of Ice Cube's musings on the work of Charles and Ray Eames comes
a foray into the world of urban design by rapper Kanye West. In keeping with his wallflower reputation, West chose to erect a pyramid for the screening of his short film Cruel Summer at last month's Cannes Film Festival. The 200-seat temporary cinema - designed by signature architect OMA - certainly stood out from the crowd, appearing to "levitate" above a continuous red carpet. Well, if they were good enough for the Pharaohs …
Are friends electric?
This year's British Council for Offices (BCO) event in Manchester was initially dominated by a conference-wide obsession with the "spotme" devices handed out as delegates registered. This particularly versatile gadget acted as a business card swapper/text/messenger/agenda checker/delegate finder (everyone with a machine was trackable within a 50 mile radius). As people wondered around, heads down, staring at their devices, the conference started to look more like a Tamagotchi convention. Reviews were mixed apart from the unanimous fear of taking them out in the evenings thanks to the £350 fine for losing one. However nice your fellow delegates, it's probably not worth staying in touch for that much.
It's a man's world
Sticking with the BCO conference, we know the construction and property industries are male dominated, but the opposite sex appeared to disappear altogether for one seminar chair. Development Securities' Julian Barwick raised some eyebrows and gasps among attendees by referring to the audience not once, but twice, as "gents". Barwick appeared to realise his mistake minutes later, claiming the auditorium was too dark to see the audience properly. Clearly women in the sector are such mysterious creatures that their existence is not a given without visual confirmation.
Narrow escape
Robbie Owen, planning partner at Bircham Dyson Bell, made a dramatic start to the day at a London conference to discuss planning system reforms. Seated on the podium, his chair slipped off the side of the stage, landing him painfully on his behind in front of the assembled audience. A dangerous thing to allow to happen to anyone, but particularly a lawyer. However, he seemed to be pretty much unscathed. A good thing too. Any compensation claim wouldn't have been straightforward - it was his own firm hosting and sponsoring the conference.
God save the Queen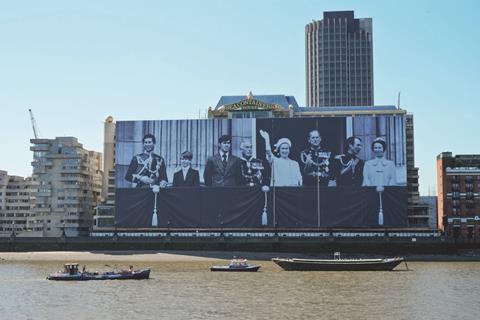 Republicans look away now. Among an explosion of flags and bunting for the Diamond Jubilee, one construction site has arguably created the largest tribute to the Queen unveiled so far. The team behind the redevelopment of Sea Containers House on London's south bank has covered the entire Thames-side facade of the building with the largest ever photograph of the Royal Family. The giant picture - which weighs nearly two tonnes - was erected by a team of eight people over 45 hours. Critics of the hulking seventies building may be rather pleased to see it covered up, if only temporarily.