Ah, the internet. Where else would we find an Essex bricklayer capable of laying 90 bricks in a minute, the Institute of Civil Engineering's self-penned song, or China's psychedelic promotion of its five-year plan?
Bankside bash
High-roller news: Developer Native Land is still trying to flog the most prestigious penthouse at its Neo Bankside development on the South Bank. Last month it emerged the price of said 7,000ft2 penthouse, atop the tallest of the four Rogers Stirk Harbour and Partners-designed pavilions, had been cut for the second time from £17.75m to a more modest £15m. The original price tag was a cool £20m. From our vantage point at Building Towers a few streets away, we noted what appeared to be a lavish party thrown last week, with strobe lighting emanating from the property and scores of people marching purposefully around, in what looked like a party-cum-viewing with a difference. I can only assume my invite was lost in the post.
Quick bricks
On the YouTube, an incredible video has surfaced of the world's fastest bricklayer (probably). Filmed by a co-worker, a bricklayer named Kyaal was caught on camera laying over 90 bricks in a minute at a site in Essex. In the video, he manages to lay 92 bricks at the one-minute mark and finishes by laying 154 bricks in just one minute and 40 seconds. One user called the brickie "awesome", while another wrote: "Suddenly I have the urge to become a professional bricklayer." Be warned, Kyaal makes bricklaying look far easier than it actually is.
Cracking idea
It's the mythical curse of construction sites everywhere - copping an eyeful of a 'builder's bum' when a portly worker bends over. But now help is at hand: a Frenchman claims to have the answer - and no, it's not a belt. Adrien Herve-Pellissier, an inventor and entrepreneur, says he has designed a new pair of pants that leaves no behind behind. He says the pants come with a huge elastic band around the waistline which is designed to stop "sourire du plombier", which charmingly translates as "the builder's smile". Speaking to the i newspaper, Herve-Pellissier modestly said: "I'm not changing the world, it's not like I've found a cure for Aids - just for the builder's crack."
Chinese lessons
As our political leaders have been hanging out a lot with their Chinese counterparts of late, can it be long before senior Tories start picking up on propaganda tips from their new buddies in the Communist Party? If so, a surreal future awaits. An online video has been published by the Chinese Communist Party to promote its latest five-year plan - known as 13-5 - that features hyper cartoon characters in a psychedelically coloured world singing "If you want to know what China's gonna do, best pay attention to the shi san wu [13-5]" over and over again. It is surprisingly catchy. Can we expect George Osborne to employ similar tactics to sell the Autumn Statement to the public later this month?
Test of strength
Costain's quest to raise £1m for charity this year as part of its 150 Challenge to commemorate the firm's 150th anniversary continues in earnest. A team of Costain ironmen and one ironwoman have successfully tackled one of the world's toughest endurance events - the 70.3 in Lanzarote - to raise £10,000 towards the cause. Called the 70.3 because of the total distance in miles (113km) covered in the race, the event began with a 1.9km swim around a saltwater lagoon, followed by a 90km cycle ride through mountainous terrain, and concluded with a 21.1km half marathon. It makes me tired just thinking about it. Time for a lie down.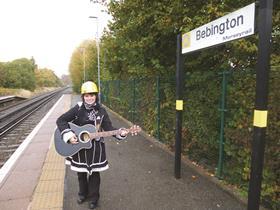 Making tracks
Remember last year's YouTube hit 'Engineering Happiness', featuring engineers on sites singing and dancing to Pharrell Williams' Happy? Well the Institution of Civil Engineers, which filmed it, is at it again. A 23-year-old civil engineer at Mouchel, Joanna Anderson (pictured), has joined forces with the ICE and penned an original song to celebrate this year's Engineering Week, which took place this week. In the song, Joanna sings: 'Being an engineer's fun, being an engineer's cool, you can be an engineer when you grow up and leave school.' I'm beginning to suspect that all civil engineering sites are like West End musicals these days.