The sun has been out, so who's for a spot of croquet at the airport, a jolly old sing-song, a trip to Wembley and a tour of the more unusually named towers of London?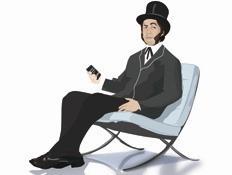 We are not amused
I hear David Bickle's leaving do, as he heads from architect Hawkins\Brown to his new job as design director at the V&A, was a jolly affair. Bickle is a popular character and his old colleagues decided to celebrate him in a song called Reasons to be David in which they turned affectionate anecdotes into lyrics sung to the tune of Reasons to be Cheerful. They also dug out a stash of Bickle's rejection letters over the years, from the days before he landed his job at Hawkins\Brown. They included brush-offs from Richard Rogers and David Chipperfield. "Well, they won't be getting any work at the V&A," quipped Bickle.
Alice in the airport lounge
To celebrate British summer pastimes, and no doubt the Davies Commission recommending it for a new runway, Heathrow Airport has decided to open a croquet lawn in Terminal 2. Designed to celebrate "the best of British" with rose bush obstacles and teapot-shaped hoops, Heathrow teamed up with traditional British drink Pimm's and London croquet club Croquet East to create the "crazy croquet" course, which was positioned in Terminal 2 between 8 and 14 July. Word has it that construction firms on Heathrow's frameworks have been feeling a bit under-used of late due to the government hiatus over which airport to expand - sadly building a croquet lawn is unlikely to sate their appetite for more work.
Towers of London
Nicknames for high-profile new buildings are all the rage, to the point where no smart new edifice seems complete without one. And according to a YouGov poll of over 2,000 Britons on nicknames for buildings built this century, the Gherkin is by far the best known. Nearly three-quarters (72%) of those polled had heard of The Gherkin (officially, 30 St Mary Axe), making it vastly more popular than the Cheesegrater in second and the Walkie Talkie in third, with only 23% and 19% having heard of the nicknames for the Leadenhall Building and 20 Fenchurch Street. Two "Armadillos" face off for fourth and fifth place - both London's City Hall and the Millennium Centre in Cardiff have gained their moniker for their supposed likeness to the leathery, armoured mammals.
Another brick in the wall
It's not every day that construction struts its stuff at Wembley Arena, but staff from HLM, Wates and the RICS were among those appearing before a crowd of thousands at the flagship venue last week. Perhaps fortunately, they were not to be found yelling into a microphone, but exhibiting to students about working in the industry, as part of a careers fair run by charity the Transformation Trust. The event was held ahead of the charity's annual Rock Assembly, attended by 10,000 pupils. Hats off to the organisations for helping to attract construction's next generation of talent - and for leaving the Mick Jagger impressions at home.
Social engineering
Raising the profile of construction in schools is a preoccupation across the industry, it seems. Consultant Atkins and community organising charity Citizens UK have got in touch to share news of the launch of Pathways to Engineering, a community programme to provide engineering work experience, training and support for young people, parents and teachers from five schools in three east London boroughs. This follows a successful pilot which saw 20 young people complete internships with Atkins, with eight now in full time employment at the firm. Surely a model other firms will be interested in taking up.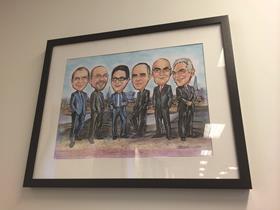 Off the wall
The top QSs that founded Alinea two years ago have enjoyed a remarkable first two years in business - already hitting £5.5m turnover and a 60-strong workforce. Building readers may recall this magazine interviewed them within their first few months in business, with the piece featuring a photoshoot of them on top of the art deco Adelphi building in central London. It seems they must have been quite taken with this, as a caricature of one of the images now hangs on their new office wall (left). I also hear from Alinea they are close to raising an impressive £10,000 for their chosen charity The National Autistic Society through a charity bike ride from London to Windsor - congrats.