Modelling gets physical (again), the CBI could go either way on airports, Atkins finds a new purpose for aviation technology, Fred Flintstone does a runner - and Isambard Kingdom Brunel quits smoking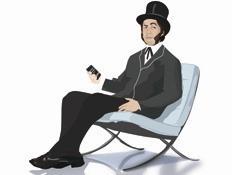 Our man in Havana
When is a half-smoked cigar not just a piece of rubbish? When it belonged to one of Britain's greatest ever engineers, that's when. The half-smoked cigar of Isambard Kingdom Brunel will form the star attraction of a new exhibition devoted to the man at the SS Great Britain, when it opens in 2016. The stogie is one of 700 items the museum has amassed, including his school reports and a personalised pen knife, to tell the story of his life. Having crossed paths with old IKB a few times when I was covering the construction industry back in the 19th century, I'm confident the exhibition will be a rip-roaring experience.
Plane speaking
You can usually rely on the CBI to be outspoken and quotable. But such are the sensitivities around the UK's ongoing airports debate (see news), even they are becoming equivocating and bland. On Monday - ahead of Sir Howard Davies ruling out the Boris Island proposal for a Thames Estuary airport - the CBI called for "hub capacity at a single location". But which airport was the CBI throwing its weight behind? Expansion of Heathrow or Gatwick? The implication seems to be Heathrow, given it is a more significant hub airport than Gatwick. But that didn't stop spokesmen from both airports claiming the business lobby group had backed their plans. London mayor Boris Johnson this week complained politicians would never agree on the question of Gatwick or Heathrow, and if even the usually forthright CBI can't make up its mind on this, it doesn't bode well for the MPs.
How does your garden grow?
A winner of the Wolfson Economics Prize and £250,000 to advance proposals for a UK garden city was expected as Building went to press. Whoever the winner is, I think we can all agree the competition and its five brilliant shortlisted entries have invaluably stimulated the national debate about how to meet this country's housing shortage. The Building Centre in central London is running a special exhibition profiling the finalists and their research, insights, planning diagrams and illustrations until 29 September. Well worth a visit.
The crossing
Is it a bird? Is it a plane? No, it is in fact a bridge. Atkins has published research suggesting civil engineers should be using composite technology from the skies to build better hi-tech bridges. The engineering consultant has adapted technology used to build passenger aircraft to create an advanced composite bridge over the River Frome in Frampton Cotterell near Bristol. The bridge - made of layers of carbon bound together using a tough resin - costs a quarter less than their traditional concrete and steel alternatives. It's a fascinating idea - but has it got wings?
Yabba dabba doo
Fundraising now, and it is my pleasure to bring you more updates on our sector's charitable exploits. Jones Lang LaSalle raised a whopping £20,094 for crisis support charity the Samaritans at last week's annual Property 5K run in Regent's Park. Helping them raise the cash was UK chief executive Guy Grainger, who competed dressed as a Flintstone and pledged a £1 donation for every runner he overtook. Meanwhile, Costain is fielding seven staff for next April's London marathon as part of the contractor's multitude of activities to raise £1m for charity to celebrate its 150th anniversary in 2015. Excellent efforts.
Back to basics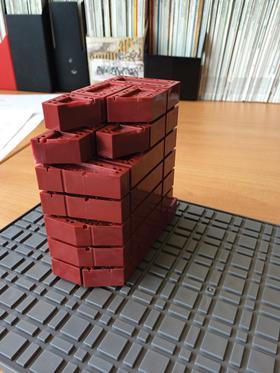 Has BIM come full circle? The revolutionary approach to building design has led to construction professionals ditching model building for playing around with complex designs on computer screens. Now an enterprising consultant has decided the latest application of BIM should be physical modelling again. Entrepreneur Richard Winson has sent us "BIM brix", a set of interlocking bricks of different shapes and sizes designed to aid in the teaching of BIM principles. This is our attempt at recreating the under-development new HQ of Building Towers. We need more shapes, Winson!
Send any juicy industry gossip to hansom@ubm.com