Prepare for a week of the sacred and the profane as we have some interesting times in Heathrow Terminal 2B, think on yesteryear's architectural wonders, and see the NHF recruit the Archbishop of Canterbury
Church and state
There were fears the RICS conference on opportunities in Qatar might be drowned out by the three-hour peal of bells at Westminster Abbey, across the road from the organisation's HQ, to mark the birth of Baby Cambridge. Surprisingly, though, the 114-year-old building was sufficiently soundproof for speakers to be heard. These included UK Trade & Investment infrastructure specialist Tony Bartho, who peppered his presentation on the plentiful opportunities in the country with some stern warnings. Payment terms can be shocking, he said, not least because "the prime minister and finance minister often have to give approval, meaning invoices can be left sat on their desks for six months." UK contractors sadly can't pass the buck to David Cameron.
Porcelain gods
One of my hacks was delighted to be able to take a tour of Balfour Beatty's Heathrow Terminal 2B project this week. The firm's project director, Roger Frost, was very proud of the high quality finish his team were achieving on the project. To demonstrate, he was anxious that my reporter inspect the loos. "You can tell a lot about the quality of a building from the toilets," he insisted. Apparently those particular facilities were indeed the nicest that my reporter has ever been invited to inspect.
Heavenly music
Later in his tour of Terminal 2B my hack suddenly heard the soothing tones of Frank Sinatra singing Come Fly With Me, drifting through the construction site. Was there an impromptu dance happening in the departure lounge? Or a wedding reception at gate 15? As it turned out, it was just staff testing the fire alarm system. It seems unlikely Come Fly With Me will remain as the alarm sound but should you be travelling through the terminal after it opens next June, and you hear that song I recommend that you run for the exits, just in case.
London reborn
News emerged this week that a Chinese developer is planning to build an exact replica of the Crystal Palace that housed the Great Exhibition of 1851, with Arup enlisted to help draw up proposals. This got me thinking about what other long-lost marvels could be recreated, with backing from overseas friends: perhaps the London Colosseum, which was built near Regent's Park to house Thomas Hornor's "Panoramic view of London" but was demolished in 1874? Or the Royal Panopticon of Science and Art, one of the architectural splendours of Victorian London, destroyed by fire in 1882? Or, why not go back further back still and recreate the Old London Bridge, complete with shops, houses and heads on spikes? Suggestions on a postcard please.
Charitable pilgrimage
I noted last summer that Steve Beechey, Wates' head of education and Building columnist, was eyeing a 5,895m trek up Kilimanjaro for education charity the Transformation Trust. Well that trek is almost upon us and I'm told Beechey and his Wates team have been challenged by another team from the Education Funding Agency who are also taking on the hike, led by its director of capital Mike Green and programme director for Priority Schools Rachel Stephenson. Help your favourite raise the most money, with Wates at www.justgiving.com/watesandpimlico and EFA at www.justgiving.com/Rachel-Stephenson2.
A preacher man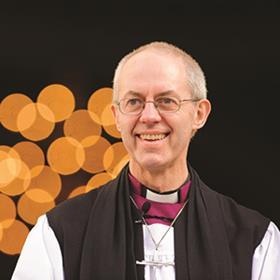 Credit to the National Housing Federation, which has bagged none other than the Archbishop of Canterbury (pictured) to speak at its annual conference in September and found just the right moment to announce it. With impeccable timing, the body sent out a press release on its coup last Thursday just as Archbishop Justin Welby bestrode the news agenda thanks to his row with controversial payday loans company Wonga. Given Welby's willingness to speak his mind, what will he say about UK housing, one wonders? Perhaps there will be another unholy row …
Send any juicy industry gossip to hansom@ubm.com