Plans are afoot to build Tolkien's fictional city of Minas Tirith, to get children into construction via computer games, to impersonate owls, race yachts and then do a charity run. And after all that you'll need a shower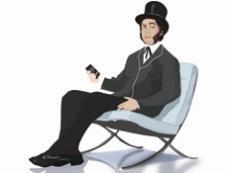 You Tolkien to me?
Crowdfunding is all the rage but this must be one of the most ambitious/barmy pleas for funding of a project. A team of architects and structural engineers want to raise £1.8bn to build a life-size replica of the city of Minas Tirith from Lord of the Rings, in southern England. In the books and films, Minis Tirith is capital of Gondor and, in the climax of the trilogy, comes under attack from the evil forces of Mordor. The campaign's leader architect Jonathan Wilson also notes the city is "beautiful and inspirational" and once complete would be a "wonderfully unique place to live and work". Rewards for donations range from a follow on Twitter (£3) to being made a Lord or Lady of the city, with use of a horse-drawn carriage to transport your family (£100,000).
Out of your Minecraft
Kids love building - look at Minecraft and Lego - so construction management body the CIOB thinks it's a "missed opportunity" that so few choose to follow that passion when choosing careers later in life. So CIOB are teaming up with broadcaster ITN to produce a short online video, aimed at kids, on links between Minecraft and real-life construction. Former Mace and Rise director Ian Eggers - a veteran of the early stages of developing London's Shard - is also on board. If you're interested in taking part, contact Saul Townsend at stownsend@ciob.org.uk.
Making owl the right noises
Hailed as the "king of stealth", the silent flying ability of the owl is even more superior than previously thought. A study by the Institution of Civil Engineers has shown that owls are capable of suppressing vibrations that occur when they flap their wings, which result in noise for inferior birds. This is due to their feather structures which, during flight, are able to extract mechanical energy from vibration and convert it into heat - enabling the owl to remain stable and quiet. Professor Jinkui Chu, who led the study, said owls could "help engineers develop ideas for special materials or structures - such as on-shore wind turbines - where similar noise elimination can be applied".
School of hard yachts
There are sure to be more than a few construction professionals who have enjoyed time sailing around more tropical waters this summer. But credit should go to those from Galliford Try, who braved the chillier waters of the Solent recently to hold their second schools sailing challenge, in partnership with charity The Transformation Trust. Pupils from disadvantaged parts of the country had the opportunity to learn how to sail a fully rigged racing yacht, developing communication and teamwork skills along the way. The eventual winner was Carshalton Boys Sports College, which pipped the City of London Academy Islington to the top prize.
Shower power
Construction workers lead the way when it comes to personal hygiene, so says a survey on how often Brits take a shower. A poll by insurance website constructaquote.com found construction workers shower 14 times a week, once more than those in the medical industry. IT and education workers were found to be the least hygienic, taking six showers a week. Lyndon Wood, CEO and creator of constructaquote.com, said: "Even just walking around outside on a hot day is difficult and results in many a sweaty Brit, so just imagine having to work a manual job in this heat; no wonder they need two showers a day to cool down!"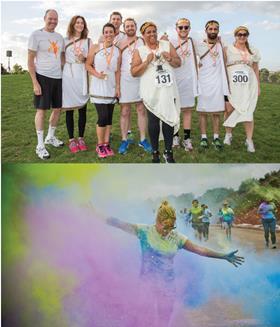 Keep on running
I doff my hat once more to the charitable and fit as a fiddle people of construction. Mace, which is having a giddy 2015 having hit the 25-year-old/quarter of a century milestone, took to Regent's Park late last month for its "Race for Mace" 5km, raising £28,000 for charities via the Mace Foundation. Over 300 Mace staff were joined by clients, friends and family in the race, and with trophies up for grabs for the best dressed team and child, many donned eccentric outfits for the occasion (top). Meanwhile, (bottom), Galliford Try combined running and the on-trend pastime of being blasted with neon-coloured paint on a newly-built road in south Devon, raising £50,000 for local charity Rowcroft Hospice.