Things take a turn for the strange this week. The Serpentine's summer pavilion dabbles in psychedelia, a national memorial centre is shaped like a Spitfire, and Boris Johnson can be found tunnelling underneath London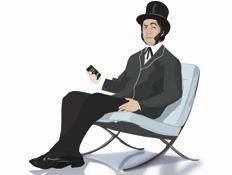 The Fruit Pastille pavilion
This year's Serpentine Pavilion designs were unveiled last week by Spanish practice SelgasCano, and they could well be the zaniest yet. The colourful, translucent chrysalis-like structure provoked strong reactions in the media and on social media sites including Twitter. The Guardian dubbed it a "magic mushroom maze", and various tweeters dubbed it a "psychedelic trip", "rainbow poop", "melted Fruit Pastilles" and "the first interesting concept in years". Our architectural critic Ike Ijeh delivers the final word on the matter: "This year's
Serpentine Gallery commission does its bit for both austerity and sustainability by being edible, as long as you like Skittles."
The Women in Construction Awards
As is often remarked, a key part of attracting more womsen into the construction industry is inspiring girls growing up. But according to the latest report by the Institution of Engineering and Technology there is a long way to go. Only 7% of parents surveyed said they would encourage their daughter to consider a career in engineering, while 41% thought they wouldn't know enough to support them down that career path. This report comes a week after the Women in Construction Awards recognised the achievements of 15 women from across the industry in fields from green leadership, engineering, architecture, apprenticeships and trades. The lifetime achievement award on the night went to Valerie Owen from Swan Housing Group. If inspiration is needed for young women interested in construction, awards like these provide a fine example.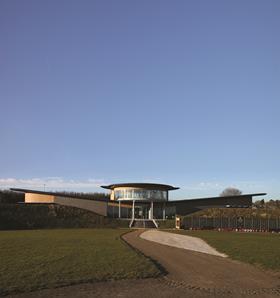 Winging it
Those hankering for a visit from Her Majesty the Queen can do worse than look up the aesthetics of Britain's most famous fighter aircraft. The world's most famous Royal took time out of her busy schedule of stopping her eldest offspring writing letters to the government to take in the architectural beauty of The Wing, a Spitfire-shaped National Memorial to the Few at Capel-le-Ferne in Kent. The learning and visitor centre commemorates the Battle of Britain. Its design by engineer Crofton and architect Godden Allen Lawn drew from original engineering drawings of a Spitfire to inform the geometry of the structure.
Of the Pegg
Simon Pegg has reached another landmark in his glittering career after students at the University of Bristol voted to name a new theatre at the university after the comedian and actor. Hollywood star Pegg opened The Pegg Studio Theatre at the same university where he studied Theatre, Film and Television. The Theatre formed part of the university's 1960s union and has been transformed into a high-tech hub to a Feilden Clegg Bradley Studios masterplan with £30m investment. It's unclear whether students were swayed in their decision by Pegg's (now famous) dissertation on how Marxist modes of critical theory could be applied to Star Wars. Though no doubt "the Force" was with them.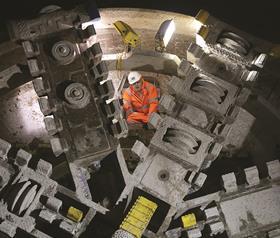 Boris bores for london
Is that an evil genius at the helm of a giant machine intent on destroying London? Thankfully not. It's just the mayor of London caught clambering over one of Crossrail's tunnelling behemoths. Despite resembling a scene from the next Avengers' movie, the mayor was found atop one of Crossrail's two boring machines last week after visiting the construction site at Liverpool Street Station. The visit from the mayor coincided with work starting on the last section of tunnelling between the station and Farringdon for the £16bn project. To be fair, it just wouldn't do for an evil genius to be seen wearing a hard hat.