Mipim was as varied as a pack of liquorice allsorts this year with delegates from far-flung corners of the world such as Dagenham imbuing the fair with fun-filled exoticism - all the more puzzling that some failed to show
Sunshine in a Cannes
Mipim was a bit more boisterous this year. Perhaps not up to the heady pre-recession days of the mid-noughties, veterans said, but a notch up in the entertainment stakes compared with previous years. Perennial favourite Caffe Roma was thronged with drinkers almost all day every day, the tournament boules players seemed all-the-merrier and more corners of Cannes were taken over by drinks and canapés parties. "It's been fun," one hung-over construction-type said, "but perhaps I should be concerned this is a sign of another bubble - and a bust looming?"
Sadly I chucked away my crystal ball long ago, but I reckon we'll all be back next year with even more to celebrate.
To absent friends
"Where are the Russians?" was a common topic of conversation at Mipim. The country normally takes a massive pavilion near the show's entrance, but it was conspicuous by its absence this year. Perhaps a further sign the country is less keen on trading with its European neighbours in the wake of the Ukraine crisis, some delegates surmised. In any event, journalists at Mipim were initially informed that Russian constructionminister Mikhail Men was to be offered up for interviews, only to be told later that he would be otherwise engaged.
Joe Anderson's comedy half hour
It was the "Howard and Joe" show on the first morning of Mipim, when Manchester council chief executive Howard Bernstein and Liverpool mayor Joe Anderson hosted a breakfast to plug the "Northern Powerhouse" at Cannes' "Manchester villa". "We may be a good double act, but not necessarily a circus act," deadpanned Anderson. Indeed, it was the Liverpudlian who got most of the laughs. Asked what advice he would give to the first mayor of Greater Manchester, expected to be elected in 2017, Anderson quipped in his broad Scouse accent: "Well, I haven't decided yet whether I'll go for it."
Made up in Dagenham
Back on the beach, Darren Rodwell, leader of Barking and Dagenham council, delivered a stirring call to Mipimites to invest and build in his London borough. Rodwell made the call at a breakfast event hosted by the London Chamber of Commerce and engineering consultant Crofton. The delegates on my table were candid enough to confess they had little previous knowledge of the borough, but that was put right with a barrage of Barking and Dagenham selling points, from being the largest industrial footprint in the capital to the tongue-in-cheek suggestion that the borough won England the 1966 World Cup (the coach, captain, and two other players hailed from the area). All in all Rodwell sold the area well. It turns out he could easily have been in a different line of work, however - he revealed how he left a senior position in a well-known telecoms firm when the board suggested he needed elocution lessons to sound "less Dagenham" in order to progress in the company.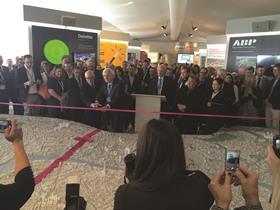 Minus the embarrassing bits
Many Mipim guests attended the opening of the London stand to coo at a model of the capital, showcasing £100bn of development. There was some disappointment that the ribbon cutting fell to deputy mayor, Ed Lister, rather than Boris Johnson. But Lister (pictured cutting the ribbon with Peter Murray of architectural organisation NLA, one of the groups that commissioned the model) did his bit to talk up the city's property and construction industries. He also chastised developers who chose not to have projects laser cut in miniature for the model. "There are obvious blanks," Lister rued. "Are these developers embarrassed?" The model will now take its place in its permanent home in The Building Centre, Bloomsbury, central London.
Send any juicy industry gossip to hansom@ubm.com