Our usual quest to stick our noses into the private business of others takes us from the corridors of power at the RICS to a private betting circle, pausing briefly to admire some tugs in Afghanistan
Conspiracy of silence
After news of yet another spat between the RICS' governing council and rebellious QSs reached us, we requested the minutes of a meeting from the RICS' press office. The
meeting was held in March and appears to have resulted in Stuart Earl's appointment as chair of the institution's QS and construction professional group, something that its 40,000 members could reasonably expect to be privy to. Alas, we learned the minutes could not be provided in full because they contained "confidential information". What on earth could that be, I wonder?
Towering ambition
After the Dubai property market burned to the ground in late 2008, you might have thought UAE investors would draw in their horns. Well, the announcement of a project being developed by Aabar, Abu Dhabi's state-linked investment fund, has put paid to any such notion. Carnegie 57 is a superlative-inducing skyscraper slap bang in the middle of New York, designed by starchitect Christian de Portzamparc and at 306m, the tallest residential tower in the city. Is this a case of bravely getting back on the horse or failing to learn from one's mistakes?
Zaha strikes again!
Architect Zaha Hadid is well known for her topologically challenging designs. But she doesn't confine her creative talents to buildings. Last year Triflow Concepts produced a futuristic tap created by the diva of British architecture, and to celebrate the launch they offered guests a complementary water flask inspired by its curvilinear geometry. But it seems they have fully embraced Hadid's liking for complexity.
When the bottle landed on my desk this week, 18 months after the event, it was accompanied by a letter apologising for the delay and declaring "it proved more difficult to
than we had foreseen to manufacture". Now, doesn't that sound weirdly familiar?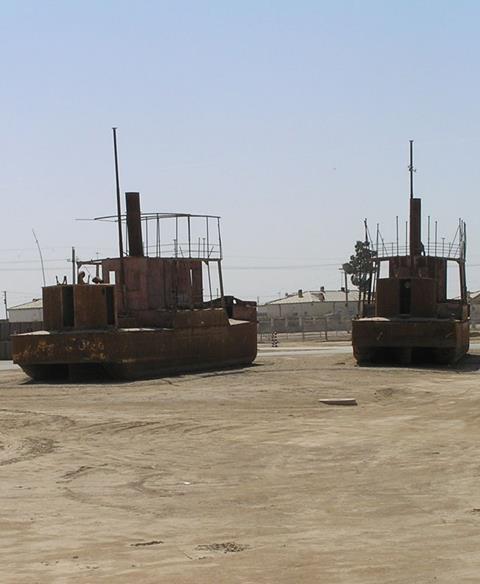 Tugboat diplomacy
Harvey Smith, a Moscow-based manager with Turkish contractor Rasen who contributed a column to our new "letter from …" series last week, reports a strange sight on a recent trip to Tajikistan with an Italian contractor. The trip was to see a bridge the firm built over the River Panj, which runs between Tajikistan and Afghanistan. Nearby, high and dry, were a pair of steam tugs. Apparently, they had been sent by the British to the king of Afghanistan in the twenties, whereupon the grateful recipient, who had no idea how to operate them, put them somewhere safe. Maybe it's time to face facts. Afghanistan just isn't our lucky country.
School games
With speculation growing over how many free schools will open next September (the government's target is 20 but sources suggest five might be more realistic) the office of one school-building architect has spent its free time (which has increased considerably since Michael Gove got into government) organising a sweepstake. The numbers 10 to 14 were "snapped up pretty quickly", with one of the directors plumping for 13. Another worker decided to go for 22, rather oddly, with the justification that such is Gove's ambition, he'll want to be seen beating his own target. We live in hope.
Raising agents
You may recall a while ago I told you about Jennifer Sutton, who gave up spin doctoring Davis Langdon to launch a business baking very small cakes. Well it seems she's still going, albeit with an intriguing new ingredient in the mix. Sutton's business Jen's Cupcakery came second out of about 200 in a UK Enterprise competition. But around the time of the judging Sutton's email was hacked, resulting in an email offering discount Viagra to be sent to the entire contents of her address book. We hope she entered the competition with cakes bearing more conventional ingredients.