There's an artificial indoor beach in China, posthumous RICS membership for one of our great scientific minds, some architects ride back into town, and why coming down can be harder than going up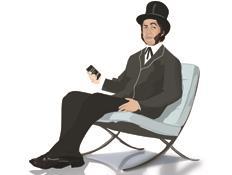 Inside out
The largest building in the world has opened in China - complete with an indoor seaside. Visitors to Chengdu's New Century Global Centre can sprawl on an artificial beach in front of an artificial sea and gaze out at a massive LED screen for a video sunset. Publicity photos show 6,000 holidaymakers lazing on the faux beach, in a scene reminiscent of the Truman Show. The 1.7 million square metre building - which is approximately the size of Monaco - also boasts office space, retail, a 14-screen IMAX movie theatre, a 1,000-room five-star hotel and a Paradise Island water park. Good luck trying to find the exits.
In at last
The RICS has awarded the late great British evolutionary scientist and explorer Alfred Russel Wallace posthumous membership. Comedian Bill Bailey, part of the Wallace 100 campaign to raise the profile and public appreciation of his achievements on the 100th anniversary of his death, said: "Wallace's success as a naturalist and scientist was fostered by his career as a land surveyor - he was a fearless explorer and meticulous in all that he did. He would have been thrilled with his RICS honorary membership." And the best bit is, Wallace doesn't even have to pay RICS' somewhat controversial subscription fees.
Coming in first
We're a nation of winners now, it seems, and this winning streak extended this month to the "Skills Olympics" in Leipzig, Germany. Team UK did us proud, winning two gold medals, one silver, three bronze and 17 "medallions of excellence", in the event to find the world's best young engineers and tradesmen. Our two golds were George Callow, 21, from Chichester - crowned the world's best young cabinet maker - and Ashley Terron, 21, from Warrington, who won best bricklayer. Terron, who trained at Warrington Collegiate, said: "Representing the UK and winning gold at Leipzig has been my ultimate dream." Congratulations to the winners.
View from the top
Much was made of the efforts of six Greenpeace protesters who scaled the Shard last week, with the 310m climb to the top taking 15 hours. But my view is you've not really climbed something until you climb back down, something the protesters failed to do. So much more impressive was the effort of Willmott Dixon's chief operating officer for housing, Charlie Scherer, who joined 28 brave volunteers in abseiling down a 12-storey residential building in Wembley, in a bid to raise funds for charity. "The abseil seemed a good idea until you are dangling 121 feet in the air with nothing but air below," said Charlie. Well done, lad.
Grin and bear it
Generally when people win awards, they beam with pride. But at the New London Architecture annual awards last week, Mark Craine, associate principal at architect Populous, glowered as the practice was given the honour of a special award acknowledging its achievement on the overlay of the Olympic park. Such is Craine's discomfort at having the spotlight on him that he only very begrudgingly went up to collect the award. The poor chap could barely hold his hands still. At least the rest of his team were pleased, though how much of this was a perverse pleasure at seeing their colleague squirm and how much was celebrating the achievement was unclear.
The cycle home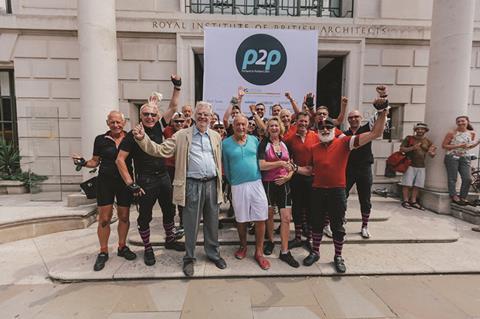 The crew of architects and planners who have been cycling 4,347 miles from Portland, Oregan, on America's West Coast to RIBA's headquarters in Portland Place, London, arrived at their destination on Saturday. The 15 core riders were joined by 65 cyclists to ride the final leg from Windsor to London plus leading British architects Richard Rogers and Terry Farrell, who cycled the final mile from Waterloo Place to Portland Place. The riders have been studying bicycle-use in cities along the route, in what London mayor Boris Johnson described as a "stonking charity initiative". Now the real challenge begins - sitting back at the drawing board after 4,347 miles in the saddle.