Since Sir Michael Latham published his milestone report 20 years ago, our industry is no longer characterised by delays, disputes and accidents. As part of Building's special coverage of next month's anniversary Peter Hansford looks at how Construction 2025 continues this journey of improvement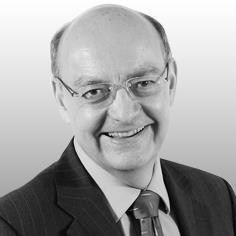 The construction industry of today is almost unrecognisable from that of 20 years ago when Sir Michael Latham published his milestone report, Constructing the Team. The industry is no longer characterised by late delivery, regular cost overruns, debilitating commercial friction and all-too-frequent accidents. We have already been on a journey of significant change.
Sir John Egan further contributed to this journey with Rethinking Construction. As did Andrew Wolstenholme in 2009 with Never Waste a Good Crisis. And now we have the Industrial Strategy for Construction, Construction 2025.
I've heard it said, "So, what's different this time?" and "Why will this succeed when previous initiatives have not?" Well for a start, I don't agree that Latham and Egan have failed - important incremental changes have been made and the industry is in a much better place as a result. But for me, the big difference with Construction 2025 is that it's a partnership between industry and government. The two have jointly created a vision of where they want construction in the UK to be by the year 2025, and how we're going to get there in partnership together.
The other big difference brought about by Construction 2025 is the creation of the Construction Leadership Council, with broad membership from across industry and across government. This is the body that owns the transformation strategy. This is true recognition that we're in it together.
So what has the Construction Leadership Council done so far? By the time this article is published it will have met four times. It has taken a close look at how construction supply chains really work and how this might impact on the success, or otherwise, of steps to improve the industry. This is what gave rise to addressing payment across the industry as being an early priority.
For me, the big difference with Construction 2025 is that it's a partnership between industry and government
The new Construction Supply Chain Payment Charter was launched on 22 April this year. It sets out 11 fair payment commitments for the industry, including a commitment to reduce payment terms to the supply chain to 30 days from January 2018. I know some players would have liked this to kick in earlier, but the council rightly recognised that it will take some businesses time to change their business models. So the charter sets out progressive commitments of 60-day maximum payments immediately for all new contracts, reducing to 45 days by June 2015, and ultimately to the 30 days by January 2018. I think this shows real leadership from the Leadership Council, and demonstrates its willingness to tackle the really tricky issues.
Publishing the charter is, however, just the start. Industry and government are now working with the Institute of Credit Management to look at monitoring and reporting of compliance with the commitments. The Leadership Council is aiming to receive widespread adoption of the charter across the industry in the months ahead.
In addition to payment, the council is addressing skills needs and skills development across the sector. It has set up a pilot initiative in the housebuilding side of the industry, which is addressing how to improve the image of housebuilding and how to promote its attractiveness as a career option for young people. Equally, the housebuilders are looking at ways of attracting back people who left the industry during the recession. Of course, it's not all about building houses - but it's hoped that we'll be able to draw lessons from this work for other parts of construction. And work is happening on other aspects of the strategy.
I'm now turning my attention towards the forthcoming Government Construction Summit, which will be held next week on Wednesday 2 July at the Marriott Hotel, Grosvenor Square, London. This year's summit has a bumper line-up with contributions from Vince Cable, Lord Deighton, Sir David Higgins and Andrew Wyllie, among others. At last year's summit we launched Construction 2025 and this year I'll be explaining the progress that's been made so far, as well as setting out where to next.
We'll also be using the summit to debate some of the big topics in our industry today - supply chain issues including the payment charter; the pipeline of future work and how clients will be procuring; the move to more low carbon and sustainable construction; and the greater use of BIM and smart construction techniques.
The journey to transform construction in the UK continues and - 20 years on - Sir Michael Latham's legacy to the industry remains very relevant today.
Peter Hansford is chief construction adviser to the government