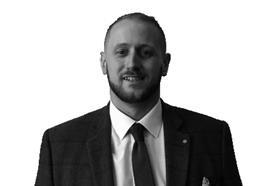 Being LGBT+ in society is a different experience than that of someone who is not, so it's not surprising that it's a different experience for someone working within the built environment. Stonewall – a LGBT+ charity has released a report of the top 100 LGBT+ employers since 2012. In those six years a construction or civil engineering company has always failed to appear on the list.
That doesn't mean that, alongside society, the construction industry isn't making drastic improvements because we are. Building Equality is a network for the LGBT+ community within the industry. Since 2015, one activity of Building Equality has been representing the construction industry at Pride in London and in subsequent years have grown that presence across various UK cities. Nationally the network has grown to over 30 of the biggest companies in construction.
This year, Building Equality's Manchester committee decided that we needed to do something to tackle some of the issues faced by LGBT+ people. The idea was to do something low cost and yet widespread and effective. What was born was a series of posters with hard hitting messages highlighting some of the issues, backed up by an educational toolbox talk.
Often, LGBT+ people are effected by use of derogatory language or misconceptions. It's not uncommon to hear the use of "gay" as an insult and more often than not, those saying it are unaware of the harmful and negative impact that it can have. Other times, not having a lot of exposure to the LGBT+ community can lead to stereotypes and misconceptions. What we need is an education piece, and that's what, I hope, Building Equality has provided.
The next step is the spreading of these resources. The backing of the Building Equality community will go some way with this but the number of construction businesses in the UK only continues to rise. All big businesses work in partnership with subcontractors in some way and it's important for us to use our connections and combined influence to ensure that this campaign spreads as far as it can to all of our colleagues in the built environment.
The change cannot purely be driven by one company. We must all continue our efforts to evolve the industry we love, and society as a whole, through education and support. Every company in the UK will have a zero tolerance policy towards discrimination but what we need is to put all people in a position in which they understand discrimination and its detrimental effects. Can a company from the build environment be on Stonewall's top employer list? Absolutely. But only if we all work together to improve the experience for every LGBT+ person working in our industry.
Mark Baybutt is co-vice chair of Building Equality, Greater Manchester. To find out more, follow @BuildingEqLGBT on Twitter