This industry is good at talking about change but actually making it happen relies on – above all else – modern methods of construction. Now really is the time to commit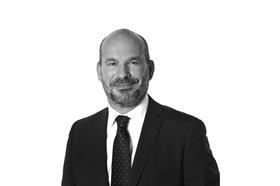 The recent announcement that I will be taking on the "MMC champion" role for government comes at an important time for homebuilding and the wider construction industry. There are signs that lasting positive change is finally starting to creep over our conservative, change-averse sector. The growing awareness from within industry – whether driven by inability to make money, unacceptable delivery risk transfer or pure reputational risks related to poor quality or unsafe outcomes in the public eye – are all promoting a conversation about change louder than I've heard before. The trick now is to move the conversation towards action and adoption.
The time for reports is over; this is about hard action. With external events creating growing uncertainty, now is the time for cool heads
The government has shown clear intent in the past two years to help move the dial. Moves include the sector deal, the presumption in favour of MMC set down in 2017 covering direct government departments and the increasingly muscular approach being taken by Homes England to make strategic interventions to improve homebuilding productivity and quality.
>> Read: Mark Farmer to be named government MMC champion
But having supportive policy means nothing unless it is followed by the right procurement processes and behavioural changes in government, and also supply chain maturity and capability to give confidence and choice in delivery. The work of the Construction Innovation Hub and the wider Transforming Construction programme will be key in not only redefining the digital, manufacturing and asset performance-led approach to government assets, but also tackling once and for all the public procurement challenge set out in the 2017 Transforming Infrastructure Performance report.
This is not just a chance to get our own house in order but also to show the way as an international exemplar of construction innovation
However, the time for reports is over; this is about hard action. With external events creating growing uncertainty, now is the time for cool heads and long-term thinking. Decisions made in the next few months could mean the difference between storing up a problem potentially existential for some businesses when good times return, or stealing a march on competitors by thinking about business change, future proofing and new approaches.
When it comes to MMC, it is already around us but delivered mostly through subassembly or element-led hybrid construction and growing use of digital site-based tools (both recognised in the Ministry of Housing, Communities and Local Government's 7 Category Framework). Most people talk about how volumetric "modular" will never work and creates poor-quality architecture. First, this is only one of the seven MMC categories we need to embrace and I beg to differ in terms of design constraints when it is done well.
In my new role, I will be continuing to strongly advocate change. My thinking is that MMC and increasing project and programme pre-manufactured value (PMV) is the single change agent that will drag all other dimensions along with it, whether it be digital construction or more integrated, collaborative procurement and delivery models. If you attempt to push these things without increasing PMV through the physical way we build, we will fail. We need to be more productive, we need more control, we need more manufacturing process embedded. We need to prove safety through a complete digital thread, we need to reduce carbon in an industry that continues to rely on cement and generates circa 40%-50% process waste.
Fundamentally, we will not address these issues by just building collaboratively or using cutting-edge digital tools, we also need to fundamentally change the physical process of how we build and our bespoke design-led, labour-intensive traditional skills-based model.
Part of the recently announced government MMC strategy is to create a "construction corridor" for innovative homebuilding in the north of England and develop a Silicon Valley-like centre of excellence. There is an opportunity to leverage the growing maturity of the offsite manufacturing sector in northern England and the Midlands – and tap into world-leading expertise to drive true digital manufacturing adoption, delivering high-performing homes that people will pay a premium for. This centre of excellence is likely to have multiple locations and thematic components to ensure it builds on what we already do and is fully co-ordinated, including with potentially competing local strategies.
Over the past three years I have travelled the world talking about the UK journey towards a modern homebuilding and construction industry. It's a story of progressive optimism and increasing evidence that the oil tanker is turning. International construction markets are facing the same generic problems. That's why I believe this is not just a chance to get our own house in order but also to show the way as an international exemplar of construction innovation.
Being an MMC champion is meaningless, however, unless it can help effect change on the ground. That is where leadership comes in. Whether from individuals or collectives within government or industry, everyone has to be a champion of modernisation if we are going to make the changes we need and deserve.
Mark Farmer is chief executive of Cast, author of Modernise or Die and the government's new champion for MMC in homebuilding