The Interiors Group head of design on her love of Pinterest, listening to Take That and organising her life with a Mac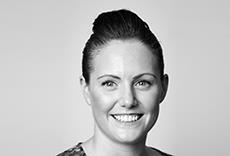 What is your favourite website?
Contemporist – for innovative design and hotels I dream to visit!
What is your worst digital habit?
Using two phones at the same time.
iPhone/Blackberry/Android. Which side are you on?
iPhone.
Are you into social networking?
LinkedIn is a great tool to keep connected through the business to the industry, Twitter also. Pinterest is my favourite tool to display an extension of the mind – it's great for sharing inspiration.
Are you on Twitter? If so who do you recommend to follow?
My guilty pleasure is Stephen Fry
What is your favourite app?
Instagram & Pinterest.
What is your preferred means of communication?
Face to face – you can't beat it.
What did you last buy online?
A canvas artwork I have seen in the flesh previously. It's a present for my fiancé, shhh!
PC or Mac?
Both. PC for CAD work. Mac for organizing my entire life.
Guilty pleasures: Most played tunes from iTunes/Spotify?
Take That – may they never retire!
Kathryn O'Callaghan is head of design at The Interiors Group