Carillion's collapse prompts a heap of questions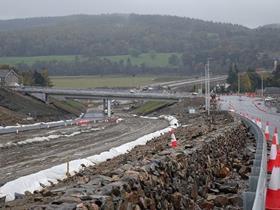 It's worth pointing out that Carillion's finances must have been of the basket case variety given that it went straight into liquidation.
Many would have expected an administration but this morning's news confirms the business had no assets to sell.
Now the company is being handled by the Official Receiver, because of the high number of government contracts it has, the questions about what happens to its 43,000 staff and those problem contracts hove into view.
Cabinet Office minister David Lidington told Radio 4's Today programme: "The first priority, the one that I've asked ministers and all officials to concentrate on, is actually ensuring that public services continue.
"So the message to workers is, come in to work today, there's important work to be done, and you will be paid. The government will pay your wages via the official receiver, not via Carillion."
"As we go forward, some services will be taken in house, some services will go out to alternative contractors in a managed, orderly fashion."
While unions say the whole mess exposes the risks of getting private companies to provide services such as school meals – and Oxfordshire County council said it had the fire brigade on standby to deliver lunches – and Labour calls for a public inquiry into the debacle, there will be thousands of anxious subcontractors this morning wondering whether they're going to get paid.
Carillion has 120 days payment terms and the nightmare scenario of firms going to the wall in the event of a Carillion collapse – one repeatedly spelt out by specialists champion Rudi Klein in recent months ever since the parlous state of Carillion was revealed – is now becoming very real.
And who will take over – or more pertinently who would want to take over? – its jobs to finish the hospitals in Liverpool and Smethwick in the West Midlands, both PFI jobs and among the problem contracts which have been behind the whole mess? Balfour Beatty and Galliford Try are its partners on the Aberdeen bypass scheme (pictured), the road job that has also blown a hole in Carillion's accounts. What now? So far, no official word from either.
A few days after Carillion announced a £845m writedown last July, the firm, along with Kier and French firm Eiffage, was awarded two lots on the HS2 – tunnel work worth £1.3bn.
Will that job be rebid or will the Kier team be asked to find a replacement? – which shouldn't be too hard given a number of firms, such as Bam Nuttall, which has worked on the Crossrail scheme in London, missed out. In a statement put out today after news of Carillion's collapse was confirmed, Kier, which is also working with Carillion on the smart motorways programme for Highways England, said it has "put in place contingency plans for each of these projects and are working closely with clients so as to achieve continuity of service". In other words, it's too early to say what it's going to do.
And what of Andrew Davies, the well-regarded chief executive-designate who had been due to formally start work at his new employer next week? It's not quite what he signed up for. Does he stay on and liaise with government or will that still be handled by interim boss Keith Cochrane, who had been due to stay on a bit while Davies bedded in? There will be sympathy for him and his stock will probably still stay high, given that he never got the chance to do what he left Wates for back in the autumn when the unthinkable was just that. Unthinkable. No more.
It's a mess.