PFI contracts were meant to rebalance risk more fairly but didn't – and we haven't seen the last of the disputes over them yet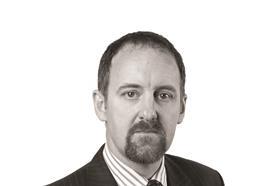 During the course of his Budget speech on 29 October 2018 the chancellor, Philip Hammond, said: "I have never signed off a PFI contract as chancellor and I can confirm today that I never will." It might be nit-picking to point out that PFI as a procurement route was replaced by PF2 in 2012 so there is little chance that Hammond would ever sign a PFI contract, but the wider point is that he went on to say that the government has now abolished the use of PFI and PF2 for future projects.
The government will not, however, take back control of existing PFI contracts but will instead allow these to run their course and establish a centre of excellence "to actively manage these contracts in taxpayers' interests starting in the health sector". This step was taken in the face of "compelling evidence" that the private finance initiative neither delivers value for the taxpayer nor genuinely transfers risk to the private sector.
"PFI would, it was felt, provide 'value for money'. Notably, 'value for money' was never properly defined"
There may be some debate about what a "genuine transfer of risk" is as opposed to the transfers of risk from public to private sectors that have actually taken place. A report issued by the public administration and constitutional affairs select committee found that there were fundamental flaws in the way the government awarded contracts because of "an aggressive approach to risk transfer". The report, published on 9 July 2018, found that ministers tended to spend as little money as possible when awarding contracts while forcing contractors to take unacceptable levels of financial risk.
The public administration and constitutional affairs select committee suggested in its report that rather than going for lowest cost, it is more important the government should learn "how to effectively manage its contracts and relationship with the market". When PFI was introduced by the Conservative government in the early 1990s, one of its aims was to transfer debt off the public balance sheet.
While the committee found this a "shocking" admission from the government, this I recall was not a secret when we began to draft PFI contracts in the mid-1990s. PFI would, it was felt, provide "value for money" for these schemes. Notably, "value for money" was never properly defined. There was also much talk of the optimum risk curve: a sensible distribution of contractual risk to the parties best able to bear it.
"From the construction sector's perspective, of course, the spectre of the Carillion collapse is tied into a number of disastrous PFI projects"
I am not entirely convinced that goal was achieved in many cases. Given its political sensitivity, there will probably never be a satisfactory resolution to the issue of whether PFI provides value for money or simply loads unnecessary debt on the public sector. The choice facing the public sector at the time, however, was not between traditional methods of procurement and PFI but between PFI and nothing at all.
From the construction sector's perspective, of course, the spectre of the Carillion collapse is tied into a number of disastrous PFI projects with which Carillion was involved, including the construction of the Royal Liverpool University hospital and the Metropolitan Midland hospital.
The number of PFI contracts has in fact been declining rapidly from a high of 68 in 2004 to just one in 2018, but notwithstanding this, there are a number of new PFI projects that are being explored – a prison, two roads projects and community and primary care estates within the NHS. If the government is going ahead with these proposals, it is clearly going to have to come up with an alternative way of funding them which will be attractive to the private sector.
PFI and public-private partnership (PPP) contracts have been the subject of a number of judicial decisions in recent years, many focusing on misapplication of the payment mechanism but all featuring detailed enquiries into the complex contractual structure.
The most recent was Amey Birmingham Highways Ltd vs Birmingham City Council [2018] EWCA Civ 264, about an exceptionally large road maintenance contract. The court in that case stressed parties should strive to operate such contracts reasonably rather than looking for ambiguities that could be exploited. PFI/PPP contracts are also examples of what have been called "relational contracts", which usually feature a long-term relationship between parties.
This can give rise to attempts to imply a duty of good faith into these relationships (if no such explicit obligation exists). Cases such as Compass Group UK and Ireland Ltd vs Mid Essex Hospitals Services NHS Trust [2013] EWCA Civ 200 have examined the implication of good faith obligations in such contracts and, at least to date, have declined to imply any such term.
The debate is, however, far from over. It seems unlikely we will soon see any slowdown in the cases involving the nature and operation of PFI/PPP contracts. Notwithstanding the chancellor's promise, PFI is not going away just yet.
Simon Lewis is a partner in the construction and engineering team at Womble Bond Dickinson
Postscript
Simon Lewis is a partner in the construction and engineering team at Womble Bond Dickinson