Barrie Diffin talks through how using data is making Heathrow airport's logistics system more effective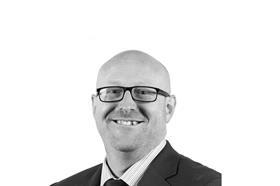 Barrie Diffin is Fulcrum product manager at Wilson James, a logistics firm that has been working on the development of a new delivery management logistics system (through its Fulcrum systems) at London's Heathrow airport.
Diffin says: "It is a major construction site but also a very secure site. We found there were no tools in the market that were able to cope with the pressures that the site undergoes each day."
Diffin's team had to incorporate as many data points as possible into the delivery management system in order to make work at maximum efficiency. The end result was 72% reduction in overtime requirements, which in turn led to hundreds of thousands of pounds in reduced operating costs.
"The biggest battles you face are with people," he explains. "You need to convince people that you don't need three weeks' of stock on site – three days is usually sufficient. Getting your logistics system in place means that you can arrange deliveries for when you need them."
There's a wider environmental benefit to embedding this delivery management system. Diffin found that his team could reduce idling vehicles and even ease congestion in the surrounding area – a very busy M4/M25 interchange – by reducing the queue of deliveries at 7am and staggering them to arrive in the afternoon – when previously the delivery bay would be empty.
Furthermore, incorporating open source data, such as air quality data collected by satellites, could allow for delivery times to be further optimised in a sustainable manner. Diffin notes that the use of Sentinel 5 satellite data, which models air quality predictions across Europe, is in the early phases of development.
"What we could see would be this data translated into information to help users choose delivery dates and times. In future, it could then become more restrictive, such as the prohibiting certain vehicles if air quality criteria are not satisified, potentially driven by policies such as government targets."