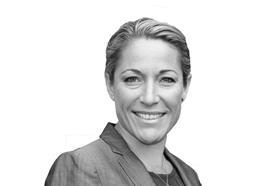 As we reflect on the very first Green Great Britain & Northern Ireland week (15-19 October), you would be forgiven for thinking that construction is the new flavour of the month when it comes to sustainability.
Last week began with energy and clean growth minister Claire Perry approaching the Committee on Climate Change for advice on setting a date for achieving net zero greenhouse gas emissions. This came hot on the heels of the latest Intergovernmental Panel on Climate Change (IPCC) special report, which highlighted the urgency around limiting global warming to 1.5ºC.
It's clear construction is increasingly viewed as a major opportunity for the government's clean growth agenda
The UK is one of the first G7 countries to formally explore an even more ambitious target than its current one – this signals a commitment to maintaining its world-leading position on climate change action. Importantly, buildings and construction featured heavily in last week's ministerial announcements, and it's clear that this sector is increasingly viewed as a major opportunity for the government's clean growth agenda.
Perry reminded us of the global reputation of our architecture, engineering and construction sectors, and their potential for international growth by focusing on our integrated low carbon, sustainable design and construction disciplines.
Clean growth initiatives launched last week include:
A 2019 competition to design the house of 2030 – more energy-efficient, with quality affordable design and easily adaptable for ageing populations
A £106m stimulus for greener construction practices in developing countries, to improve energy efficiency and reduce emissions, creating investment opportunities for UK businesses
The appointment of Triple Point Heat Networks Investment Management to manage a £320m government fund in low-carbon heating for cities.
These announcements reinforce the business models of the UK Green Building Council's members: organisations that intuitively believe good sustainability performance is good business, delivering tangible bottom-line results. The companies will lead the way in decarbonisation and capitalise on green growth opportunities.
Recognising the urgency with which we need to eliminate emissions, to reach beyond the converted and drive change throughout our industry, clear, ambitious, long-term policies are needed. These must drive consistent performance towards net zero carbon in new and existing buildings of all types.
For this reason, last week UKGBC launched an ambitious programme that will see construction and property businesses collaborate to lead the transition to a net zero carbon built environment. The UK programme is part of a global campaign led by the WorldGBC to meet the aims of the Paris Agreement. It will align closely with UKGBC's advocacy activity with central and local governments and seek to foster international collaboration toward net zero carbon.
It's launching with an industry task group to develop a definition for net zero carbon buildings in the UK. It will convene businesses, policymakers and industry bodies to build consensus on a way forward for new building standards. Further work in 2019 will focus on improving Scope 3 emissions reporting, while sharing relevant European expertise.
For politicians, last week was about celebrating action and global leadership; it certainly served to underpin the importance of sustainable construction in meeting our climate change targets. But, as the wakeup call from the IPCC makes its way onto boardroom agendas, it's clear that much more must be done by policy makers and businesses to deliver a truly net zero built environment.
Julie Hirigoyen is Chief Executive at the UK Green Building Council